Learning at home + activity corner
Lately, I've been trying to think of new activities Liv and I can do at home.
We do a lot, but I feel like it's a lot of the same things- puzzles, books, toys, songs and adventures out to play dates, baby gym and story time.
We're also big fans of the zoo: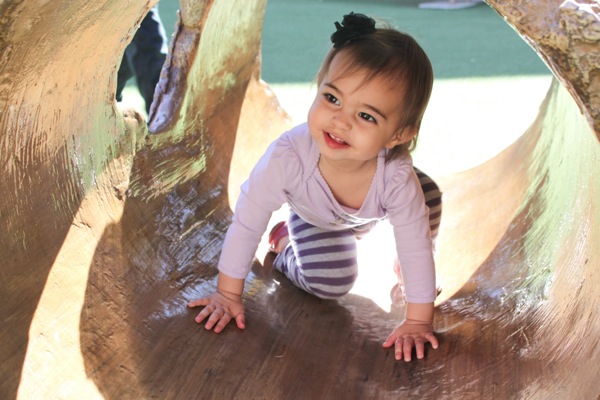 While we have a blast together, I think it would be fun to switch things up, especially since she's learning so much so quickly.
I'd love to do some art projects and cooking with her, or work on language skills since before the age of 2 is an ideal time to introduce a new language to a baby. (Her nanas speak in Spanish often, but I could do a much better job at usual it around the house.)
Since I've been feeling kind of stumped, I researched a little to see what would be fun to do at home. 
Here are some of the ideas I've found:
1) Food preparation. Last week, Livi "helped" me make sweet potato fries and got a kick out of it. We can do things like this more often, and while she's in her high chair, I can give her more ingredients with the spices in a large baggie and let her help mash them around. Another idea I found online is to help your toddler spread jam on toast (which is perfect, since it's one of her beloved snacks) and making baked apples- you give the toddler the apples to help wash, spread butter on the apples and bake them whole.
2) Shape matching. They have cute sets on Etsy, but I think with some felt and the handy glue gun, I could easily make our own sets. Livi knows a few colors, and we've started to talk about shapes lately -she loves puzzles- and this would be a fun switch up from story time.
3) Finger painting. The last few times we've done this was quite a long time ago- time bust out the finger paints again. 
4) Homemade play dough – surprisingly easy to make
5) 50 toddler activities. <– so many great ones on this list!
6) 75 TV free activities– another great list
We're going to make the side of our den Livi's corner and put a shelf with puzzles, a basket of toys to explore and books to read. I'd also love to get her a little table and chairs (similar to the set Sabrina got) so she can draw and snack at her own little table. Right now she has a basket of toys downstairs, but I think it will be fun to have her own little play area.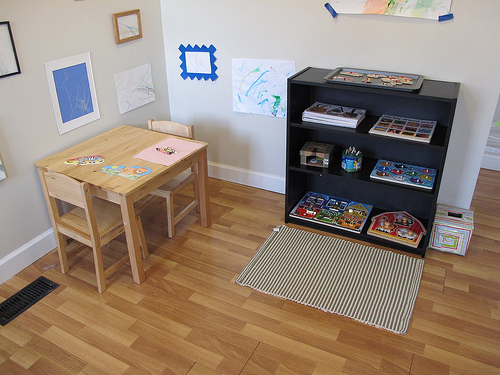 Any fun ideas for play or at-home learning with a toddler?