Hey everyone! How was your day?? Mine was bueno, but just turned into fantastic when I logged into my bloggy account and saw this post pop up.
Here's what Emma G. had to say:
Deep Thoughts by Emma G.

This post changed my life. No, I'm not talking about Banana Soft Serve, though that one did change my life, but in a completely different way. I'm talking about Gina's "secret":

"You need to eat in order to lose weight. If you don't need to lose weight, you need to eat to be healthy. EAT! Just don't eat garbage."

While I was losing weight, I had significantly cut back on my calories. At the same time, I had upped my exercise regimen to include at least an hour of cardio each day. This worked, at first, and then I hit a plateau and could not figure out how to get off of it. I, in all of my infinite wisdom, decided that less calories should be consumed and more exercise was needed. All the magazines say that you need to burn more than you take in to lose weight, and I whole-heartedly believed in this philosophy. I had previously been shooting for 1500 calories per day, which I was now cutting back to 1200-1300.

Thankfully, in April of 2009, I stumbled upon The Nutritionista blog, and, after some perusing, I realized that I was probably not eating enough, which was why my body had stopped responding to my increased exercise. At this point, I went back up to 1500 calories, and also started taking my weight lifting more seriously. As I read more food blogs, I realized that 1500 calories was still probably not quite enough for the amount of exercising I was doing, so I created a range, which started at 1500-1700 calories and moved up to 1600-1800 calories. I started to see a difference in how my body was responding – hel-lo muscles! – and I felt a lot better, in general.

But, I was still something of a slave to calories. If I ended the day at 1500 and I was stuffed, I thought, "Well, yeah, I'm really full, BUT I've only eating 1500 calories today, so I could still have some dessert." OR, "I cannot believe I ate 1850 calories today. I'll fun an extra mile or two on the elliptical tomorrow to make up for it." Basically, I was paying obscene amounts of attention to the number of calories going in and neglecting to give any to the cues from my body, such as "I'm full" or "I'm hungry."

August rolled in and Adam started reading In Defense of Food by Michael Pollan. Now, when I would say, "Well, cottage cheese is good for you because it has a lot of protein for not a lot of calories," he would respond with, "You're making it all about 'nutrition-ism,' which we are trained to do. You don't need to do that. Just eat FOOD, unprocessed food, and you'll be fine." He was learning so much and had such a good attitude from the book that I started reading it as well. (On another note, I have a terrible habit of starting a new book while reading another, which is why I am now concurrently reading this and Middlesex, neither of which gets enough of my time!) I told Adam that I wanted to learn to "eat intuitively," or, as he and Michael Pollan point out, I wanted to "practice" what used to just be called "eating." I began to try to listen to my body when I was full – though, not when I was hungry! – and stop eating.

This, again, was an improvement, but I still had the numbers going in the back of my head. Which, is not all that shocking, as I am a "numbers person," and often think in numerical terms. Sometimes, I find myself subconsciously counting my steps as I walk. I am naturally pretty good at math, and even started college with Math as a minor (before I realized that, while I'm good at it, Linear Algebra and Advanced Calculus II bore the sh*t out of me!). In addition, I have Type 1 Diabetes and an insulin pump, which requires me to count the number of carbs I eat so that I can take the correct amount of insulin. Needless to say, counting calories came very easily to me.

Then, in mid-August, I stumbled upon this life-changing post. Gina explained to me exactly what was going on, why I had plateaued, and why I was so confused. I stopped counting calories and really started to tune in to my body. If I was hungry, I ate. If I wasn't, I didn't. If I felt up to a workout, I did it; if not, I didn't. If I wanted a third apple for the day, I ate it – who cares if it's my third apple of the day? It's an apple! My body is much smarter than I give it credit for, and it knows what it wants and what it needs. Some times, it is hungry for cottage cheese; others, it wants veggies; and still others, it's a bit of chocolate. And I'm starting to learn that if I just give it want it wants, it's happy and will work the way that I want/need it to! And, it's showing. I have forever struggled to lose the last layer of pudge around my mid-section (a result of insulin pump therapy), and had even begun to make my peace with it (it's cute, right?) – but now, I'm actually starting to see my stomach tighten up. Adam keeps commenting about how "hard" my body is now.

That's not to say that it's super-easy. I still have days when I overdo it and days when I feel guilty about the damn apple, but I'm getting there. And it certainly helps that I am not only looking better, I feel better too! While I was counting calories, I constantly felt restricted and deprived, even when I was eating a decent amount of food. Having a "daily allowance" takes a toll on me psychologically – I've never been one to conform to any ideals of what I'm supposed to do with my life or how I'm supposed to look, so it makes sense that trying to fit my eating habits into a calorie window was not going to work for me. And, when I eat when I'm hungry, I'm much, MUCH, less likely to overeat when I'm already full – I never feel deprived, so there is never any reason to overindulge. Plus, I have infinitely more energy – my workouts are fun and motivating instead of grueling, painful, and exhausting.

This has been on my mind because I was reading the new Self magazine at the gym the other day. I love Self, and I especially love reading it while I'm running on the elliptical – for me, it provides motivation, inspiration, and entertainment, all in one neat publication focused around a favorite topic of mine: health. However, I came across one small article that said something about calorie counting, and suggested that some women may need to cut back to 1200 – 1400 calories per day in order to lose weight. That number triggered a negative response in me, as it just seems so damn low! And I couldn't help but think, "They just don't know the secret! Someone just needs to tell them!"

Which is what I'm doing – I want to spread the word: YOU CAN EAT!! In fact, YOU NEED TO EAT!! Do it!! You'll feel better, I promise.

The only other thing I want to note is that, while calorie counting no longer works for me, I know that it works for some people. And, it certainly helped me to understand just how much I had been eating when I first started making changes. So, I revert back to the "blog world mantra" – do what works for you. Calorie counting no longer works for me, so I'm stopping; but if you like it and it works and you aren't abusing it, by all means, listen to your own body!

In closing, I'm going to leave you with quotes from the two people who had the biggest impact on my current eating habits:

"Eat food. Not too much. Mostly plants." ~ Michael Pollan

"[T]he main point of what I'm trying to say is EAT. Eat often. Eat until you're perfectly content and eat well. Your energy levels, tummy and jeans size will thank you." ~ The Fitnessista

Thank you, Gina!
Wow. I can't even explain to you guys how happy this makes me and how much it really truly means. Every time that one of you says that you're embracing healthy foods after restriction, removed your shackles from being a gym slave, or simply choosing whole foods over processed junk, I can't help but be overwhelmed with warm fuzzies.
This, my friends, is why I started the blog. To share with people that I've totally been there. I know what it's like to not know what's healthy and what isn't, to be afraid of the gym,to be confused on how to work out, to be tricked into thinking I need 1/3 of the fuel I really do, count every calorie or minute of cardio, to feel like it's not enough, damage my metabolism, and slowly get everything back to order. Whatever your situation is, changes are that I've possibly been in your shoes. I love to share the things I had to learn the hard way, and watch all of you become healthier, happier and free to live the life YOU'RE supposed to- not what someone else is telling you to do. If there's one thing to take away from the blog, it's my embrace eating philosophy. Don't worry about calories, worry about the the quality of the food you're putting into your body. If it's going to be consumed the way nature created it, feast out!
It's funny that this all should happen tonight, because at work I was thinking about the fact that I'm eating quite a lot more than I have in a long time. I can't even remember the last time I ate this much food on a regular basis! The thing is, it's all organic, healthy and living food, bounding with nutrients. Even though I'm eating more, I'm eating well, supporting my activity level and feel amazing. It's just funny to think that the "old Gina" would have been freaking out about the fats, calories and sugars (gasp!!! agave?!?) that I've been eating. My jeans fit the exact same way they did before, so that says quite a lot about quality of food and how it affects the body.
*Sigh* Things like this just make me feel like I can hang my hat 😉 Thank you Emma G. for an incredible post and a beautiful tribute to the importance of healthy feasting 😀
~~~~~~~~~~~~~~~~~~~~~~~~~~~~~~~~~~~~~~~~~~~~~~~~~~~~~~~~~~~~~~~~~~~~~~~~~
All that being said, onto today's school re-cap!
We made a mole sauce to go with our tamales. Mine did not taste anything remarkably similar to a mole sauce, but the color was spot-on 😉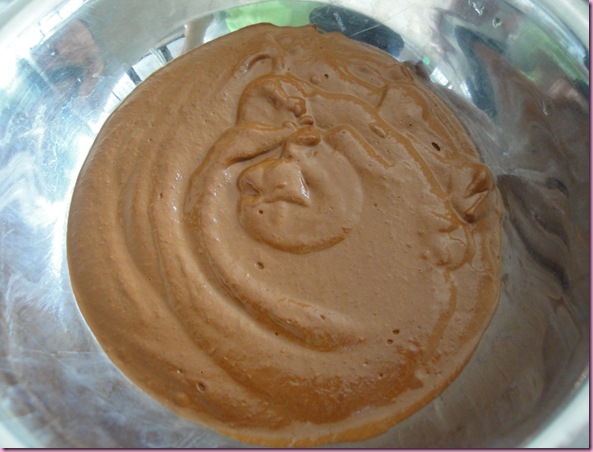 Next was a lovely salsa with jicama, orange tomato (!), cilantro and lime juice (which I added some garlic, sea salt, pepper, and Gina spice to)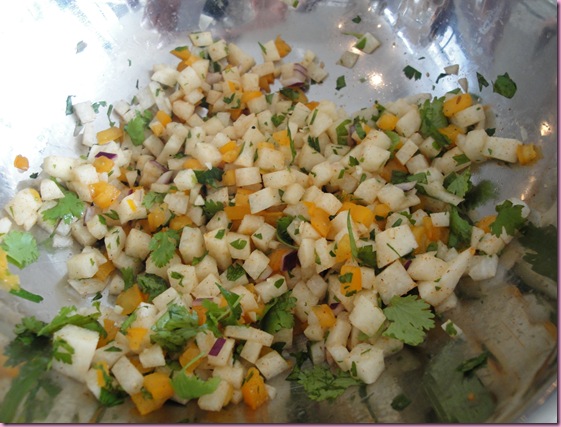 Also a guacamole with mashed cado, red onion, cilantro, cayenne, sea salt, lime juice and pepper)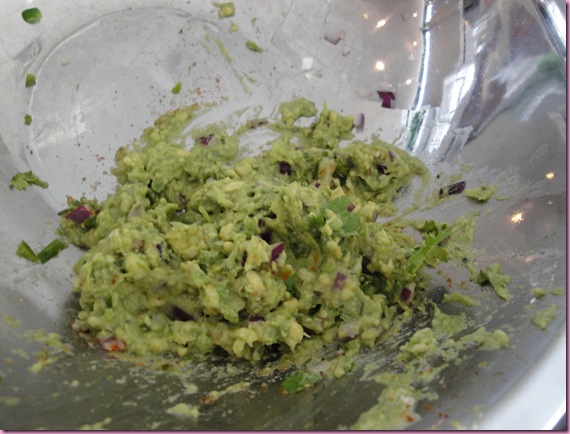 And plated up our tamales with mole sauce, raw sour cream, guacamole and salsa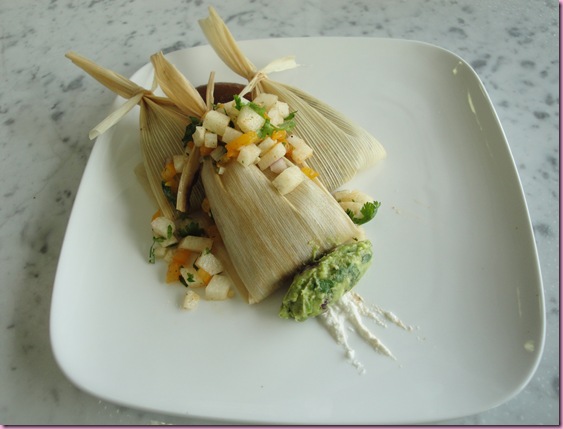 I actually didn't eat mine. The filling for the tamales that I made came out pretty nast –I skipped out on the nuts and made it veggie-based as a failed experiment- and I just couldn't do it. I think I have an aversion to raw Mexican food. Since I grew up eating the "real" stuff, it's hard for me to eat a raw version that will never taste like my mom's, nana's or aunt's, no matter how hard it tries!
Instead, I grabbed a ton of spinach, topped it with the salsa, guacamole, and crumbled leftover blue corn tortilla chips from yesterday.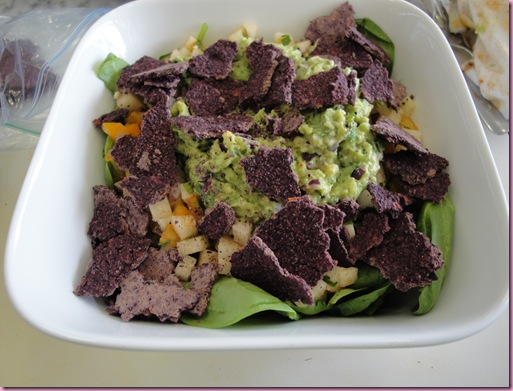 All mixed up: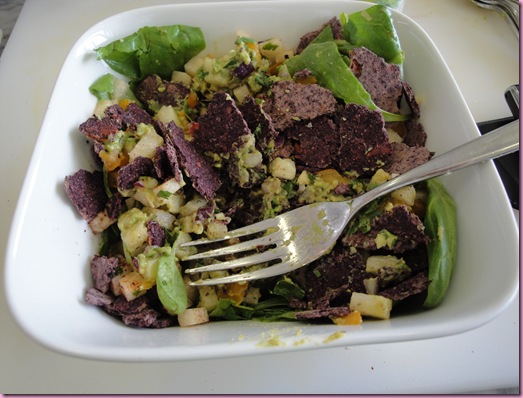 It was pretty glorious 😀
Well it's time for this girl to hit the hay. I'm taking the morning off from the gym and am working on a fun treadmill workout that I'll post tomorrow.
Enjoy your night!
G$