Hey everyone! Happy almost-Friday! I'm just so happy right now. I slept peacefully last night, took the morning off from the gym and have a belly full of veggies. Life es bueno 😉
This morning we talked about food that we were brought up with and how these foods comforted us and still give us beautiful memories. For our academy director, Ladan (who is amazing and has worked for the chef man of my dreams, Bobby Flay), it was a jeweled rice from her Persian heritage. The awesome thing is that we replicated that rice and made a raw version in class.
Cauliflower, cumin, saffron, olive oil, sea salt, golden raisins and pistachios (which I opted out from as I'm a little nutted-out)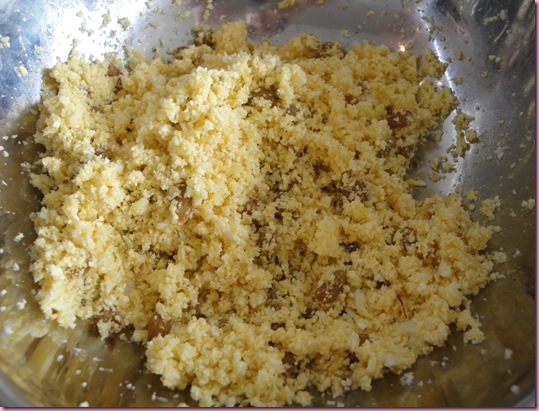 We also made some "roasted" veggies in the dehydrator and these are the ones I rolled with: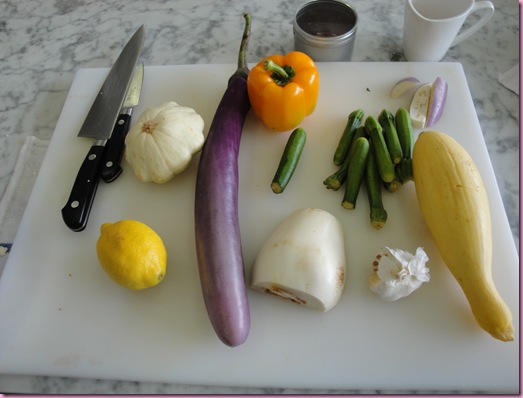 Next, we got to work on making some homemade Chai tea to turn into a latte with almond milk and drink with our lunch: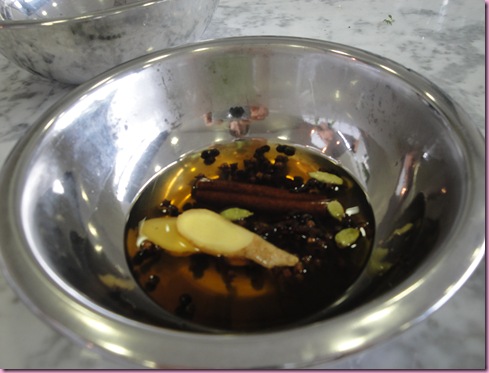 Here are the finished veggies: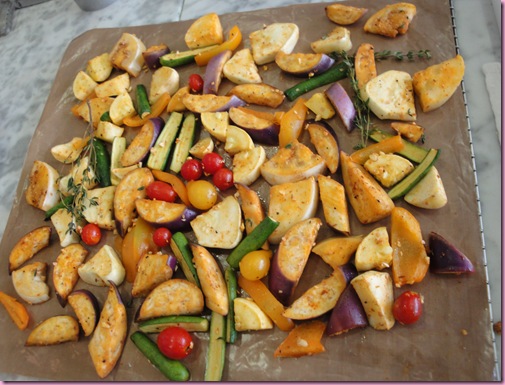 The finished "rice" (which I added blood orange juice and parsley to)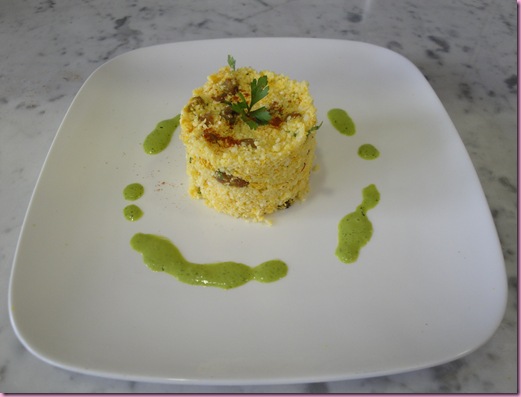 And what my plate really looked like when I started feasting: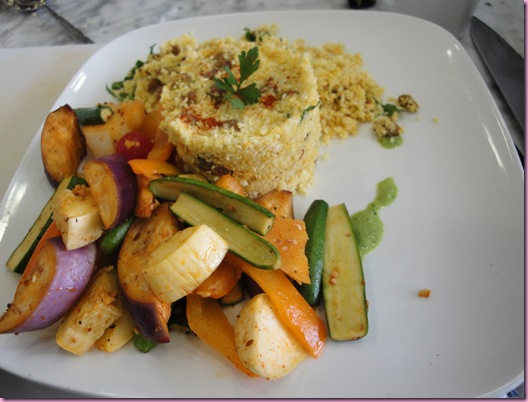 Accompanied by a beautiful chai latte: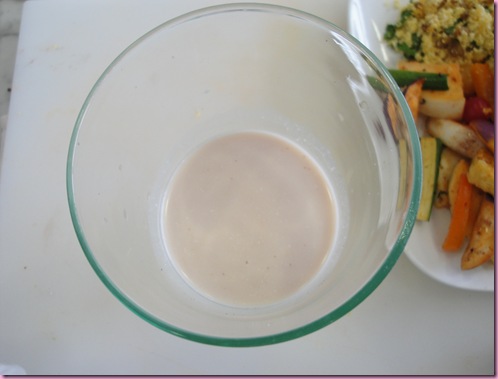 Such an incredible lunch, and it beats out the others as my new favorite. I think it's incredible that we're able to replicate healthy versions of food we grew up with, raw or not. Yes, it's definitely not the same, but there's a healthier version of everything under the sun. We were asked to think about foods that bring us memories of our youth and we're eventually going to try and replicate them. We haven't discussed them yet, but I'm deciding between my mom's enchiladas –which I'm determined to make a raw version of no matter what- or my nana's funfetti cake that she makes on our birthdays. Whenever I think of birthdays, I think of my nana's funfetti Bundt cake and whenever I think of my madre's cooking, it's her enchiladas even though I don't eat meat any more. Both foods instantly make me think of the comfort and happiness I would feel every time I ate them.
What foods were a huge part of your childhood, healthy or not-so-healthy?
Time to get back to class- who's STOKED for Grey's tonight?!?
xoxo,
G
Something to do: A RAD WORKOUT!
So on Wednesday after my treadmill workout, I was thinking about the crazy mix-up I do on there so I don't get bored and thought it would be fun to put it together into a post for anyone who might want to give it a whirl
So I bring you RAD (Revolving Apparatus of Death) Workout #1 😀
Here's how it works:
Download the posted playlist to your iPod (or mp3 player of choice)—if you don't want to download all of the songs, you could just choose the ones you would like to work out to from the list and can tailor the workout to make it shorter
Print out (or write) the instructions for each song and take it with you to the gym
Hop on the revolving apparatus of death and be ready for a boredom-free, booty-kicking workout
This week's playlist: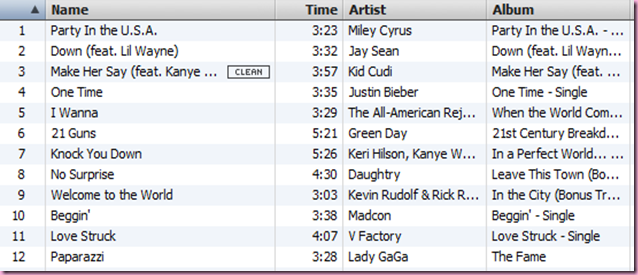 The workout:
| | | |
| --- | --- | --- |
| "Party in the USA" | Warm up | Use this song to warm up- start at 4.0mph with 2.0 incline |
| "Down" | Steady state | Keep incline at 2.0% and bring speed up to comfortable running speed (6.0-6.5mph) for the entire song |
| "Make Her Say" | Running up a hill | Reduce speed to 5.5 and bring incline up to 4.0%; every time the clock ticks to the next minute, increase incline by 1.0% |
| "One Time" | Hill walking | Bring speed down to 4.0 and change incline to 8.0%; every time the clock ticks to the next minute, increase incline by 1.0% |
| "I Wanna" | Sprints | Take incline to 2.0% and speed to a comfortable running pace (5.5-6.5mph) hold this speed and each time you hear the chorus, sprint it out, as fast as you can (for me it's around 8.0mph) then bring your speed back to the starting pace—the last chorus is a longy! You can do it |
| "21 Guns" | Running hills | Leave the incline at 2.0% and take your speed to a comfortable pace; every time you hear the chorus, increase the resistance as high as you can take it with maintaining your pace (for me, it's around 6.0%) then bring it back down to a comfy pace for the verses |
| "Knock You Down" | Steady state | Bring the incline back down to 2.0% and maintain a steady speed for the entire song |
| "No Surprise" | Walking hills | Bring speed down to 4.0 and incline to 4.0%; every time you hear the chorus crank the incline up as high as you can take it, then bring it back down for the verses |
| "Welcome to the World" | Steady state | Bring the incline back down to 2.0% and the speed to a comfortable pace for the entire song—if you're feeling spunky, increase your speed from the last time |
| "Beggin" | Running up a hill | Keep your pace right where it is and then incline at 2.0%- everytime the clock ticks to the next minute, increase the resistance by two percent |
| "Love Struck" | Last sprint | Bring the incline down to 2.0% and your pace to a comfortable speed- everytime you hear the chorus, increase the speed and balls to the wall, as fast as you can go. Then bring it back down for the verses- it's the last sprint, make it count |
| "Paparazzi" | Cool Down | Bring your pace down to 4.0mph and keep the incline. After two minutes, take the speed gradually down to 3.0. |
Stretch! Let me know what you think 😀 If it's something ya'll enjoy, I'd be more than happy to provide these workout "classes" on a regular basis