Better Than a Sunday Meal
Hi guys! How's your morning going?? Hope you're having a great day so far <3
I will spend my morning dreaming of these onion rings…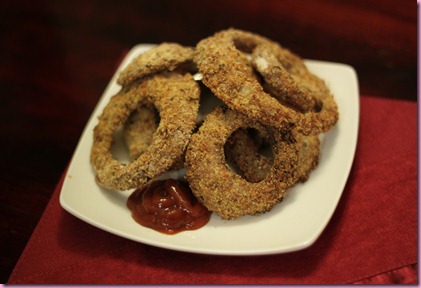 More on that in a sec 😉
Yesterday afternoon, the pilot went to work for a while and I got in a base workout. 25 min on the spin bike + 30 minutes walking around on the indoor track with a magazine. Nothing too crazy but it felt good to MOVE a little 😀
We got groceries, came back to the casa and grilled up a little dinner feast.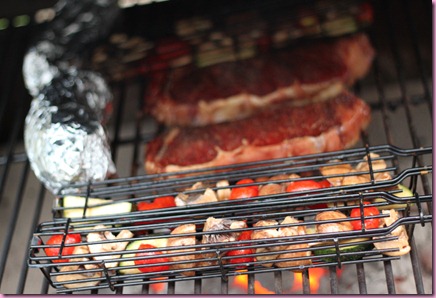 Balsamic glazed organic veggies: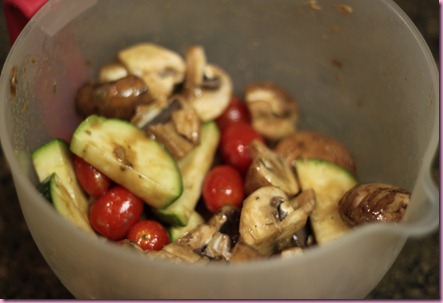 (Balsamic, EVOO, garlic, Dijon, sea salt and peppah)
Sweet potatoes,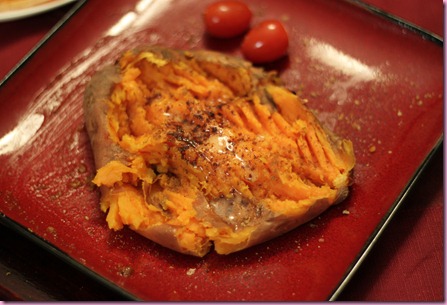 (with Earth Balance, Stevia and cinnamon)
organic steak for the pilot,
and the onion rings – a recipe from Skinny Bitch in the Kitch.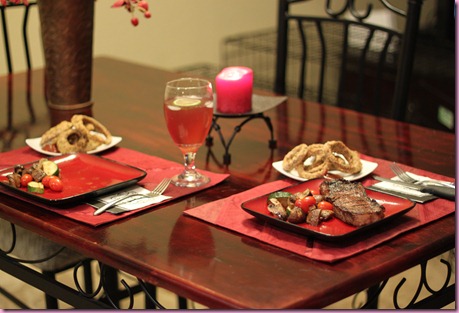 I'm not a huge Skinny Bitch fan due to the crass language, demeaning attitude and focus on highly-processed soy products (I prefer whole foods), but there are some recipe gems in there, including these onion rings.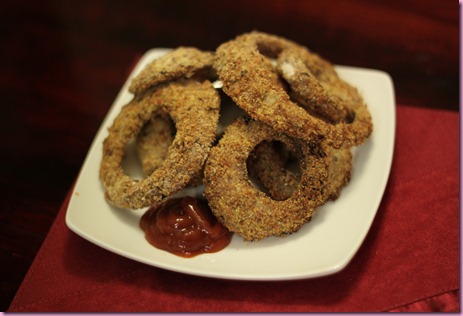 I used corn meal, Mary's Gone Cracker crumbs, sea salt, almond milk and they came out perfectly. Crunchy, salty and not in the least bit greasy. I will devour an entire batch of these sometime very soon, but for last night I shared them with my Pilot love 🙂
+ club soda with a splash of cranberry and a lime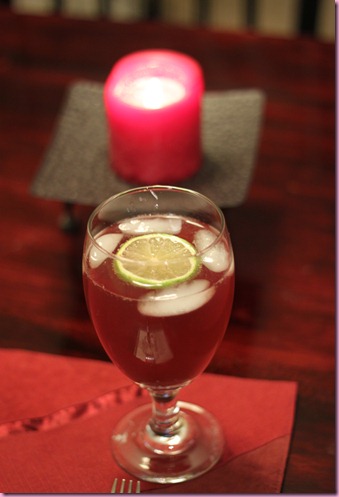 Lovely.
When I first met the Pilot, he told me I was better than a nice Sunday meal. I didn't understand his Southern-isms at the time, but now I think that's a great compliment if we're talking about our usual Sunday meals 😉 He's quite the grillmaster.
We washed down our feast with Keeping Up with the Kardashians.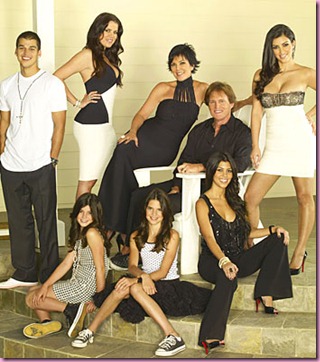 Source
Oh Kardashians, I love you and your drama 😀
This morning's bfast:
Hemp waffles –I bought them at Publix on a whim and they're scrumptious- almond butter, peach preserves, cinnamon, mesquite and bananner.
Well, I'm off to get started on the day's To-Dos:
-Work
-Blog schtuff (going to add a puppers page and get the Top Posts page finished)
-Call moving companies
-Back to work
See ya later today!
xoxo,
Gina
Something to talk about: Have you read Skinny Bitch? What did you think about it?? We talked a little about it at the Healthy Living Summit last weekend and I'd love to hear your thoughts on the controversial and extremely popular vegan lifestyle book.