August 2015 Workout Playlist
Hi friends! How's the morning going? Lately, I've had the worst time getting moving in the morning which I think is could be due to the third trimester slump. Caffeine, I miss you!
Yesterday was a lot of fun and packed with activities. I joked about getting lost in the IKEA maze, and we really did get lost in the IKEA maze. You have to literally go through the entire store to get out, and all of the elevators are hidden. Sneaky, IKEA.
I got a couple of things for the baby's room/guest room because the Pilot and I realized that we're giant slackers and should start getting things together. It was so much fun to take our baby stuff out of storage and start cleaning everything! I have plans to do a mermaid room, so we'll see how it turns out. It's a smaller space, but I'm excited to decorate it a bit for the little lady. <3
The mess that is the guest bed right now: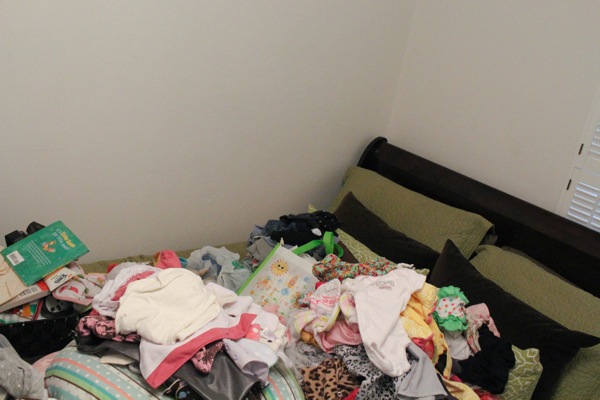 (If I disappear from the world, please unearth me from the mountain of tiny jammies. Also, if you know of a spot where I can sell a bunch of cloth diapers, please let me know!)
Dinner last night was a quick one that I'll be sharing later this afternoon: turkey and shrimp jambalaya!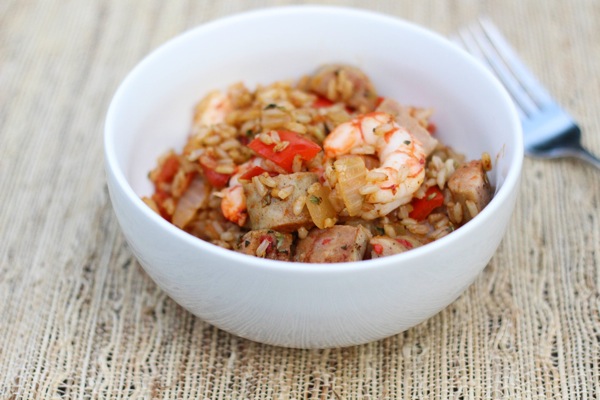 It's a barre day over here and I have a chiropractor appointment this morning. Between chiropractic care, acupuncture, strengthening my legs and glutes, and wearing my support belt, a majority of my hip flexor and round ligament pain has disappeared. For a while, I could only walk a couple of minutes on the treadmill before I would cramp up (at 2.5-3.0mph), and after seeking help and wearing my belt, I was able to comfortably walk for 30 minutes at 3.2mph on Sunday! It's still much slower than my *usual* walking place (and running is just out of the question right now), but still felt like a huge accomplishment.
I even got to bust out a new playlist! When I was at IDEA, I attended Jeffrey Scott's "Pimp My Playlist" session. I attended the session last year, but after talking to him during our Spin cert, he assured me that he had an entirely new playlist + tips and tricks to share. Of course I had to go. He has an infectious enthusiasm and I really enjoy his presentation style. As promised, he gave us a solid new playlist + lots of ideas on how to make an awesome and motivating mix for class.
Some of his tips, which are helpful if you're a fellow instructor or just want to make a bomb playlist for your own workouts:

1) Define it. What are you using this playlist for? Make sure it's appropriate and the right type of music to pump you (or the class) up! Timing is important. For example, a 9:15am crowd of mostly moms is going to enjoy different types of music (top 40 and throwback tunes) than a 6:30pm after-work crowd (when more rock/edgy music is appropriate). One of my favorite instructors always asks the class to email him song requests. This is a perfect way to get an idea of your crow and what types of music they enjoy.

2) Surprise and delight! Throw in a song that EVERYONE knows, but maybe a unique remix of the song (so you don't immediately know what it is).

3) Use some online tools. He recommended:

iTunes: go to top singles and start at the BOTTOM of the list so you're not playing all overplayed stuff. Search for a song you like and add "remix," "dance," "cycling," "mashup," "workout," "techno" or "dubstep" in the search bar with the song title

Spotify: follow instructors or friends to get new song ideas (I love following Julz Arney, Amy Dixon, Lacey Stone and Greg Cook)

SoundCloud.com —> amazing remixes of popular songs you can download

Workout music: Dynamix, Yes!, Power Music and Club 32 Mix create remixes of Top 40 songs

ClickMix.com: you can mix your song within the website and also change the beats per minute

4) Shazam FTW. You never know when you're going to hear a song you love and wonder what it is. He joked that he's often walking around Whole Foods with his phone in the air. I personally adore Shazam and frequently use it to discover new songs. Some of my favorite Zumba tunes were Shazam-ed in a Mexican restaurant.

5) Music mapping. Create a journey and a purpose with your playlist. Pay attention to the song order and contrast between the songs -try to avoid similar-sounding songs or artists consecutively- and see if the lyrics in the song can help with your coaching. (It's cheesy, but it works.) I also like songs with a motivational message within my own workouts. "Stronger" by Kelly Clarkson never lets me down haha.
Here's a new playlist I created, using some of his songs and suggestions + some of my current favorites: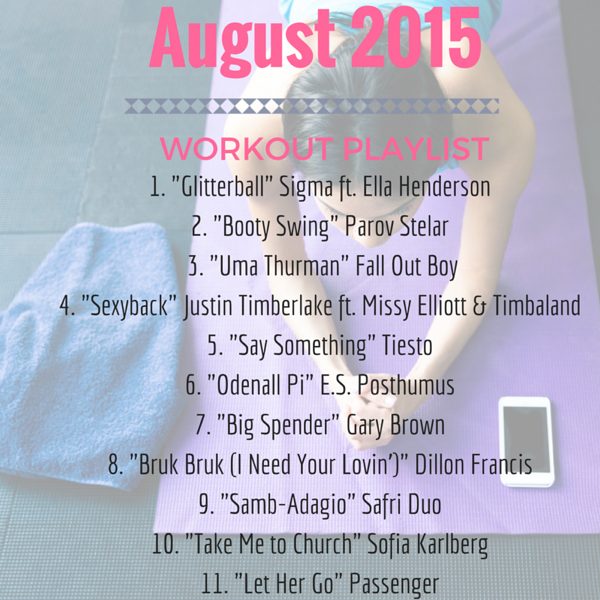 Hope you find some new playlist loves!!
Have a wonderful morning <3
xoxo
Gina
*I'll create a cardio workout to go with this playlist and post it this week! <3
Something to do: this arm burner! It's a quick one that will have your upper body on fiiiire.