IDEA World Conference 2013: the expo and other fun stuff
Since I've already re-capped the sessions and "meat" of the IDEA conference, how about the rest of the fun stuff?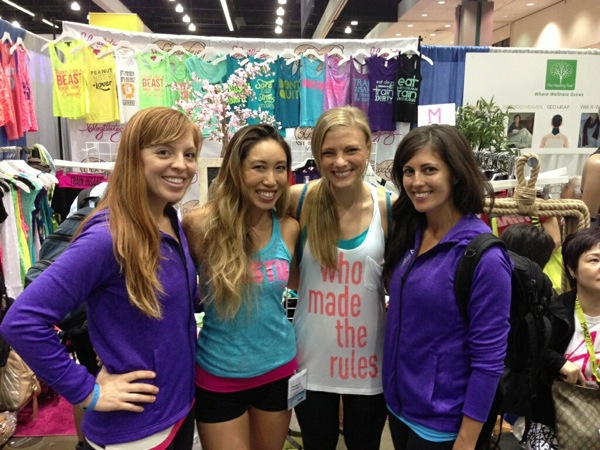 (with Monica, Cassey and Julie)
Namely, the Expo and hanging out with some awesome ladies 🙂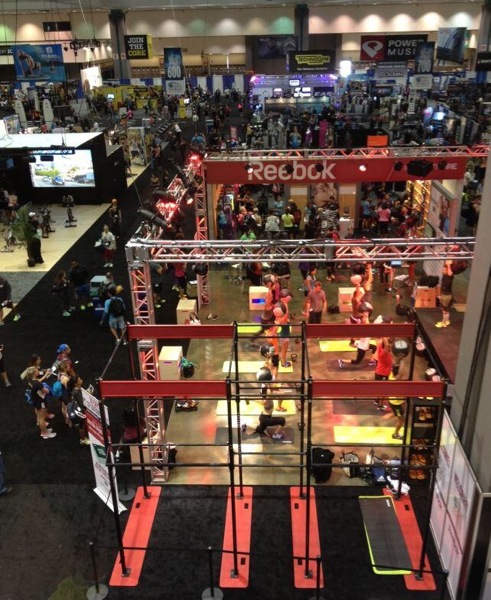 (from Reebok's twitter!)
I'm not sure I'd recommend IDEA for a first conference because basically anything after that is sad trombone city. I've been to a few fitness conferences in my life, and they were all dwarfed by the awesomeness that is IDEA. Everything was the best of what I'd experienced, from the quality and variety of the classes/lectures to the additional offerings (Hollywood hills hike?!) and Expo.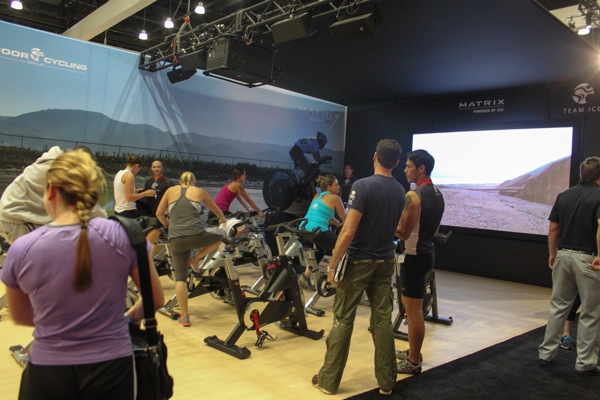 Even if I didn't work in fitness, I would still want to check out the Expo. The Reebok booth had a full workout stage area (complete with flashing lights and a live DJ) for various classes throughout the weekend. You could take a CrossFit class, learn a hip hop dance combo, practice yoga or do a bootcamp workout at any point during the day. Directly across from the Reebok booth was the Zumba booth!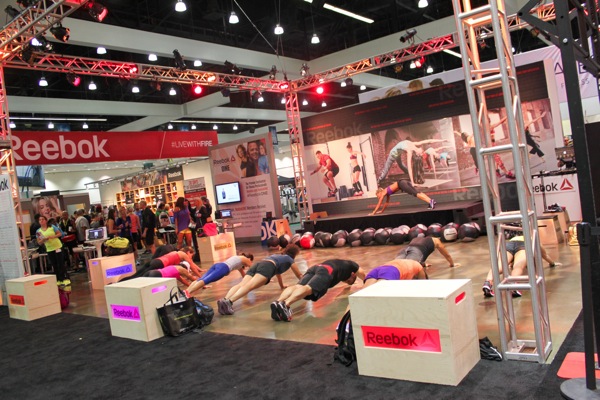 Dreams do come true, haha.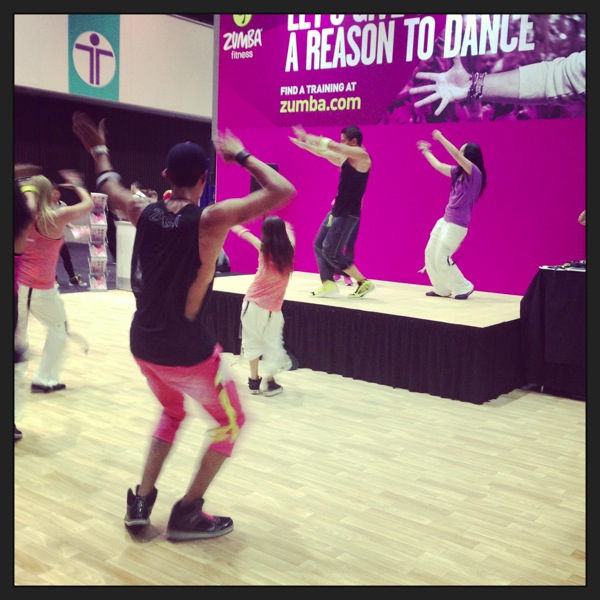 Jump-in Zumba classes happened entire time, plus a little Zumba shop with all the funky outfits (costumes?) at ZIN prices. Since I wouldn't have to pay for shipping, I loaded up on new pants and tops since it had been at least a year since my last Zumba purchase. It was time to freshen up the stash a little 😉
Throughout the rest of the Expo, various fitness companies, food booths and demos were set up. I love things like this because you're able to get a small taste of the workout or food without the entire commitment of attending a full class or purchasing an entire box.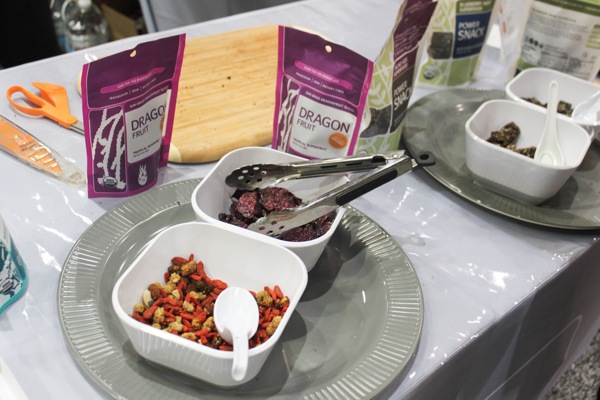 I also liked the fact that there seemed to be something for everyone: the drinkable protein egg whites were neighbors with Daiya cheese.
In between classes, shopping and hanging out at the Expo, I also got the chance to meet up with friends! I spent the first couple of days with Julie, Monica, Kristin, Jenny and Shannon, and then hung out with Kasey (aka Powercakes) for the rest of the trip. During my stay in LA, I got to try out a few amazing restaurants.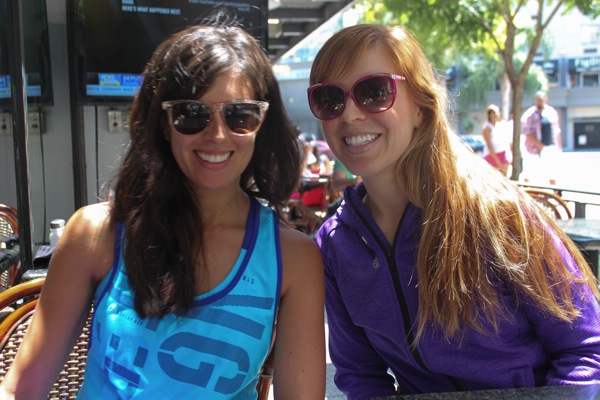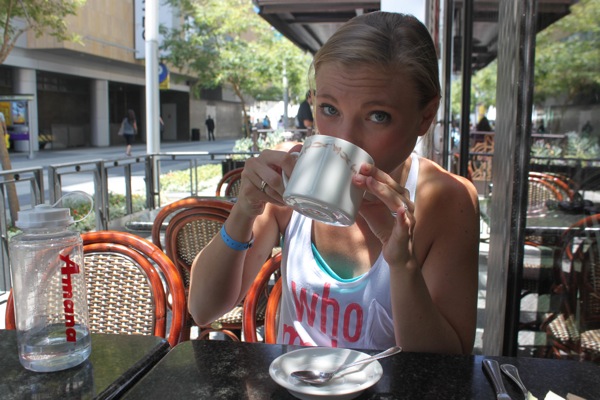 Especially noteworthy: the sushi at Katsuya and the 3 meals I enjoyed at The Farm (one breakfast, one lunch and one dinner).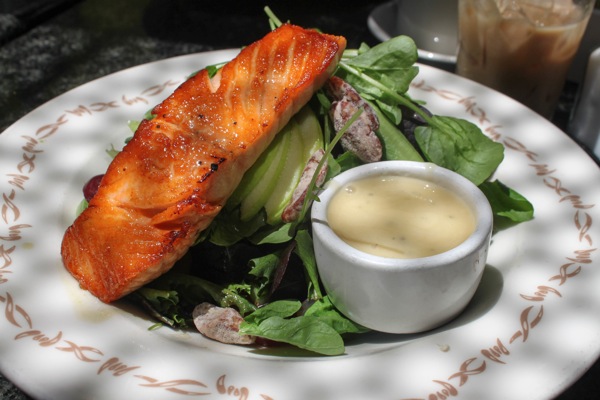 I think of all of the great memories I'll have from IDEA, one that will remain vivid in my mind was the keynote speech from Bo Eason. Since I'm not the biggest sports fanatic -I live for AZ basketball but that's where it ends- I'd never heard of Bo before. He was an animated and captivating speaker, plus he did funny voices and moved across the stage like Dane Cook. A YouTube clip of him speaking:
and some things I took away from his talk:
-Connect with others by telling your story. Be true to yourself and tell others your personal story so they'll want to connect with you. It seems simple, but as a blogger, it's easy to become guarded in your words or start to censor certain emotions/experiences for fear of judgment. You have to get over it. Because all you're doing is alienating the people who WANT to connect with you, and the people that don't like you? Well, they're not going to like you no matter what you do.
-If you really want to do something, even if you suck at it, NEVER quit. He went from being the "worst safety football player" (his words) to the first pick in the draft by doing a few things: practicing his heart out, refusing to accept defeat, and undying desire to achieve his goals.
-It really is possible to be great at many things. When he became injured, he was worried about what he was going to do since all he'd known was football. He ended up writing and starring in a one-man play on Broadway: "Runt of the Litter." It's won many awards and I read online that they're making it into a movie.
I'm so excited to get back to teaching tomorrow to use some of the techniques and info that I learned!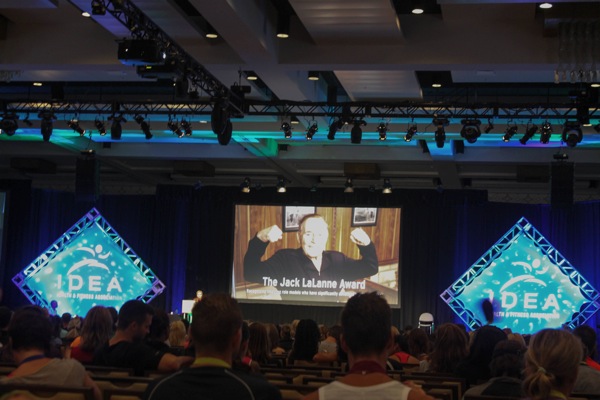 And think I have enough inspiration to last until next year's IDEA conference. 😉
Hope you're enjoying the afternoon!
xoxo
Gina
Who is something that inspires you? Have you ever been to a fitness conference or Expo?
*Thanks again to IDEA and Reebok for sponsoring my trip to IDEA. Even though my attendance, expenses and travel were provided, all opinions are my own. <3