Hi friends 🙂 How was your Indian Food Wednesday? Did anyone celebrate? I find it very appropriate that today's Tucson Groupon is for Indian food. We might have to hit that up….
I just got home from a full day of teaching/assisting at work, and snuggled up with the pup and a bowl of popcorn.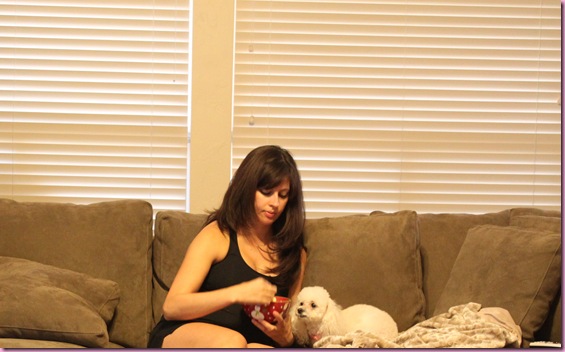 [Snowmen in October? Yes, please]
Popcorn has to be my favorite post-work snack, and Bella has to be my second-favorite snuggler 😉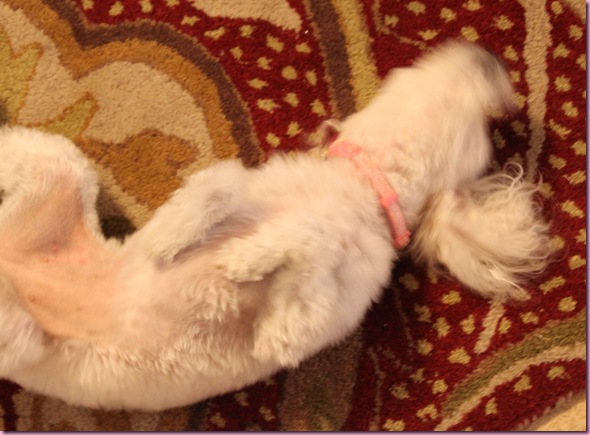 I taught employee Buff Booty during lunch and my booty hath been buffed. I've going to be a little sore tomorrow and am already dreading the many stairs I'll have to climb.
Here's a snippet of what we did:
-Squats, pulsing squats, tempo squats (down slow, up fast and vise versa)
-Lunges, pulsing lunges, lateral lunges
-Plie squats with pulses and heel lifts
-Sumo deadlifts
-Barre work using a playground ball <— this is the doozy right here
-Walking lunges
-Floor work (lots of bridges and other torture strategies using the playground ball)
Lots of stretching tonight, fo sho.
Some eats:
Last night's midnight cup of Puffins: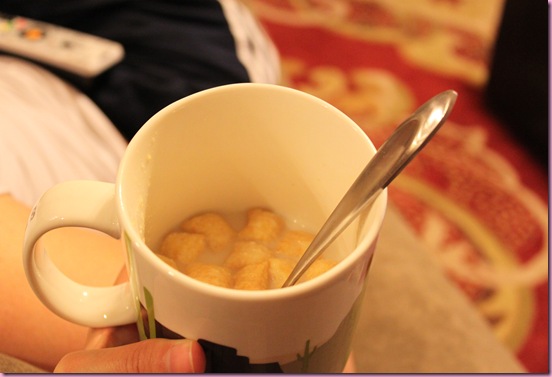 [That was the second bit I poured, since I always need more to finish off the almond milk that's left]
Bfast was a bowl of oats topped with crumbled Larabar: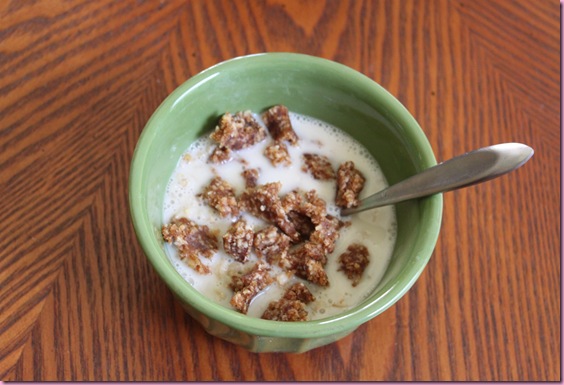 Pizza toast for lunch: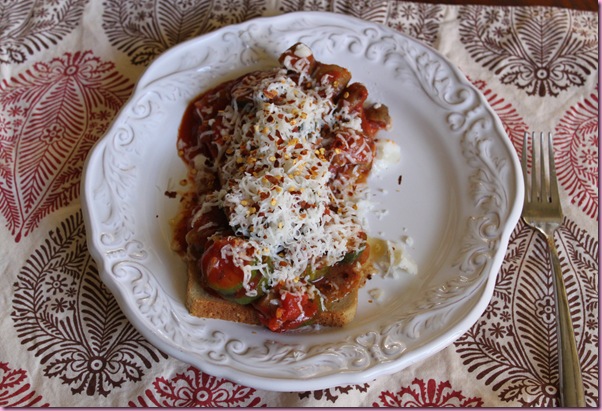 Snackage: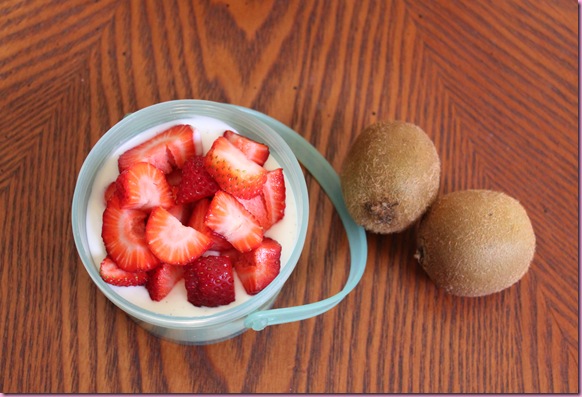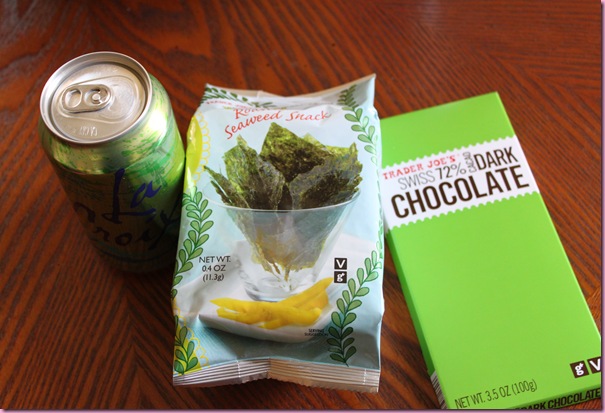 It all adds up
So as you guys know, we've been tackling lots of little projects around the house since we moved in. Our house was move-in ready, but there are things we'd like to update and change, and are quickly finding out that it's a never-ending process. The fun part about it is that we can actually change things now, instead of scheming and wishing we could. We've always rented before, so to be able to do whatever the heck we want has been gloriously refreshing.
While I was planting Sunday night, the Pilot was hard at work replacing the deadbolts and handles on all of our entry doors.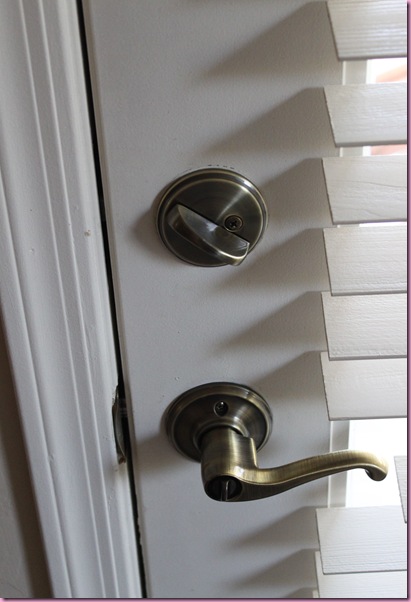 So much better than the shiny gold they used to be.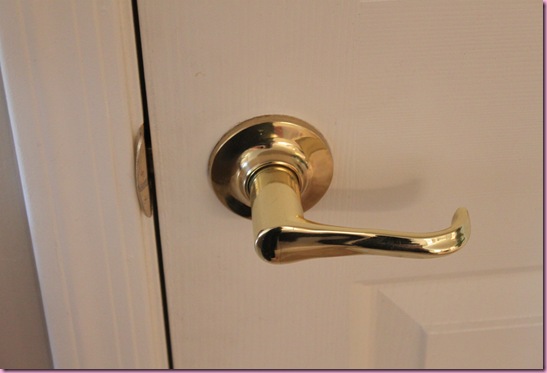 The Pilot has surprised me because while I always knew he's wicked smart, he's a handyman, too. I had no idea since we'd always had a landlord or maintenance to call. If he doesn't know how to do something, he Googles it and gets it done.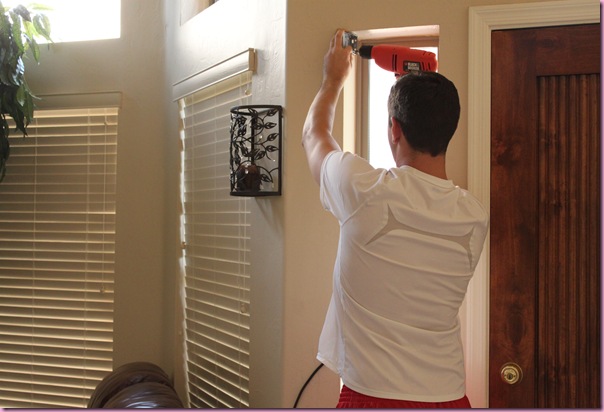 [Like last weekend when he was installing blinds]
Just when I thought he couldn't be any more amazing….
We still have something like 12 door handles to replace in the house, but we're working on things a little at a time so that Lowe's doesn't totally own us. It's more fun this way, anyway 😉
Dropping the all or nothing attitude is beneficial in many more aspects of life than just health and fitness. It's all a journey and it all adds up <3
Time to make some dinner and then take little Bell for some exercise.
Schweaty October Workout + playlist coming atcha in the am! 😀
xoxo
Gina
Something to think:
?"No one wants to die. Even people who want to go to heaven don't want to die to get there. And yet death is the destination we all share. No one has ever escaped it. And that is as it should be, because Death is very likely the single best invention of Life. It is Life's change agent. It clears out the old to make way for the new. Right now the new is you, but someday not too long from now, you will gradually become the old and be cleared away. Sorry to be so dramatic, but it is quite true.
Your time is limited, so don't waste it living someone else's life. Don't be trapped by dogma — which is living with the results of other people's thinking. Don't let the noise of others' opinions drown out your own inner voice. And most important, have the courage to follow your heart and intuition. They somehow already know what you truly want to become. Everything else is secondary."
– Steve Jobs