Hiiii! How's your Monday going? Hope you're enjoying the day so far!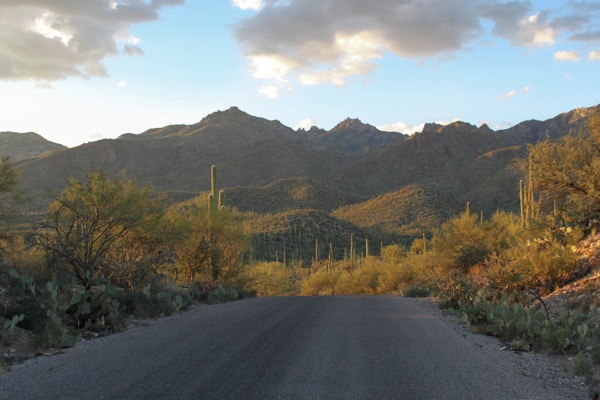 This morning's planned run turned into a nice walk instead. My legs are still sore from Saturday! It's the kind of sore that didn't seem like it would be going away when I started running, so I just kept it slow and enjoyed the scenery. My legs were grateful, especially since it's an intense teaching and training week.
One of my current favorite breakfasts: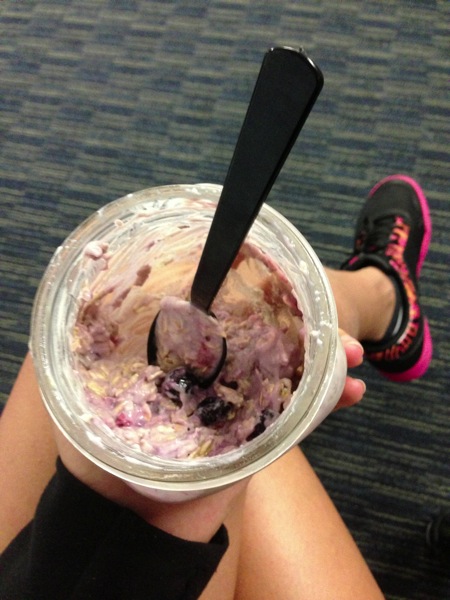 A breakfast cookie with the classic ingredients + a container of yogurt instead of the almond milk. It's a great way to amp up the protein content, especially on very active days. I've been adding frozen berries and storing in a jar in the fridge overnight, so the next morning, all I have to do is grab and eat. I make them for Livi without the protein powder, too. She loves her little parfaits 🙂
Some exciting news this afternoon: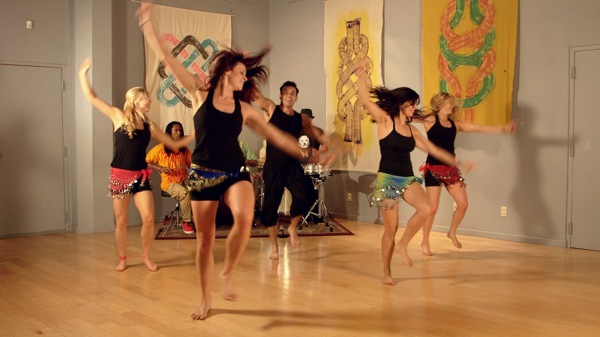 The DVDs took quite a while to be pressed and wrapped by the DVD company, and we were anxiously awaiting their arrival. Then, 27 boxes arrived on Sasha's doorstep this Friday.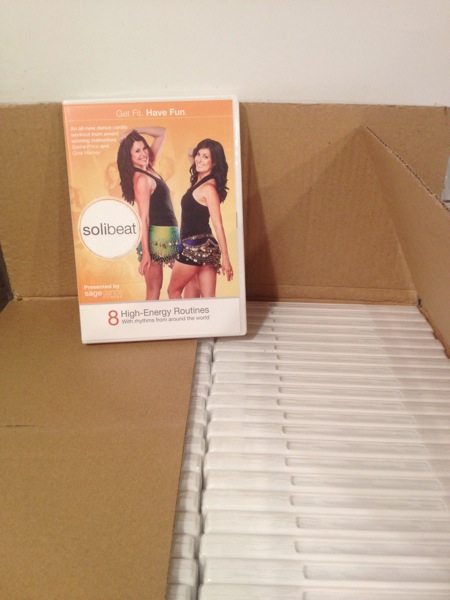 We worked hard to create this workout and are so excited to have a tangible product to share with all of you! We're so thankful to all of our amazing dancer friends (Cameron, Sara and Elizabeth),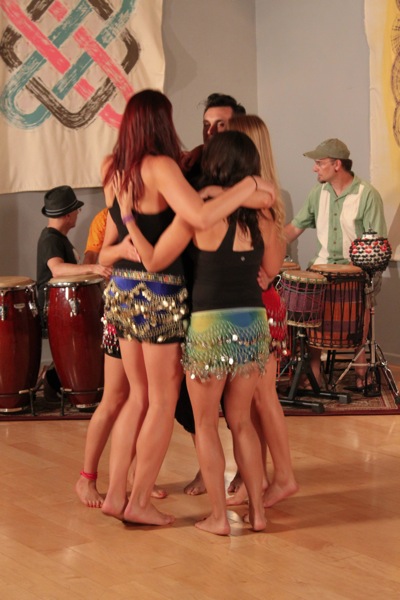 the talented drummers (Clif, Swami and Jeff),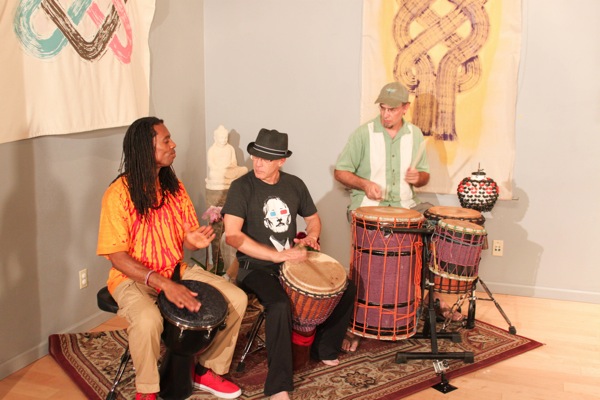 Grant, Luke, Matt, James and Tom for their help in making Soli Beat what it is. Grant has such a unique vision for creating films, and we loved having his expertise and artistic eye in bringing our dream to life. The way he filmed and edited Soli Beat is pretty mind-blowing… We went over to his house a few times for final edits, and while I have a hard enough time with iMovie, Grant had multiple layers and screen images going at once, and would quickly crop and delete things like it was NBD. Pretty cool stuff.
Editing magic: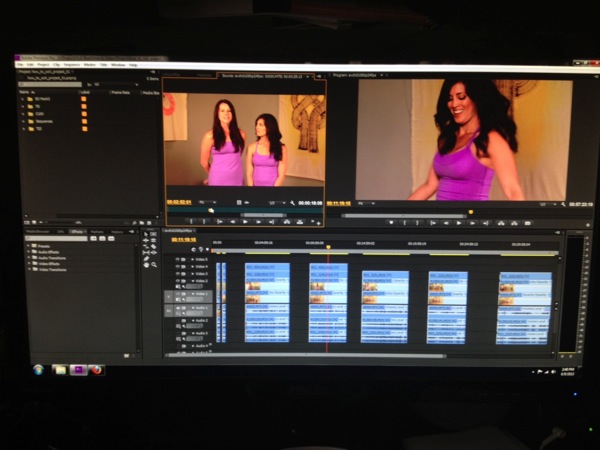 A few people have asked for the steps we took into making Soli Beat and what went into it, so here's a bit of a nutshell version.
-Choreographing and planning. Sasha and I spent quite a few hours developing choreography, progressions, and rhythm patterns to make the dances fun, easy to follow, and effective so that you get a good workout without feeling like you're "working." One of the most challenging things about dance fitness is that if you don't know the movements, you won't get a good workout. For Soli Beat, we repeat the moves often, so you have time to really become familiar with the moves and make them bigger (burning more calories) before continuing on. As a class participant and DVD lover, I personally get annoyed when I hear the instructors talking too much or saying the same things over and over as I watch the DVD multiple times. This is why we did the instructional portion separately. We break down the moves for each dance very slowly, and you can practice as much as you need to before trying it with the drummers. If you have done it a couple of times and know the moves, you can just click the "live class" option and dance your heart out to the drums. We give visual cues and you follow along! This gives you a chance to really listen and feel the music. You can do the whole class, or just bits and pieces to get in a shorter workout.
Here is a 2-minute snippet of the DVD, for an idea of what to expect:
So fun <3
-Business stuff. To create this project, we needed to make multiple payments for cast, musicians, filming and products (DVDs, mailing supplies, etc). To make things easier, we started an LLC and a business checking account.
-Practice! We had quite a few practices and rehearsals with our dancer friends to make sure everyone felt good with the choreography. It was a great chance to us to brainstorm ideas together and see what really worked in a class setting. The beauty of this workout is that you don't have to do the moves perfectly. Just be safe, move, and have fun with it.
-Photos. We wanted beautiful images for the DVD and our website, so we enlisted the help of James Patrick, who does photography for a variety of fitness magazines. We were already familiar with his work and thrilled for him to take our professional photos.
Setting up: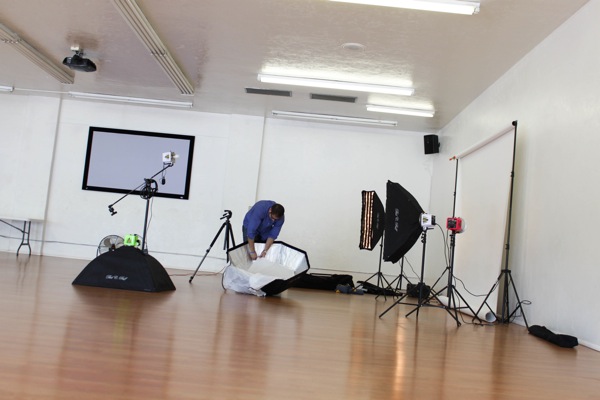 -Testing. We went to the Movement Shala with Grant a few times to test out lighting and sound equipment. We were so stoked the first time we heard the digital recording of the drummers– the acoustics are incredible. We were really happy that it worked out, especially since we love the tranquil yet energetic space and the owners (Jade and Alok).
-Filming! We had two filming nights: one for the instructional portion and one for the live class. Each one took about 5 hours, but almost everything was filmed in one take.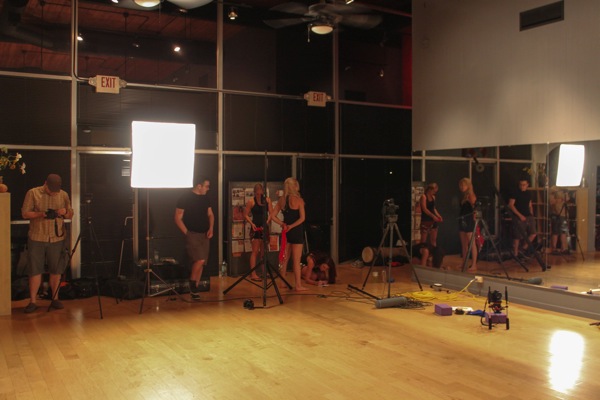 -Website, store and graphic design. Matt, Sasha's husband, designed our logos and website. He did a truly beautiful job!
-Ordering, packing and shipping. Since the DVDs are here, we can get them shipped out and on the way as they're ordered. If you pre-ordered a copy, it's in the mail on the way to you! A few people have already let me know they have their copies 🙂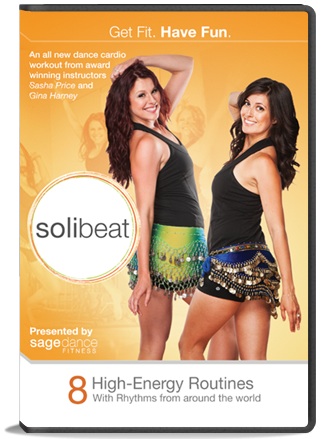 Please click here if you'd like to pick up a copy for yourself or a friend <3
I wanted to thank all of you so much for your support with this fun project. I love creating short workouts to share on the blog, but I am so excited that I was able to finally create a full class, with the help of my lovely friend Sasha. We really hope you love it!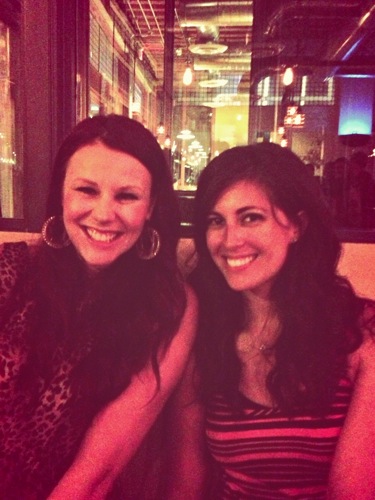 Thank you also for your support and for reading this little blog. Every day I'm thankful that I get to do what I do, and that I have all of you to hang out with 🙂
xoxo
Gina
More: