Focus On: The Indoor Rower
Hi! How's your morning going? Thank you so much for all of your wonderful comments about Soli Beat. We appreciate your kind words so much and are really excited about it. For those of you who have asked, we are happy to ship internationally 🙂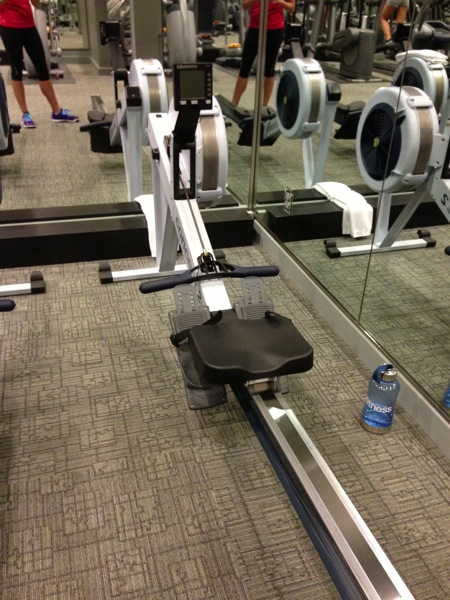 So, I used to be a gym cardio fanatic. Not just the classes, but I could park myself on the Stairmaster with a good book, magazine or text book (womp womp) and exercise away for at least an hour. Now, the thought of doing that makes me break into a cold sweat. Not only do I get suuuuper bored on traditional cardio equipment, but I've become a huge believer that if I'm focused more on tabloid reading than my workout, I could be working a little harder. Don't get me wrong, being at the gym with a book working at minimum effort is a thousand times better than not going at all, but since I only have about 45 minutes max to work out on the days I'm not teaching, I get in, don't stop moving the whole time I'm there, and get outta there.
Some of my current favorite gym cardio modes:
–HIIT intervals on the treadmill (<— much less boring when it's a quick and sweaty interval session)
-Jump rope
-Plyometrics
-Callisthenics
-Rowing
Lately, I've become a huge fan of the rowing machine. It's funny because it's something that used to really freak me out. I had no clue how to use it, and it didn't seem like it would be that great of a workout. (Then again, I'd never rowed an actual boat before so there ya go.) At CrossFit, I didn't have a choice since it was part of the workout. I had to do it… and what do you know? I ended up loving it. It got my heart rate up quickly, I liked the reduction of stress on my joints, and it enabled me to utilize more muscle groups than I would jump roping or running.
While I was at the IDEA conference, it was my first experience with a bootcamp class utilizing the indoor rowing machines: Shockwave.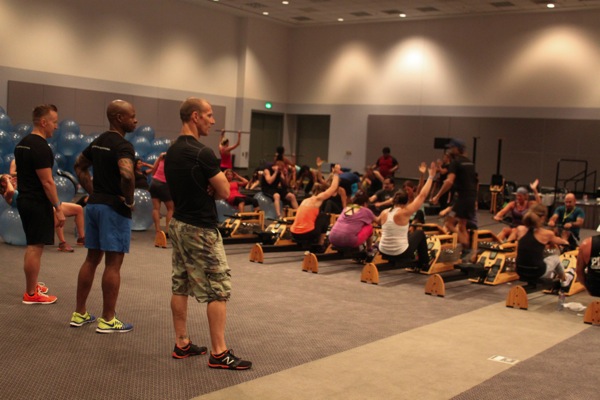 I was so excited by the workout, I dragged my boss into the session to see if we could get some rowers and do something similar at work. They just came in!
If you've never used the rowing machine, here's a great how-to video:
Tips for Using the Indoor Rowing Machine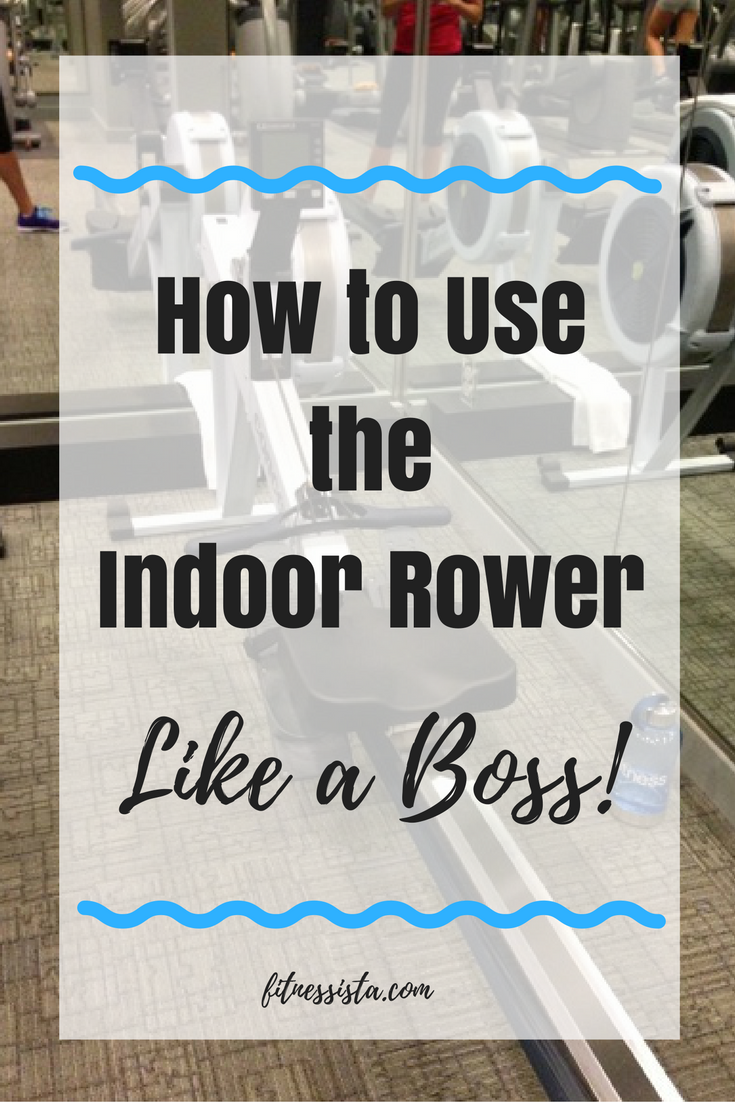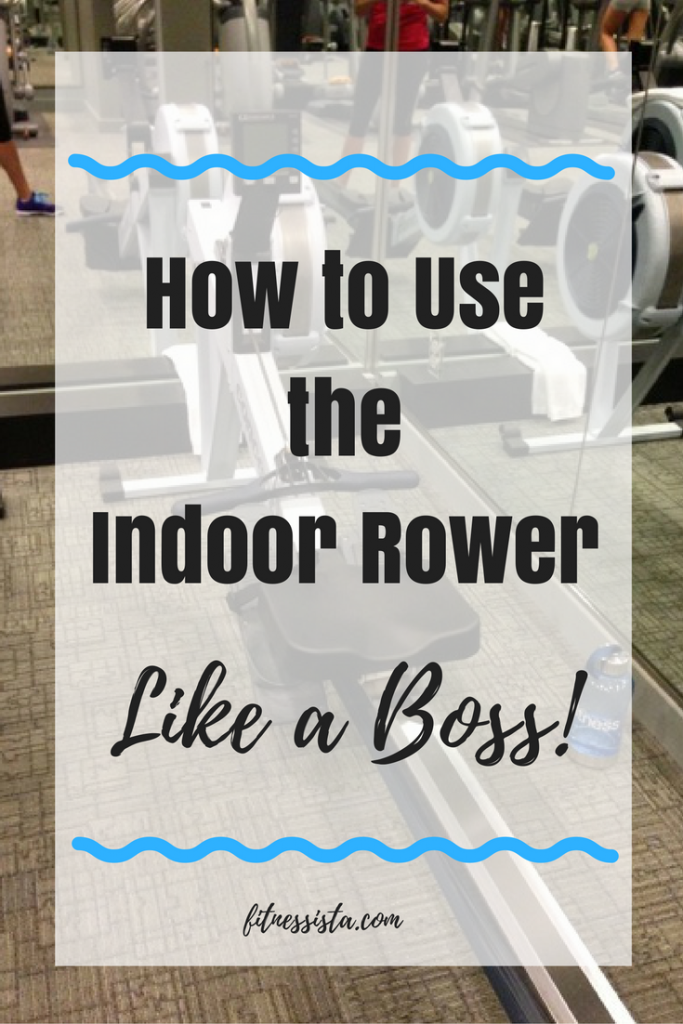 Power with your legs – It's common to think that the movement is coming from your arms or back; it's actually driven from your legs. Push through your heels, power through your glutes, and then use your core, then arms/ back as you row. As you release, it's the opposite sequence of events: first moving your arms, then core, and finally legs.
Keep your shoulders down, chest lifted and core engaged.
Start small – Start with short distances or times to get used to it. Just like anything else, it's smart to venture slowly to allow your body to adapt and prevent injury. Start with a few minutes and then next time, add a few more. After you're comfortable with the motions and using the machine, you can start to experiment with some intervals. I love to do music intervals on the row machine: row fast during the chorus and slow it down for the verses.
Add it into your routine – You can add the rower into your strength or cardio routine. A great way to do this is to add it as a cardio blast in between strength sets, or alternate rowing (QUICK) with running or walking (recover). This row/run workout is KILLER!
Pros of the Indoor Rower
Low impact cardio option. I wouldn't recommend it for those with knee/joint/hip concerns, as it requires substantial flexion of the knee and hip joint, but is a nice break to sit down instead of holding your weight upright as you work. For this reason, it's a great cardio option for those looking to lose a large amount of body fat/excess weight.
Similar calories burned to running, but a lower perceived exertion. You don't feel as wiped out, but you're still cranking those calories away!
Utilizes different muscle groups. It really is a total-body workout. I feel like rowing has helped strengthen my back, arms and core tremendously.
You control the resistance. If you're working hard, the rower will make you work even harder, as the resistance increases with how hard you're pushing and pulling
Cons of the Indoor Rower
Calluses. Is that it? Haha.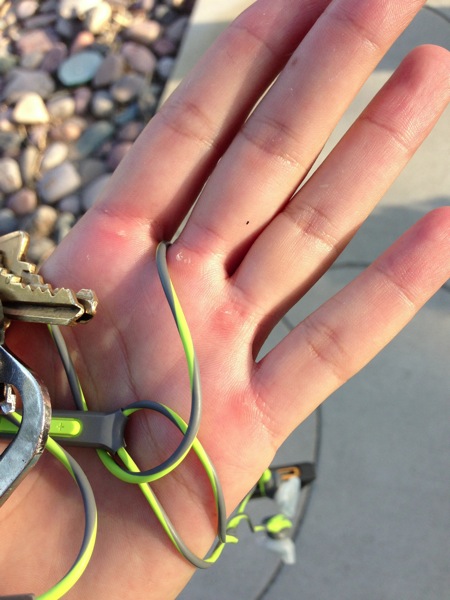 If you've never tried the indoor rower, check out a class nearby, or ask for some help from a trainer at your gym!
Do you use the rower as part of your cardio rotation?
Is there anything at the gym that intimidates you?
I'm off to lift some heavy things. I got a new kettlebell, so I can get in some strength workouts here at home, too. Fitness nerd alert: a shiny new kettlebell made my morning 😉
Hope you have a wonderful day <3
xoxo
Gina
More Focus On posts: