the kale salad to my heart
(gluten and dairy-free, too!)
Oh friends, do I have a salad for youuuuuu….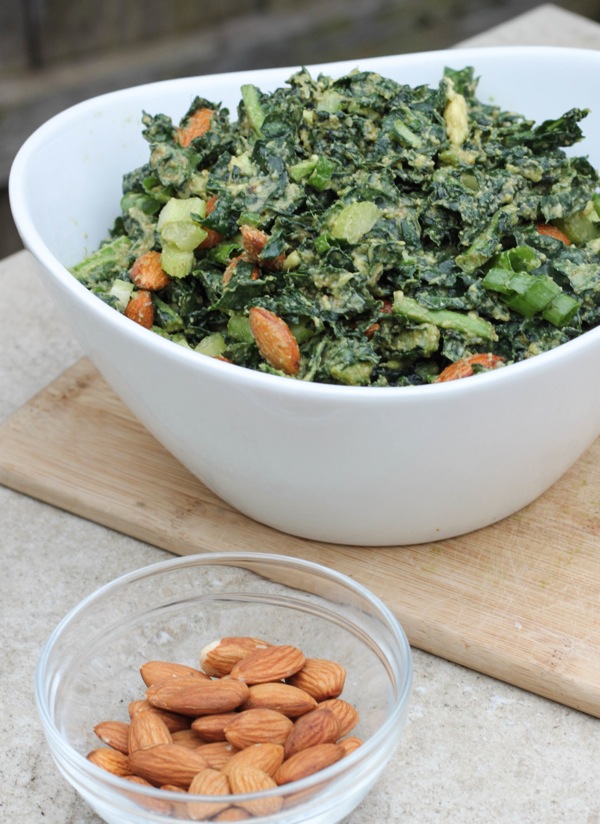 Soft kale with a creamy dressing, plus crunchy almonds, celery bites and savory scallions
This one was very much inspired by a recent trip to the co-op. Usually when we go there, we'll just grab a couple of essentials, but lately, I've been trying out some of their salads and deli goodies. They have a full deli upstairs, and while it's much smaller than a hot bar, they offer an incredible selection of salads, vegan dishes, soups and desserts. I tried a small container of their Super Kale Salad, and thankfully, all of the ingredients were on the container so I could attempt my own later 😉
The goods: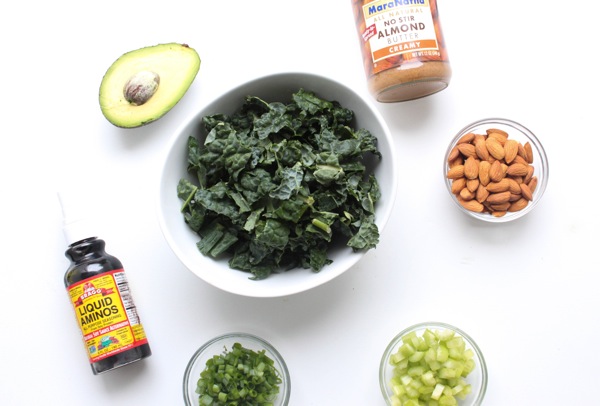 For the kale, I used the pre-bagged stuff from Trader Joe's. I do my best to pick out the ribs, but sometimes a few end up in there anyway.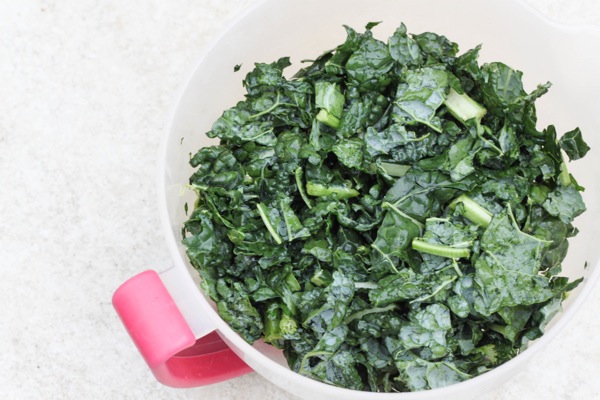 The final product tasted EXACTLY like their version, and is something I'll be making frequently. I never would have thought to pair almond butter with mashed avocado, and the result is like a glorious nutrient-dense vegan mayo. So, so good!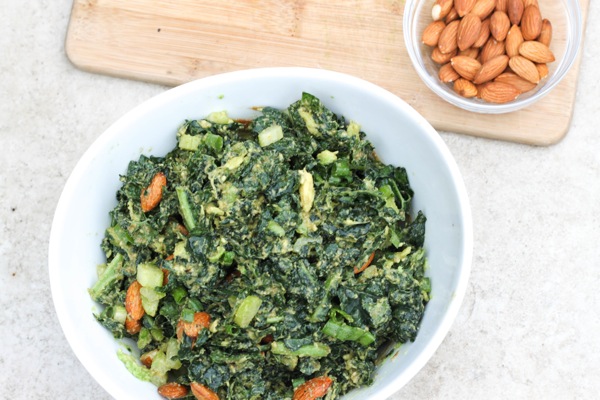 Savory Kale Salad
A creamy twist on the kale salad using avocado and almond butter as the *mayo.* Enjoy by itself or atop quinoa for a nutrient-dense and delicious lunch!
Prep Time:

10

Total Time:

10 minutes

Yield:

4

1

x
6 cups

of kale (unpacked), ribs removed and thinly sliced

1/4 teaspoon

garlic powder
salt and pepper
Bragg's liquid aminos

1

mashed avocado

2 tablespoons

almond butter

2

celery ribs, thinly chopped

1/3 cup

almonds

1

bunch of scallions (thinly slice and use the green tops)
Instructions
1. In a large bowl, lightly spritz the kale with Bragg's before massaging with your hands to break down the kale. Remember that a little goes a long way and you can always add more! Add the garlic powder and season with salt and pepper.
2. In a smaller separate bowl, mix the mashed avocado with the almond butter. If the almond butter is thick, you may need to add a drizzle of olive oil to thin it out.
3. Pour the avocado-almond butter mixture on top of the kale, and using your hands, massage to coat well. Taste and adjust seasonings as necessary.
4. Add the almonds, scallions and celery, and stir well to combine.
5. Feast!
This is random, but it turns out that this salad makes awesome road trip food, too 😉 I packed some up with a fork, and it was the perfect afternoon snack.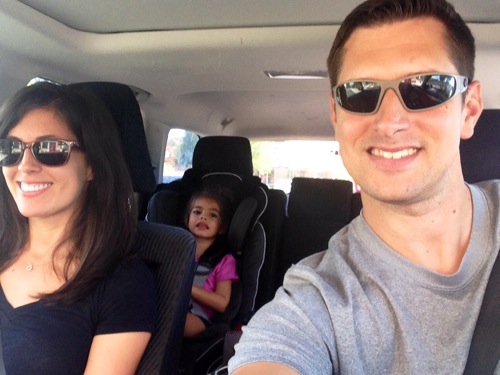 Hope you're enjoying the day!
Any awesome salad combos lately?
More of my favorite kale recipes:
xoxo
Gina
PS. I'll be teaching at a beach bash for Ocean Spray's new fitness water (PACt Cranberry Extract Water) in Hermosa Beach next Thursday, October 23. Please come join me for some awesome fitness classes -my friend Cassey is teaching, too!- just RSVP for your spot via this link. I'll be leading the Zumba and barre classes, and can't wait to work out with some of you 🙂 xo