Hi friends! Happy Wednesday! I hope you're enjoying the week. 🙂 We're heading to the airport, so I'll be sure to share lots of adventures on IG stories when I have those internets. In the meantime, I thought today would be a good day for a skincare post! I've had some requests to share my current routine, so I thought I'd post the goods. My routine fluctuates depending on the time of year or if I've found new products, but here's what it looks like right now. I always love to learn about new techniques and products so if there's a new fave in your life, please share the love in the comments section so we can all shop together. 🙂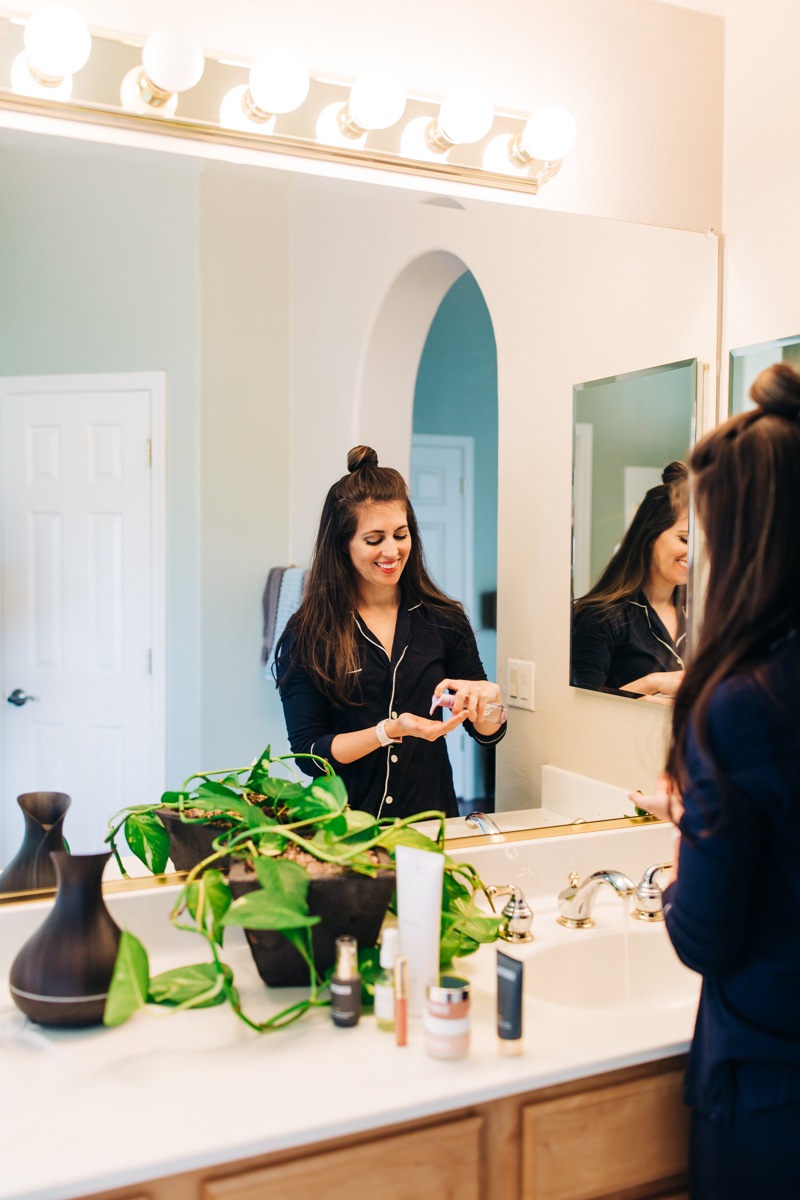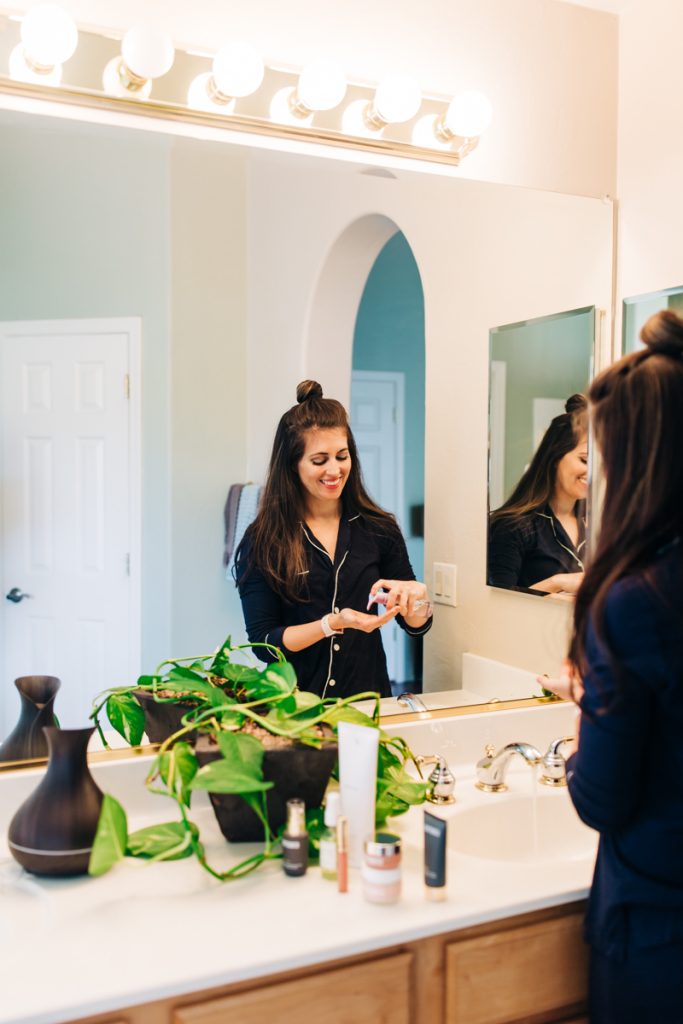 My daily skincare routine:
1) Wash:
My skin is sensitive and my eyes are annoyingly sensitive. (Example A.) I have to be careful what I use on my eyes, or they burn, turn red, or I get these weird little bumps from too much oil. For now, my favorite cleanser is this blueberry bounce cleanser. It's so gentle that I can actually use it on my eyes to get off eye makeup without it hurting or burning. (I put some with water on a washcloth and carefully rub the makeup off my eyes and then rinse.) I used to use jojoba oil to remove eye makeup but realized I was getting more of the little bumps on and around my eyes. I stopped using it and switched purely to the blueberry bounce cleanser. The blueberry scent is beautiful and it's very gentle.
Exfoliate: to exfoliate, I use a few different things. This Eminence exfoliator smells gorgeous and isn't too harsh. Rice powder absorbs oil while lactic and salicylic acids remove dead skin cells. The strawberries and rhubarb infuse the skin with antioxidants. Every few days, I also use this Overnight Peel. It's one of my very favorite products because it makes skin tight, glowing, and helps to reduce fine lines and wrinkles. It's seriously magic in a bottle. (Friends who have used this noticed a difference within 24 hours!)
Once a week, I'll also use the charcoal mask to help with impurities and balance my skin. The best part about this mask is watching every single pore appear. YIIKES. You wash it away and skin feels remarkably brighter and smoother.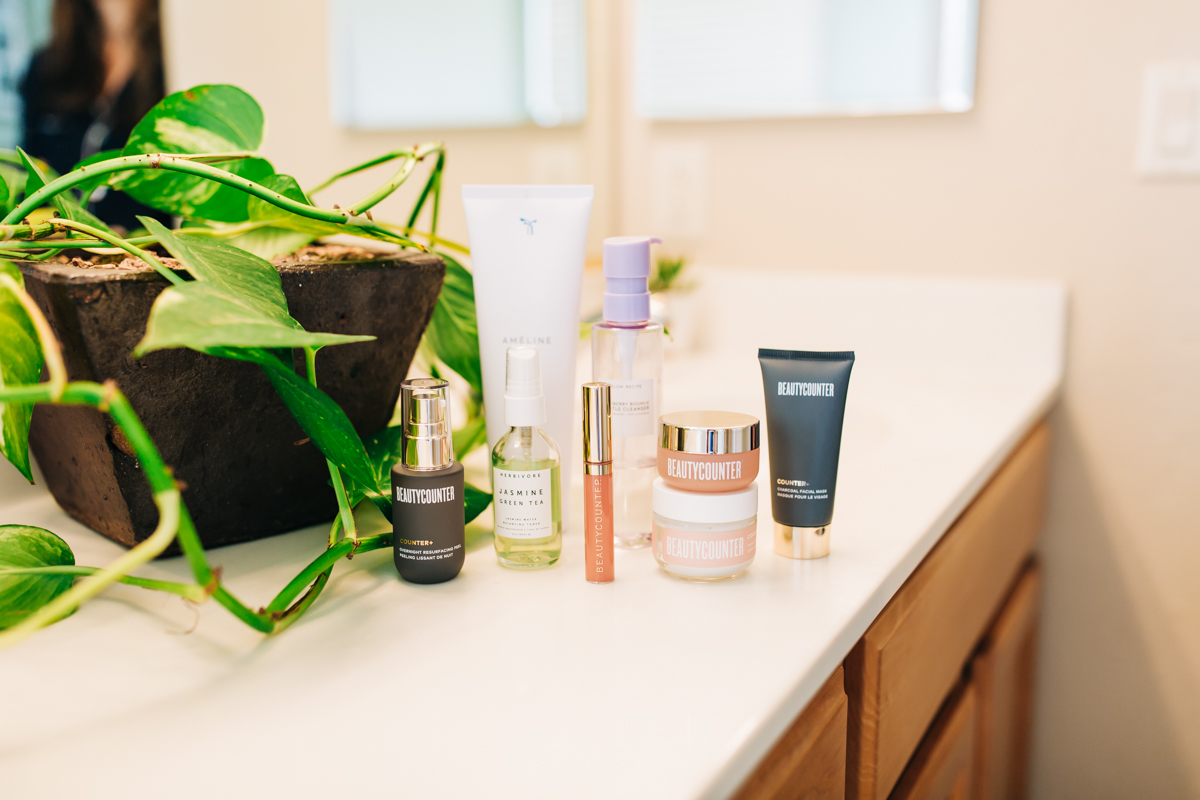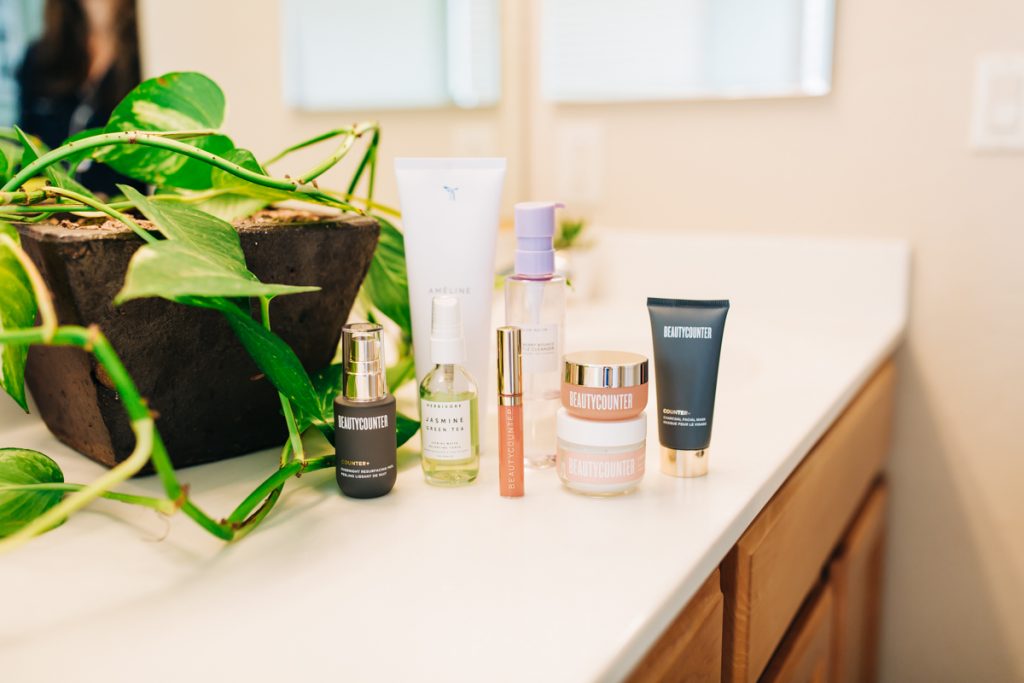 2) Prep:
Toner! I've tried a few different ones that I rotate between and love. Currently I'm using this green tea toner. It's jasmine water facial toner infused with green tea, willow bark, and witch hazel to balance, clarify, and hydrate combination, oily, and blemish prone complexions. I feel like it really smooths out my skin and preps it for heavy moisturizer before bed, or for daily moisturizer and makeup in the morning.
The other toners in the rotation:
– Countertime hydrating essence. This is like a toner but more beneficial because it delivers nutrients into the skin. This product uses Beautycounter's plant-based alternative to Retinol: a combo of bakuchiol and Swiss Alpine Rose. It also includes sea water for vital nutrients and minerals to the skin and fermented sugars to slow aging and optimize hydration.
– Wahmisa organic flower deep rich essence toner: My first experience with a toner was with this one and the first night I tried it, I was like, "I"VE BEEN MISSING OUT MY ENTIRE LIFE." This one smells so gorgeous, like a floral perfume and is made with mostly organic ingredients. The only problem is that it's harder to find now. I think I used to order it from the Glow Recipe website but it's no longer available and I heard the ones on Amazon aren't always legit.
– fresh rose floral toner. It smells dreamy and is alcohol-free. It's mostly rosewater, so I think you can absolutely find similar versions at the health food store for less.
3) Nourish:
I alternate between serums, usually using this Countertime serum and the Boissance serum. They both use a plant-based retinol and help with firmness and elasticity. I haven't noticed a huge difference between the two – I love them both – but the Countertime version has better ingredients and also includes the Swiss Alpine Rose to boost antioxidant defense.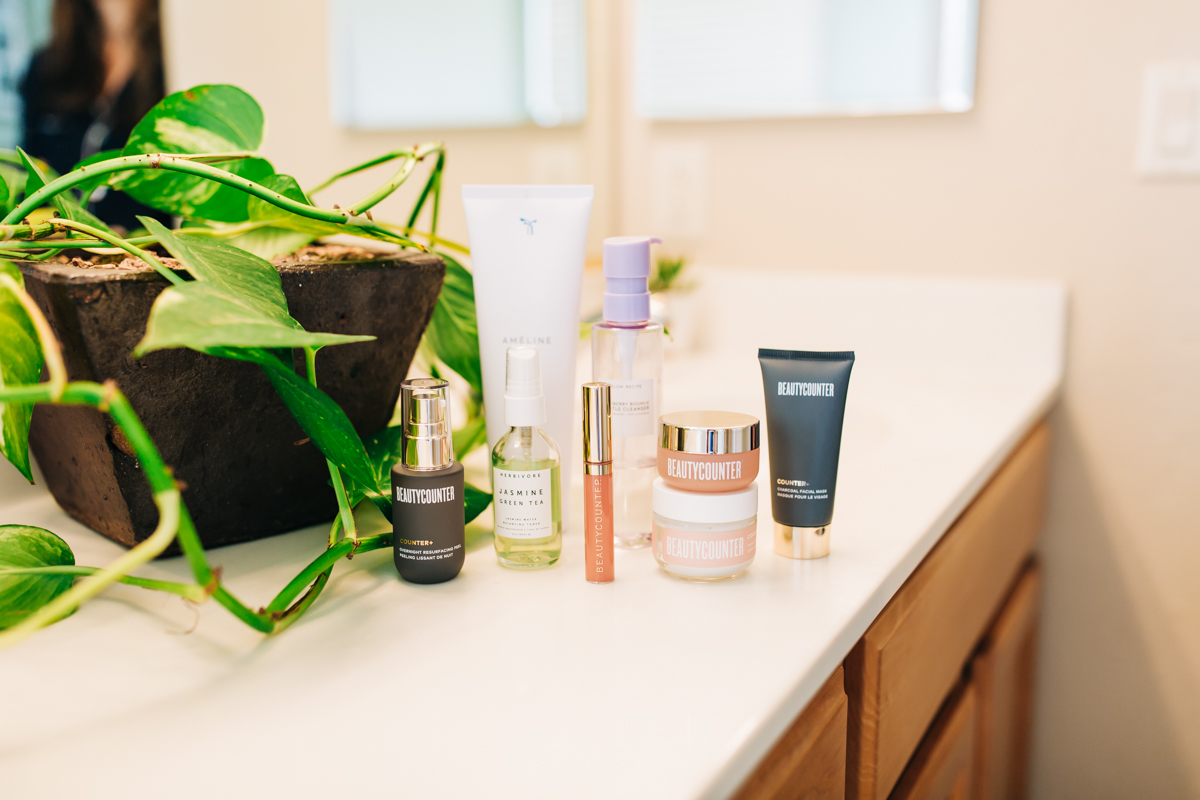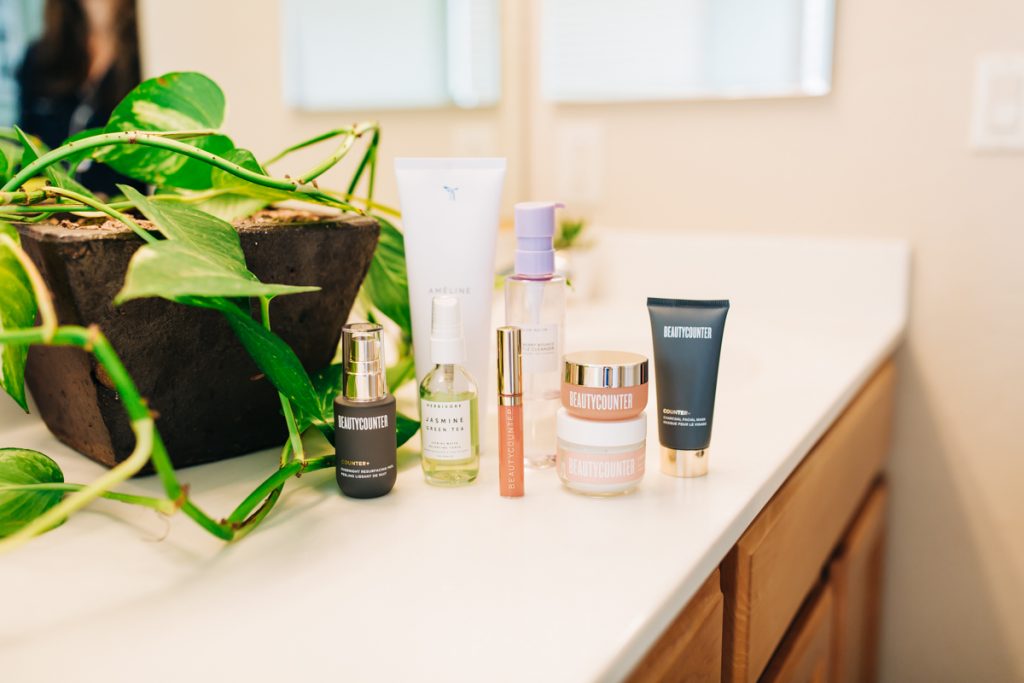 4) Moisturize
Daytime: Skinmedica Defense Moisturizer SPF 35. I mix this with tarte bb cream or the Dew Skin for moisturizer. I don't usually use true foundation on my skin because it looks and feels heavy.
Nighttime: My night cream love is the Supreme Cream. It feels like the most luxurious moisturizing cream, but isn't greasy. It helps with elasticity, hydration, and firmness.
I used to be obsessed with this moisturizer (and it was a major splurge about twice a year) but they changed the formula! I bought one and it was super greasy and gross. Thankfully, Countertime Surpreme Cream came out a few months after that and I've been super happy with the switch.
Occasional:
This watermelon sleeping mask.  It goes on in a thin layer and smells like watermelon Jolly Ranchers. (I think I learned from this post that scent is a game changer for me when it comes to skincare. It has to be unscented or smell incredible.) The next morning, my skin feels soft and smooth. It's also gentle enough that I can let Liv use it occasionally and she feels fancy. 😉
5) Eye cream:
This is my go-to eye cream. The moisture level adapts to what you need, so I've found that it's the perfect amount of hydration without being too thick or oily. I also love the Countertime eye cream.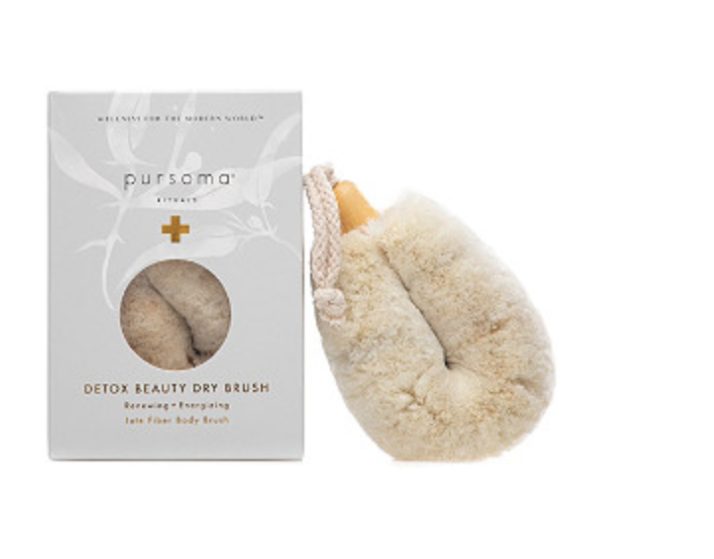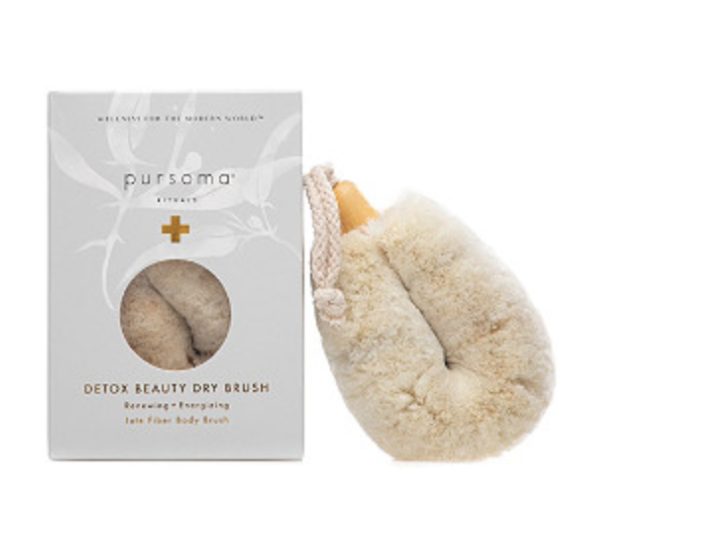 Tools: I use this gua sha set and jade roller! I try to use them at least once a day to help reduce puffiness and increase blood flow (nutrients and oxygen) to my face. I also dry brush my skin using this dry brush whenever I take a shower, working towards my heart in long sweeping motions. I do clockwise on my stomach and booty.
Whew! So there ya go. It's funny because it's easy to think you don't use a ton of products, but when you sit down to actually list them, it's a lot! This is why it's important for me to use safer options whenever I can because the cumulative effects add up. (I pick and choose where it makes sense for my life. I'll never stop using my beloved Moroccan oil.)
I'll do an updated makeup post soon!
So tell me, friends: what's your skincare must-have? Anything amazing that you've recently discovered??
xoxo
Gina