Hey guys! Happy Sunday! Hope you're having a great day <3
Our farm fresh salads from yesterday were nothing short of amazeballs.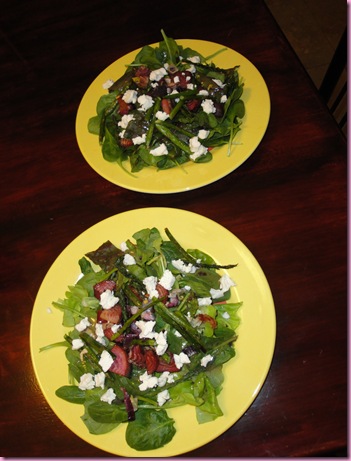 Chard, spinach, Organicvile balsamic, roasted asparagus, onion, stripy beet, and honey goat cheese.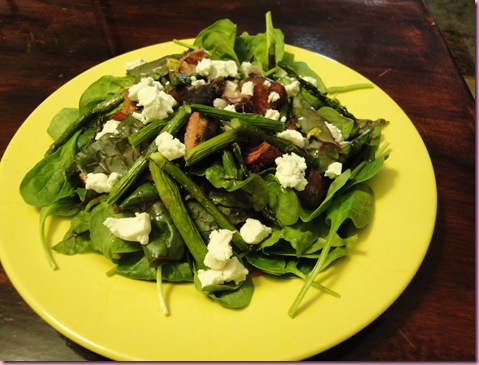 No words.
We did some stuff around the casa, watched Food Revolution a la DVR (incredible), and then met some friends at Giulio's for dinner.
Giulio's is one of those hidden Valdosta treasures that we always forget about. Last night, we decided that it may be taking the place of our weekly Indian, since the Indian restaurant is garbage now.
Giulio's has Mediterranean and Italian food, and the inside looks like grandma's house. Think old tapestries, rickety tables, lace, antiques and ghosts—I'm 100% sure it's haunted. The food, is also like grandma's… delicious.
We all shared the mussels, which were glorious.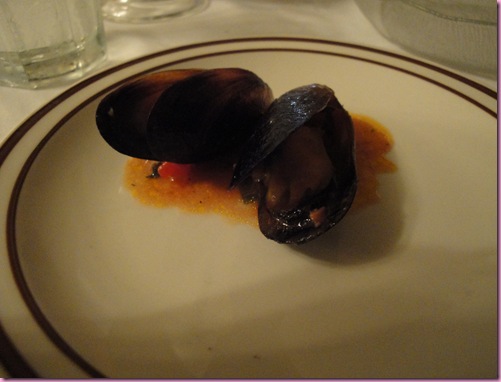 (x2)
With the entrees, you either get soup or salad, but since my entree was a salad, I got the soup. Had it been just the two of us, I would have gotten two salads 😉
Lentil Soup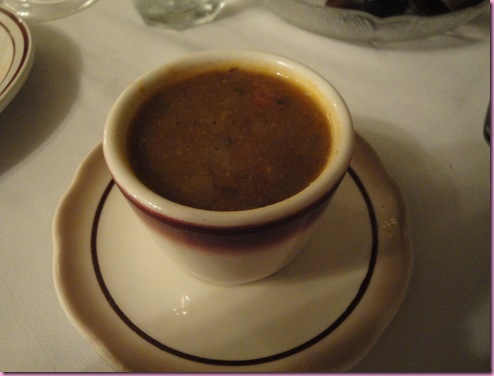 My entree was the Neptune Salata– marinated pan-seared ahi tuna, greens, cucumbers, tomatoes and balsamic on the side.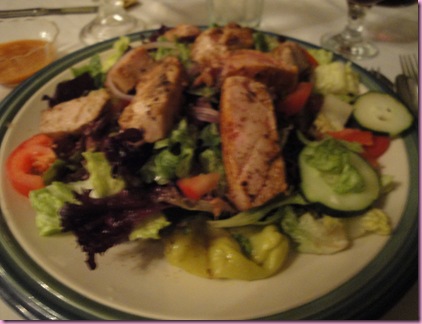 Sorry for the blurry pic! I was in sneaky blogger mode last night 😉
I also had about 3 bites of bakalva that was still warm from the oven, and 3 bites of Belgium chocolate cheesecake.
For this, I've decided that I've pretty much failed my Lent plan of no sweets. I did well for the most part, but honestly my Lent decision was kind of impossible, considering what a big part of my life sweets are. I'm always baking or un-baking healthy goodies and save the indulgent stuff for once a week. Since I couldn't get my sweet tooth fix, I actually think I ended up eating worse than I would have (and also got back into gum-chewing and coffee drinking for a few days). This is why many people with the wrong intention of losing weight for Lent are unsuccessful. There are so many other things to eat, and chances are you'll just overdo it on those to make up for lost feasting elsewhere.
Of course, my Lent goal wasn't to lose weight – I wanted to eliminate something that I truly love (SWEEEEEETS!) and see if I could handle the absence of it for 40 days. I ended up dipping into my coconut butter mug, drinking coffee, chewing gum and hating life (not really, but you know) without sweets.
That being said, I'm gonna call this Lent a fail and next year I'll be doing something along the lines of what I usually do.. vowing to DO something, rather than taking something away.
So for this week, I'm back to Gina style of eating (toned down a little since I'm on cardio hiatus, but the healthy sweets will be in there). Then Easter Sunday, I'll be chowing down on Liz Lovely cookies and that Bailey's and vegan espresso gelato shake I told ya'll about 😉
We're off to tackle our Sunday to-do's.
xoxo,
Gina
Today's tip: Spend today prepping out your meal and fitness plan for the week. This way, you can chop up veggies and prep food in advance, and schedule in your workouts according to what your week looks like.