Hi guys! Happy Monday! Hope your morning is going well <3
We ended up celebrating the end of Lent by having dessert first last night. My favorite lesson that I've learned from my family is: always eat dessert first 🙂 Life is short, so why not, eh?
Last night's sweet of choice was the My My Cherry Pie from Philip McCluskey's book, Raw Food, Fast Food.
I made a mini version for me -I'm trying not to go buck wild with the fats since I'm slightly immobile- and made a larger one for the pilot.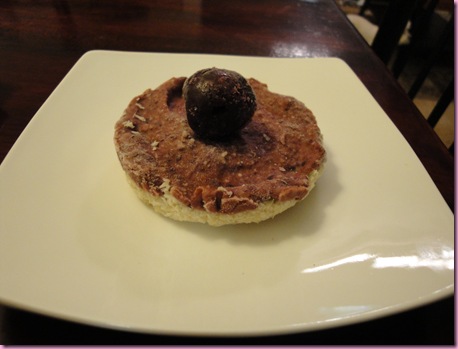 So cute… and SO delicious 😀
I put them in the freezer so the top layer was almost like a sorbet– the bottom layer was like a crunchy macaroon. Amazing. And like I said, they took me about 5 minutes to make… no dehydration or crazy magician tricks necessary.
Next we had our dinner:
Meat and veg for the pilot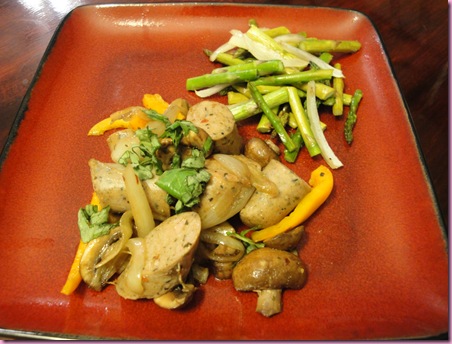 (Organic sundried tomato chicken sausage with mushrooms, bell pepper, onion and roasted asparagus)
My "meat" (portobello 'shrooms, asparagus and onion roasted with fig vinegar, garlic powder and sea salt)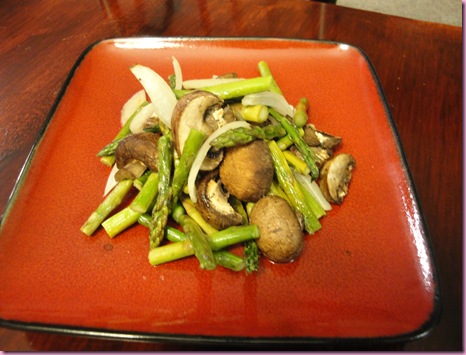 Veg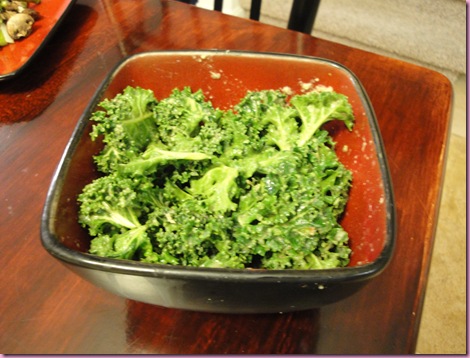 Massaged kale salad with 1/8 avocado, rice vinegar, cayenne, lime juice and sea salt.
It was a fun spin on an all-American meal: meat, veg and cherry pie. It was pretty face-rocking 😀
We chilled around the casa and watched Up in the Air – 'twas good. 'Twas even better because well, the Clooney is in it 😉
I'm off to meet the girls for some iron-pumping and then have a doctor's appt (nothing's wrong, just a check-up). I'll also be calling the physical therapist to get in some knee seshes, just to make sure all is bueno.
Have a great day <3
Gina
Something to read:
Fatty Foods May Cause a Cocaine-Like Addiction (it took a study in rats to figure this out…)
Swim Tips for Triathletes (not for me.. I'm a float on a raft and read a magazine kinda girl, and the only bike I can ride is a spin bike)
Something to do: Orlando bloggies, shoot me an email if you want to meet up next week!