[Don't be afraid to sing]
I'm so glad to hear I wasn't the only cranky pants today. Working out was exactly what the doctor ordered- I felt a thousand times better after some schweaty cardio and the holiday issue of Real Simple.
Speaking of doctors, here's my post-midwife appointment treat: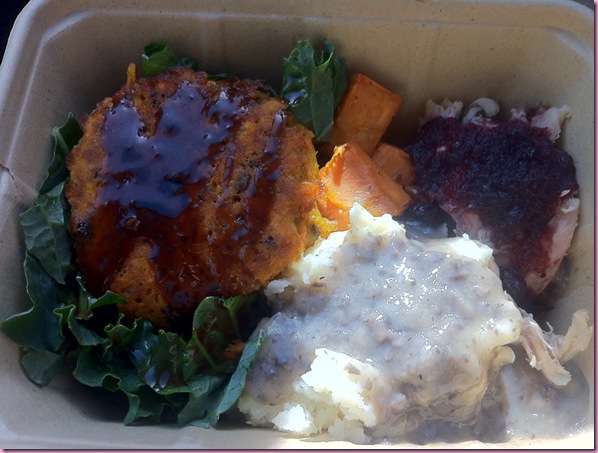 Thanksgiving came early!
I was just going to grab a couple of things since I was in the neighborhood, but then I saw our new hot bar glimmering with happiness, promise, and mashed potatoes. Lunch was a hodge podge of Thanksgiving glory: mashed potatoes with mushroom gravy, turkey with cranberry sauce, green beans, sweet potato pancake (made with almond flour!) and a kale salad with fig dressing. Everything was incredible, minus the turkey, which I ended up not eating. I haven't had Thanksgiving turkey in 3 years, and I remember why I didn't miss it. It was chewy and meh.
Since my major protein source didn't come through, I made an egg scramble with my leftover mushroom from last night + 2 eggs for a late afternoon snack: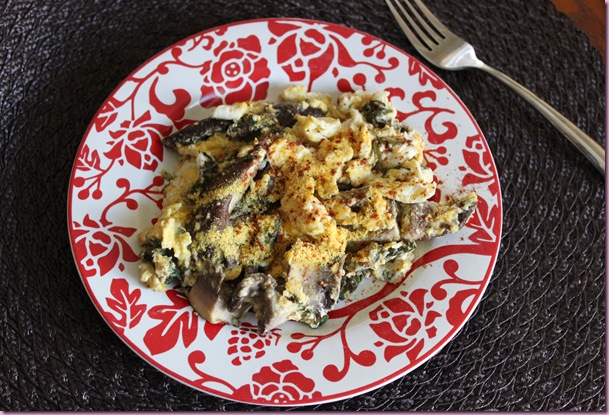 I had some work stuff to do, cleaned up from our little Cali vacay (laundry mountain!) and to get out of the house, I ventured out to do some research for the master bedroom and nursery that we're trying to get finished by next week.
Whenever I want to decorate or get a new piece for the house, I always shop around and take photos first to get an idea of what I like, get the Pilot's opinion, and compare prices. Today I hit up World Market (my fave store ever), Home Goods and Target.
Here are some of the goodies I found: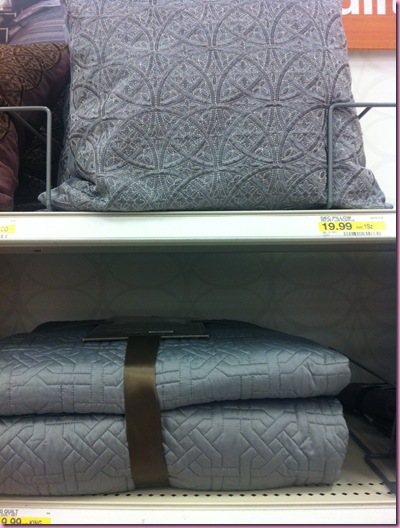 [Thinking of going grey and cream for the bedding. I love grey, and we hardly have any in our house]
We'll see what the Pilot thinks and go from there. I'm excited to get our room finished! It's been a process, but it will be worth it 🙂
For dinner, I made something that rarely makes an appearance over here: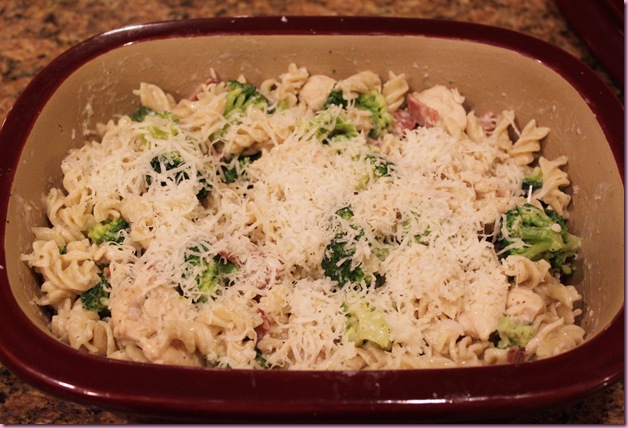 casserole!
I'm not sure why, because it's such an easy way to get protein, veg and starch in one fell swoop, but for whatever reason I never think about making them. Then today, I saw Mara's recipe and thought it looked comforting and fantastic. I Gina-fied it by using goat gouda, brown rice pasta, goat cream cheese, organic turkey bacon and lots of garlic.. just pulled it out of the oven and am about to cozy up with a bowl.
See ya in the morning <3
xoxo
Gina
This isn't related to anything food or fitness, but who's seen the new Twilight?! I'm a little stoked to see it tomorrow…