Hi friends 🙂 How's the weekend going?
Thank you so much for your race tips and motivation yesterday. I especially loved the fact that I won't remember how much it sucked to wake up early, I'll remember how I feel when I cross the finish line. I woke up with pretty fresh legs -I think last night's elliptical reading sesh helped- and most of the soreness has gone away. We'll see what happens- I still have a few hours left to decide. Nothing like waiting til the last minute, eh?
Apparently Tucson is transitioning back to winter mode- I wore a jacket yesterday even though it was in the 70s. I think we like to pretend it's cold -I've seen so many people in sweaters and boots lately- but in reality, we could all be wearing sundresses. Not complaining one bit 😉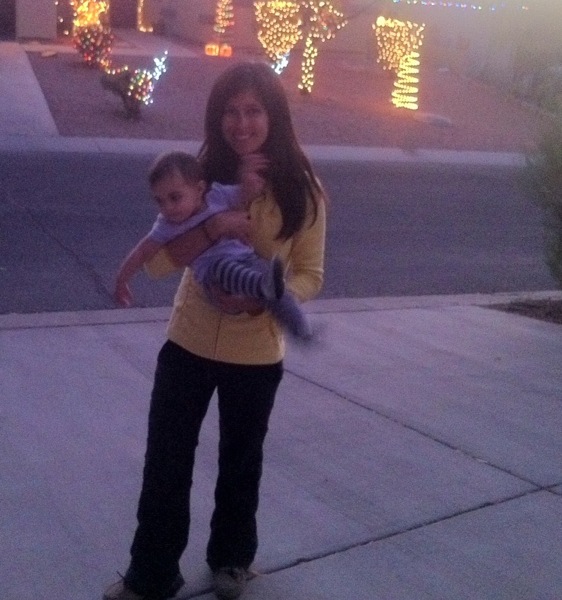 We finally got serious about our Christmas light situation over here so that we'll match the rest of the houses on our street.
The Pilot, hard at work: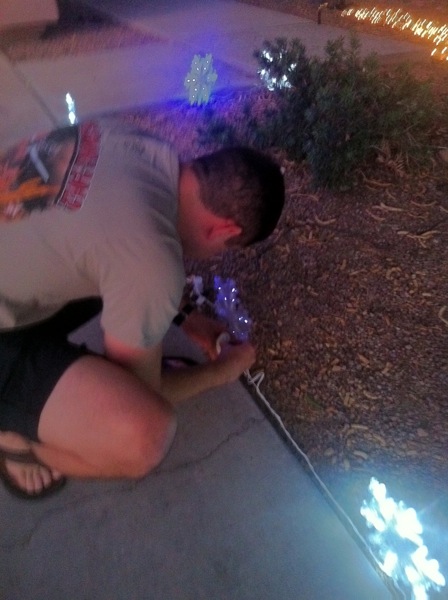 I've mentioned our neighbor "Steve" before on the blog, but he's the same guy who let us use his water when we first moved in, offered us coconut waters (then I knew that moving here was destiny), lets us swim at his pool, and also serves as neighborhood watch. We've become good friends with his family and the other families on our street- we're fortunate to be surrounded by wonderful neighbors. Anyway, the other day, we were walking with Liv in the stroller and the dogs (Pilot walking Bell, me carrying Caroline). Steve was outside with his kids, and joked with us about not having our house "lit up" yet. We said we had put the lights up, but needed more extension cords to actually plug them in. We'd pick some up this weekend. When we came back from our walk, Steve had connected all of our lights with extension cords and plugged them in for us- our house matches the others now 🙂
Some recent salad beasts:
Massaged kale, with avocado, cucumber, tomatoes: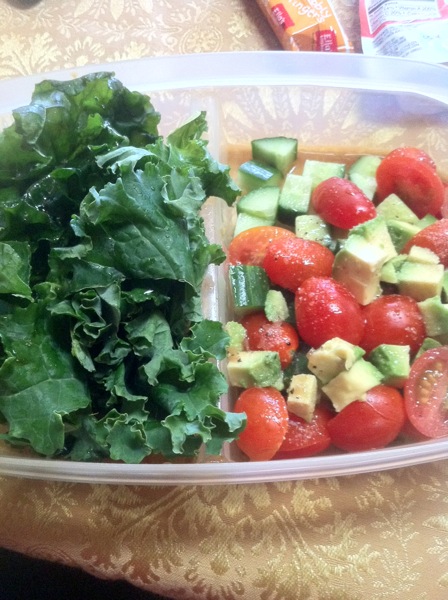 (chicken sausage on the side, but no one wants to see a picture of that)
Homemade Caesar salads 
and the randomly delicious combo of romaine, sweet potato, pom seeds and goat gouda.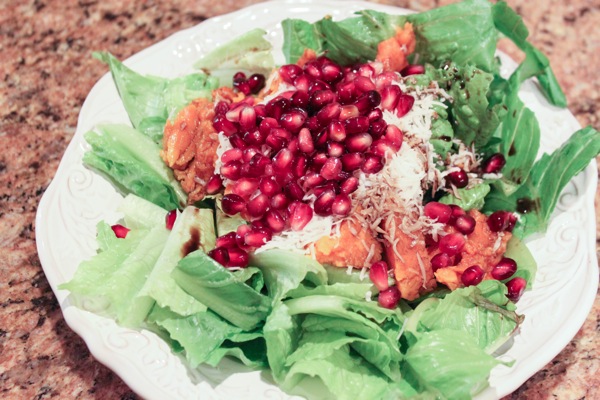 This morning, I'm off from work. I had a friend cover so I wouldn't teach 4 classes the day before, like my last half. I'll back this afternoon for stretch, and tonight it's our squadron Christmas party! 
Hope you enjoy the rest of your weekend <3
xoxo
Gina
Something to do: "Daaaamn, Girl" December workout! Have you tried it yet?
Stay tuned- some fun giveaways heading your way next week!