Oh man. Every year the whole "make-a-list" task gets harder and harder to tackle. It seems funny since all year I seem to be making a never-ending mental list of all the things I'd love to have! After much online and in store window shopping, I have finally come up with some ideas that would make lovely additions to the underside of my Christmas tree 😉 This year's list is comfy, cozy, and all about things I can cherish and use for a long time!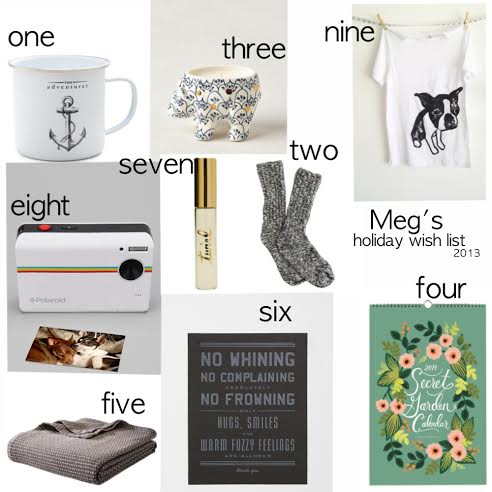 1. Novelty Mugs – They add a little bit of personality to your kitchen and it's always fun grabbing a mug to fit your mood. ModCloth.com carries this one and tons more! 
2. Cozy Socks – Having a home with wood floors, I now appreciate a quality sock. These J Crew socks are a dream come true. 
3. Yummy Candles – It's no secret that I love a good candle (the husband would ban me from Bath and Bodyworks if he could…but he can't) and Anthropologie's candles are the crème de la crème! Plus, how CUTE would it be to use the bear to hold jewelry once the candle is gone!?
4. 2014 Calendar – I would love to kick 2014 off with a shiny new calendar to rev me up for a promising New Year. Rifle Paper Company just happens to always be doing it right 🙂 Calendars of all kind make great gifts, you can pick one to suit the gift receiver's personality.
5. Fuzzy Blanket – Target's Threshold Organic Blanket is the PERFECT "cuddle up on the couch and snooze" blanket and something you can enjoy all year 'round.
6. Fun Art Prints – I have found that gifting an art print can be a personal and memorable option! I've been eyeing the 'Hammerpress No Whining Art Print' for almost a year now! It would be perfect right inside our front door 😉 Urban Outfitters has an awesome print selection and they are pretty affordable. 
7. Roller Ball Perfume/Cologne –A perfect stocking stuffer! I love a roller ball perfume since they fit so nicely in a handbag or gym bag.
8. Polaroid Z2300 Instant Digital Camera– This is my big-ticket wish list item! I love taking pictures and to be able to share the prints instantly would be so cool. I am so glad Polaroids are making a come back, my inner 90's child is so excited about it 😉
9. Boston Terrier Tee –Last but definitely not least…a Boston Terrier tee I found in thecottonchihuahua Etsy shop. SO CUTE and so necessary. 
There you have it! My perfectly practical Christmas wish list for 2013. Although gifts are great, I'm most looking forward to cookie baking, Christmas music on repeat, and cuddling my fam by the fire. Happy Holidays, take a break from the usual madness and enjoy it!
Xo- Meg
[We're affiliated with any of the companies above, but there are some of Meg's Shopstyle links. Thank you for your support!]