The past few years or so, I had to work most holidays. I am a holiday enthusiast so these were dark days for me! I would show up to all of my family events (if at all) wearing my Starbucks polo and black pants stained with syrup and milk. Gross, I know. While I feel fortunate to have made it to most of those family events regardless of my appearance, I am SO thrilled to have time to look my best this year! Being in a new job I fully expected to work on my favorite holidays and I was blown away when I realized my usual days off fell on Christmas Eve, Christmas, New Years Eve, and New Years Day! I know this will never happen again, so I am going to cherish it!
You all know how much I love ModCloth's online store. They carry some of the best vintage-inspired apparel along with just about any other style you're looking for! Shoes, belts, accessories, and clothing—ModCloth has quickly become my favorite online location to shop (whether it be window shopping or actual shopping 😉 ). I was browsing some of their winter looks the other night and I decided to put together a couple of outfit ideas for those of you who are looking for Holiday styling tips! All clothing/shoes/accessories you see below are straight from www.modcloth.com (with the exception of the lipstick, nail polish, and false eye lashes). They give each item on their site a "quirky" name, so see the details under each photo for the exact name of the item.
Look 1: A Casual Family Occasion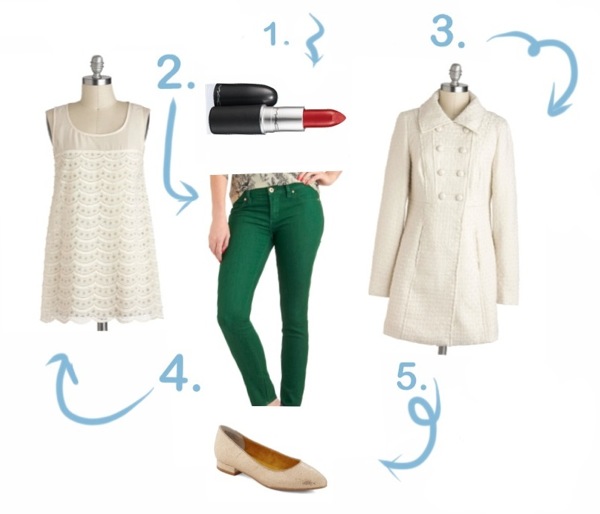 (Details: 1. Mac Lipstick in Ruby Woo, 2. Fruit & Far Between Jeans in Melon Rind, 3. Blissful Blizzard Coat, 4. Sail Away In Dreams Top, 5. Where There's a Sparkle Flat)
Thinking of my own family gatherings, I put this look together with a few simple pieces that feel comfortable and look adorable. Looking back at family pictures of holidays past, I wish I would've kept it simple, like this. The green skinnies keep it festive while a flowy neutral top provides comfort. Pair with a sparkly flat or wedge and finish with a ladylike coat! Don't forget a red lip for an extra POP of color.
Look 2: The Holiday Hostess with the Most-est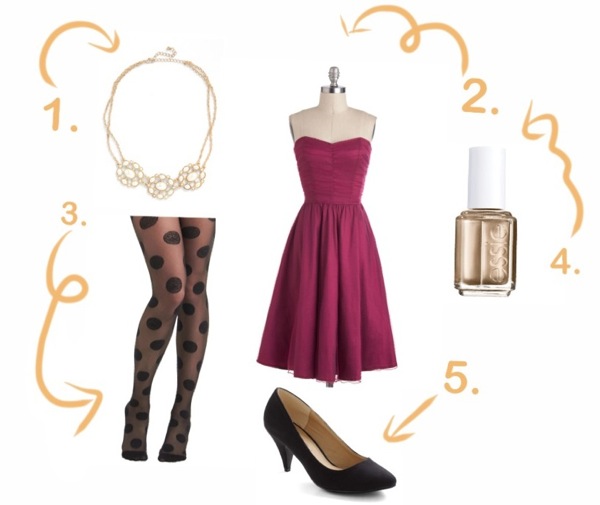 (Details: 1. Strand & Deliver Necklace, 2. Rose Petal Perfection Dress, 3. Ask Around Tights, 4. Essie's Good As Gold, 5. DooBeeDooBee Shoe Heel in black)
I haven't had the honor (or burden?) of hosting a holiday yet! Next year will be my first Christmas as a wife, so hopefully can try out that whole hostess thang at a gathering of my own! For this look I started with a functional dress (read: a dress that isn't going to show my bum if I need to bend over at any point), tights for warmth and comfort, and a classic black pump. To ensure that you win best dressed at your own event, glitz out your nails with a metallic gold and bust out a statement necklace!
Look 3: Christmas Party Hopper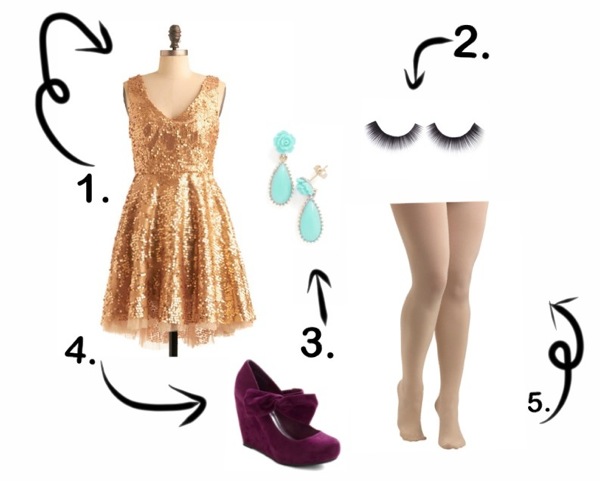 (Details: 1. Striking Gold Dress, 2. False Eyelashes-any drugstore, 3. Stylish Geneology Earrings in Mint, 4. Rules of the Bowed Wedge in Plum, 5. Tights for Every Occasion in Ivory)
For those of you with a little more freedom to roam on the holidays, this look may work for you. This is an eye-catching look that centers around this glamorous gold mini-dress! Neutral tights will suffice since you'll want to pick a heel/wedge in a rich color. Throw on some dangle earrings with yet another color-pop and finish with sultry make up and false eyelashes. I love falsies because they add just the right amount of drama to any look! I picture this look with an Audrey-like French twist and smoky eye makeup…Va Va Voom! 
I hope you get a chance to do something amazing this holiday season, and I hope you look like a rock star doing it! If you want any pointers or exta tips, let me know. I'm always here to help J
I need some holiday shopping tips myself (aka I need to get started…)! Have you made a dent in your holiday shopping? Or are you already finished?!
Xo-Meg