Whew. I fell victim to a nasty virus at end of January and I am JUST now feeling normal again. Since I'm training for my first half-marathon, I pushed myself harder than I should have even during my illness (hence why it took me so long to get well!).
Since I have done an C+ job of taking care of myself lately, I wanted to spread a very important message that I now appreciate more than ever: love yourself.  Below are some rules to remember for February—the month of love.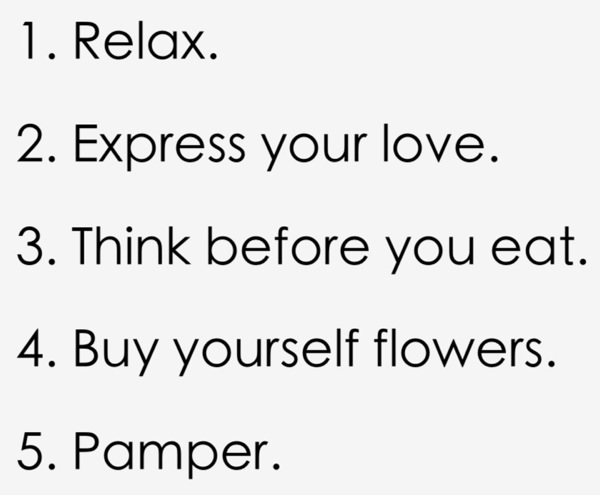 Setting aside time to relax is OH SO important. Kick your feet up & relax. Just do it. If you are sick, sleep in and drink fluids (don't run in the cold every day…womp).
Most of us don't express our love nearly as much as we should.  Tell your mom, sister, cousin, coworker, boyfriend, girlfriend, or best friend how much they mean to you. If you have difficulty putting those feelings into words, send a sweet note via snail mail or deliver a card and some flowers J
Number three is the rule I have the most difficulty following. What I eat directly affects the way I feel about myself. So do your very best to give your body what it needs. Even if that means enjoying an extra chocolate covered strawberry or two.
Not everyone has a significant other and I know the month of Valentine's can be depressing. Did you know flowers (of any variety) have been known to make you feel better? It's science. Buy yourself a beautiful bouquet because, WHY NOT?!
Number five is so often overlooked and underrated. We are all busy, I know. Between working full time, training for a half marathon, and hyper speed wedding planning, I am no exception. I want you all to think of a way to pamper yourself this month. Skip the weekly lattes and buy a massage. Set aside an hour or two for a nice and moisturizing hair mask. Or just rent your favorite flick and just enjoy a self-given manicure. Whatever it takes for you to feel fresh and renewed…do that. Tip: lavender is a beautiful and relaxing scent, consider buying yourself a lavender lotion to keep in your purse or gym bag!
Below are some items that can help to remind yourself how much you love, well, you! So head out, and treat yourself to something nice because you deserve it <3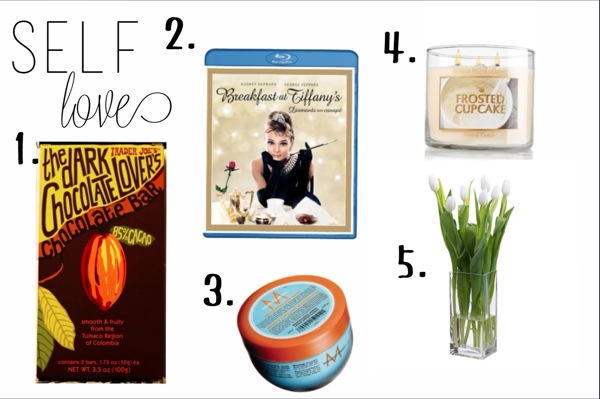 Details:
1: Trader Joe's "The Dark Chocolate Lover's Chocolate" bar.
2. Breakfast at Tiffany's (my personal fave).
3. Moroccan Oil Moisturizing hair mask.
4. Bath and Bodywork's "Frosted Cupcake" candle.
5. A lovely bouquet of tulips arranged in a multi-functional Ikea vase.
I hope you all make this month a lovely one. Stay positive and spread the love.
What are your favorite ways to spoil yourself?
Xo-Meg