Hi friends! How's the day going? Hope you're having a great one so far! Since Mother's Day is just around the corner, I thought I'd share some fun and fitness-related gifts for the upcoming holiday. Mother's Day has always been a special holiday to me, and I look forward to celebrating the many strong and incredible women whom I'm fortunate to have in my life. It's exciting to be a part of the festivities myself, and I can't wait to celebrate this year with the two people who made me a mom, and little one on the way. My one gift request can't be wrapped. All this mama really wants is a nap. 🙂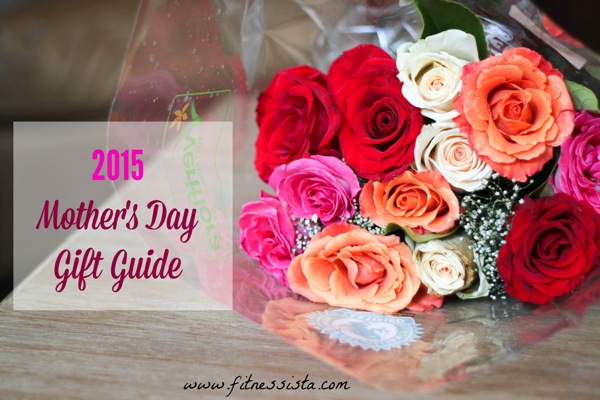 If you're shopping last minute (like me… oops), here are some ideas for the moms and caregivers in your life: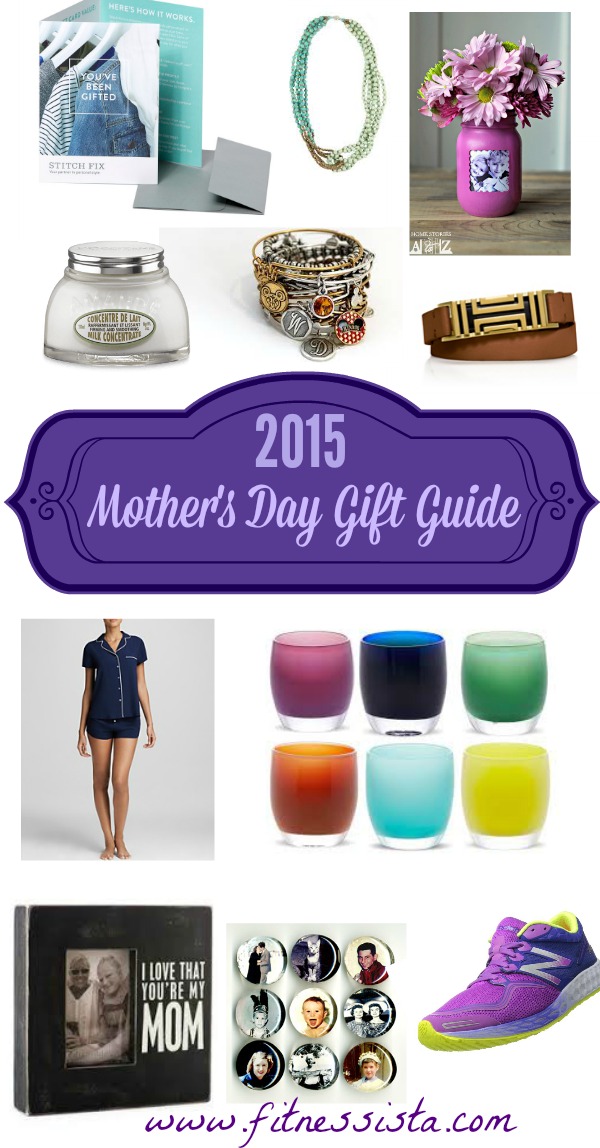 Stitch Fix gift card. I've been a huge fan of Stitch Fix for a long time -you can see my most recent fix here!- and think that the gift cards make awesome gifts for any holiday. The receiver gets a box full of clothes, custom-picked according to their style preference. I got my MIL a Stitch Fix gift card a few months ago, and I've loved seeing all of the beautiful pieces she's received.
Pretty Fitbit bracelet. If you know someone with a Fitbit Flex, or similar tracker, maybe check out some bling for it! They have some beautiful cuffs on Etsy, and there's the newest Tory Burch one… I can't even handle it.
Something homemade with love! Here are some awesome ideas:
and some gifts that give back:
A glassybaby candle holder. These are exquisite, and 10% of each sale is donated to a variety of causes.
A feed tote bag with a new book inside, or wine bag with a bottle of red
New running sneaks. <— a great practical gift for an active lady! If she does a little bit of everything, you could even go for a shoe that works for cross training. My current faves, which I wear to orangetheory and to lift weights, are the new New Balance Fresh Foam Zantes.
A massage or facial. Spaaaaaa always wins, and is always appreciated. Even better? Plan a little spa morning to get manicures or check out one of the Mother's Day specials at a local spa. One of my favorites here in town does one with a catered brunch and mimosas, which would be an awesome girl date.
Comfy pajamas. These ones are beautiful and the fabric is soft and dreamy.
Alex & Ani bracelets. These are always an awesome gift, and I love that you can personalize them.
The snoogle. This is the ultimate gift for any expecting mom you know. I had a Snoogle last pregnancy, and ordered one from Amazon pretty soon after the positive pregnancy test with #2. It makes comfortable sleep much more possible, by supporting your neck, belly and head. The Pilot calls it "the barrier" and it will probably "disappear" soon after baby arrives haha.
A beautiful candle, luxurious lotion and heartfelt card. Words often mean so much more than anything you can wrap. <3
Mom print from Francesca's. Francesca's has so many cute Mother's Day gift ideas.
I'd love to hear if you have any ideas!! Please share or link it up below!
What's your favorite memory of your mom, or someone you love?
Fellow moms, or moms-to-be: what's your favorite thing that can't be wrapped? Mine is the gift of sleep (of course), and when Liv will randomly tell me she loves me.
Hope you have a lovely night!
xoxo
Gina
I love putting together little gift guides to share some fun ideas (and also to hear yours!) for holidays. Companies are not able to sponsor a spot on any of my gift guides; however, some affiliate links may be included, which have no impact on purchase price. Thank you so much for your support! <3