Another new piece of baby furniture: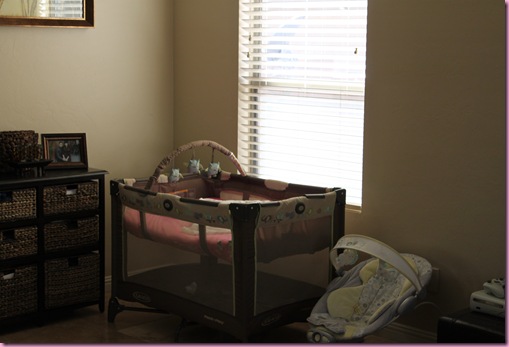 I've been avoiding setting up the pack n' play because I thought it would be a pain to assemble (even though it's a pack n' play and made for travel…I know) and I wasn't sure if Livi would like it, since she sleeps at night in the bassinet and hasn't ventured into the crib yet.
While mom and nana were over earlier today, I was telling them that even though Liv has become a napping pro, she only takes really good naps if I'm holding her, or if she's in the Moby. I love holding her all day (and smell her perfect baby skin and hair), but when I go back to work in a little over 4 weeks, even though it's only 3 days (and one day she'll be with her daddy all day), I want her to be able to nap in her crib, or in the pack n' play. Naptime is also really the only time I have to get things done around the house, and while I can do most of it with her in the Moby, some things are impossible (like pump, pre-make dinner, or do a workout DVD).
Mom and nana told me it isn't realistic to hold her for the entirety of every nap, and that they thought she was old enough to give the pack n' play a try. Madre and I set it up (which took about 5 minutes, haha), and they sent me on a Trader Joe's run to get groceries for the week.
Here's the text I got while I was there: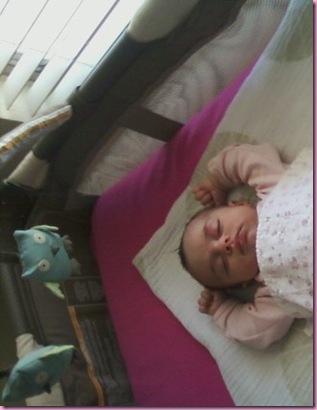 Definitely a fan!
When I got home, she was awake, kicking, gurgling and staring at the owls… she absolutely loves it, and I'm glad to have a safe place when I need to put her down for a second when we're downstairs. We've been using the Boppy lounger (another amazing creation) but she's getting to the point where she's kicking a ton and trying to roll, so I don't trust it. The pack n' play is perfect, especially since we can take it with us to California this summer 🙂
Livi's naps remind me of the naptime shenanigans I used to get into. My mom would put me down for a "nap," I'd close my eyes so she thought I was sleeping, and then when she left the room, I'd wake up and quietly play with my dolls or color. I did get in trouble when I snuck into the kitchen, took the scissors out of the drawer, cut a chunk of my hair off and hid it in my toy box. I have no idea how I thought my mom, a stylist, wouldn't notice the handful of hair that was missing 😉
Moms out there, what's your naptime strategy? How old was your baby when he/she started sleeping in a crib at night?
We're waiting until she outgrows the Orbit bassinet, but she's getting close.
Friends sans kids: did you fight naptime as a child, or embrace it? I think most kids fight naptime, until we get older and realize that naps.are.awesome.