I'm finally back home for good- lots of fun and running around today! Work, car shopping and a party at a friends' house.
In between classes, I came back home to grab a sweet potato with almond butter,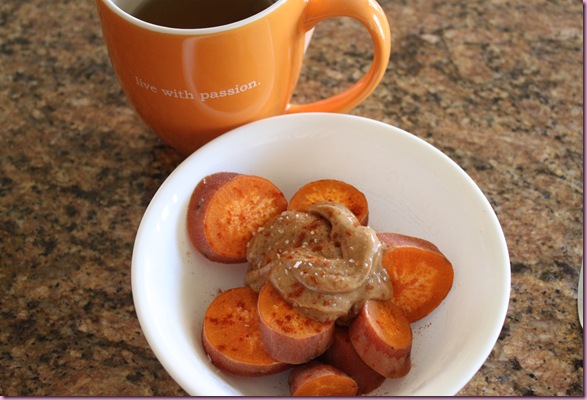 and take a smoothie back with me.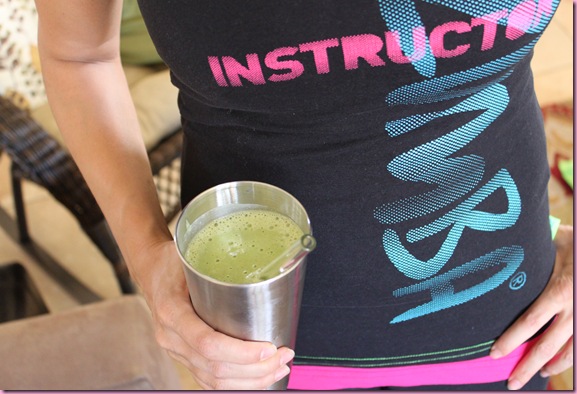 (my #smoothieaday was mango, spinach, Sun Warrior, hemp seeds, almond milk and avocado)
Funny story: while I was eating my sweet potato, I noticed some of the almond butter was brown.. and quickly realized what it was.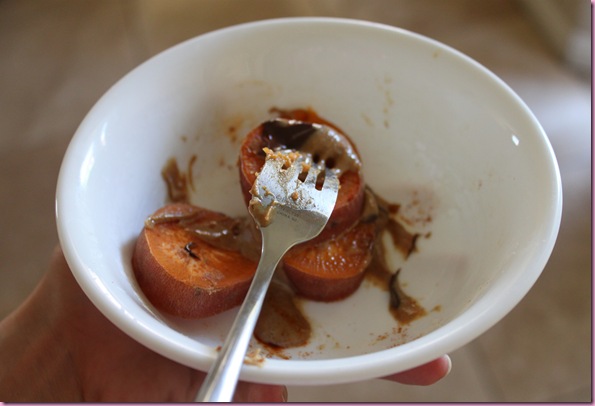 Sometimes I pour chocolate chips into the almond butter jar and dig them out with a spoon. Guess I missed one 😉
Went back to work for Zumba and training to teach a new-to-me class (bootcamp-style! I'm going to bust out my scary hat again haha), and the Pilot, Liv and I went to the car wash to get his car ready to trade in.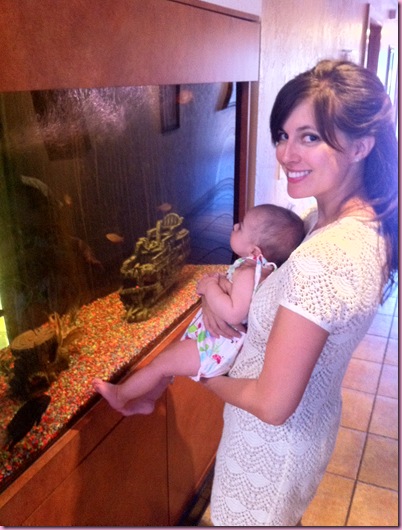 (someone loved looking at the fish)
I came home to feed L and put her to bed, and my bro and his girlfriend came over to stay with her as she slept so the Pilot and I could have a date night. Since the Pilot was at the car dealership wheeling and dealing, I went to a work party- one of our friends has a huge annual themed party and this year's was Mediterranean.
There was a TON of incredible food (lamb kabobs on the grill, lots of drinks and appetizers) and I enjoyed a little bit of this and that, danced and hung out with the girls.
This is Putney, the only German Shepherd I've trusted in 24 years.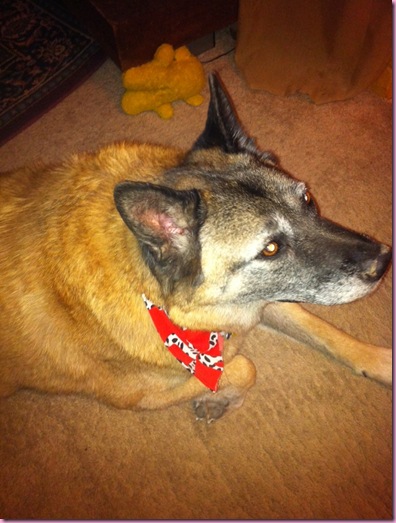 I was bit by one –on my face and it punctured my cheek- when I was little, so I've been afraid ever since. Putney was a sweet old man and I didn't feel freaked out by him at all. He laid on my feet for a portion of the evening 😉
Since the Pilot and I forgot how long the car-buying process is, he ended up missing the party, but got some sweet new wheels.
Time to crash.
See ya in the morning!
xoxo
Gina
Last chance to enter the Family page giveaway! I extended it an additional day <3
Something to talk about: Do you have any quirky snacks that you love? The almond butter/chocolate chip method is popular over here and I also love grabbing slices of deli turkey or chicken, putting mustard and greens in the middle and rolling it up.
Today's tip: Add some "om" time into your Sunday. Even if it's just a 20-minute podcast (or a few minutes of stretching and deep breathing), it will help start your week on a relaxed, focused and peaceful note.