Welp, we ended up at Urgent Care with the Pilot and his twisted ankle.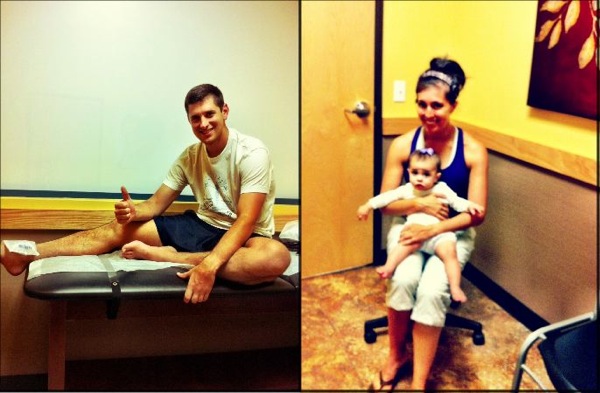 The good news is that it wasn't busy at all, the Pilot has a pair of crutches, and Liv was a champ, even though it was past her bedtime. She had her first real dose of a movie- they were playing "Happy Feet" on the TVs and she thought it was hilarious. Kyle saved the day by going to pick up Tom, so I could take Liv home and put her to sleep.
So….
how 'bout an arm burner?
I was going to make a video for you, but post-baby baldness is very real and my headband wasn't doing me any favors. 😉
Hope you like the printable and form cues, though! I call it the "need a band-aid? arm burner." People will be constantly offering them to you because you'll be so CUT UP.
You can forget that I made that joke, unless you thought it was funny.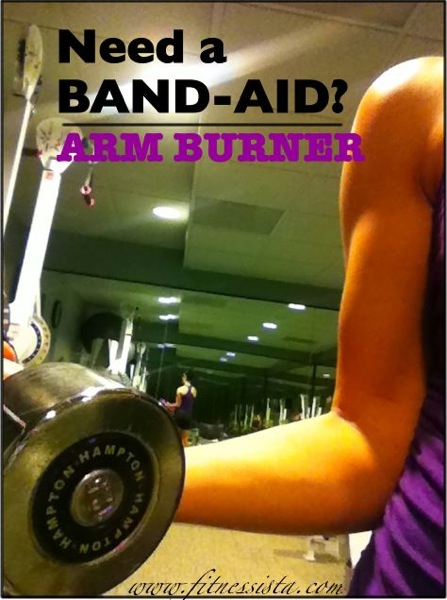 As always, check with a doc before making any fitness changes, honor your body and your injuries.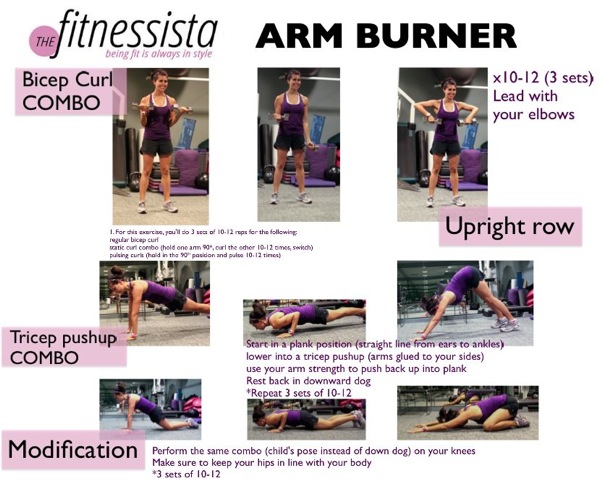 Form cues:
Make sure to keep your elbows glued to your body for the bicep curls. You'll be doing 3 sets- 1 of regular bicep curls, one of static bicep combos (hold one arm at 90* and curl the other 10-12 times and switch), then 10-12 pulsing curls. It's always a good idea to switch up your biceps exercises, and tiny changes like tempo or pulses can make a huge difference.
For the triceps pushup combo, you'll start in a plank, lower down to a triceps pushup (elbows stay close to your body), hover, push back up into plank, then into down dog to "rest." Do this 10-12 times, rest for a second, then 1-2 more sets. If this is too much, try the modification in the bottom row, performed on your knees with child's pose in lieu of down dog.
You can do this workout circuit-style, or go through doing 2-3 sets of each exercise before moving onto the next. If you choose to do it circuit-style, I'd recommend each type of bicep curl for each round (instead of doing all three each time).
__________________________________________________
I think as women, it's easy to emphasize cardio instead of strength training. Strength training can be intimidating if it's something you're just getting into, but here's the thing: the physical results occur so quickly. I always like to say that cardio will not change the shape of your body, strength training does that. In addition, pumping some iron has SO many benefits for bone health, general wellbeing and maintaining a healthy body composition (remember, lean muscle burns more calories at rest). Strength training is empowering, too- it makes ya feel strong 🙂
This week, try to pump some iron- even if it's just a set of bicep curls for the first time in a looooong time, booking an intro personal training appointment or venturing into a strength group fitness class for the first time. 
Who's lifting weights this week? What's your standard arm move? Leave one in the comments, and I'll reply with a variation and way to switch it up 🙂 If you try the arm burner, please let me know how it goes, or tweet me a pic of your guns @fitnessista
xoxo
Gina
NEW on the Fashion page: 5 things
Today's workout jam: