Hi guys! How are ya? Hope your day has been great so far <3 Thank you so much to those of you who left amazing feedback on the weights 101 post! There are a LOT of comments I want to respond to, so I'll be sure to get back to ya tonight after yoga.
I didn't make it to the p-a-r-k (does anyone else spell it out in front of their dogs, too?) with the puppers this morning. Hopefully I can take them tonight so that they can get out some energy 😉
I did, however, enjoy a lovely b-fast😀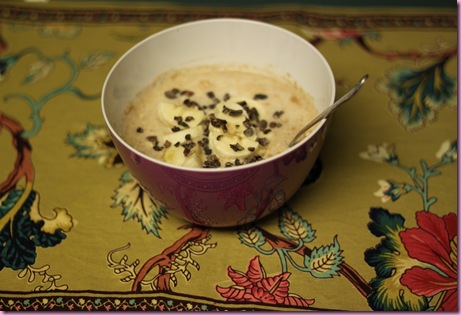 B-fast cookie dough cereal with cacao nibs and butterscotch extract
Then I packed up lonchi/snacks to take to work: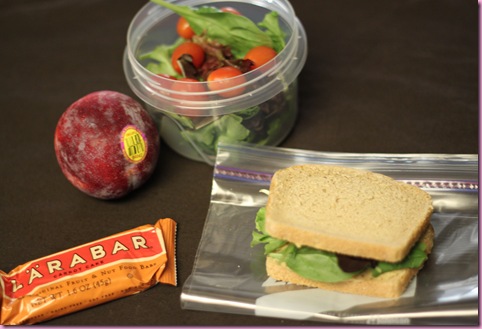 -Carrot cake Larabar
-Organic GIANT plum
-salad
-hummus sandwich on kamut bread
Work today was a lot of fun. We learned about procedures and policies, I did some research, people-watched whilst eating my lunch, and met someone who speaks entirely in metaphors. I call that a good day 😀
When I got back to the casa, I had to taste test one of these beauties…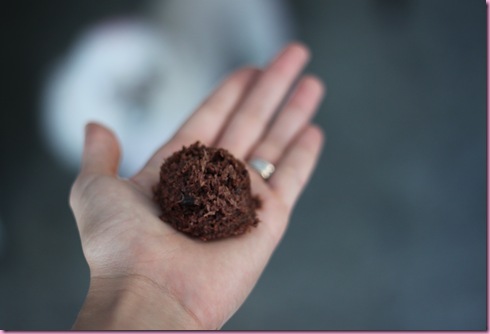 A new roon flavor! Double chocolate chip 😀
When the winner of Tina's bake sale said to surprise her with the flavor, I figured I'd tried something new 😉 They're not totally finished yet (still REALLY gooey in the center!) but taste foodgasmic.
Well I'm off to take a Bikram class and then heading to my aunt's book club for Sarah's Key. I haven't read a third of the book yet, but figured I could drink a glass of vino and chat with the ladies.
GLEE IS ON TONIGHT!!! Ahhhhhhh!! 😀
xoxo
Gina
Something to think: How we treat others is a direct reflection of how we feel about ourselves <3
Today's workout jam: "Empire State of Mind" Glee Cast version (yes, the song is a little old, but the version will rock your face off)