Well, well,
look at the little friends 🙂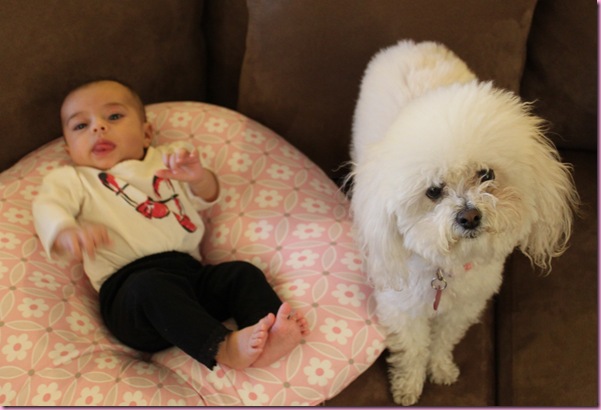 You'll be the smallest one in the house again pretty soon here, Bell 😉
I thought I'd write a little update about Bella and Livi, since a few of ya have asked if it's still going well. (The first update, a couple of weeks after we brought Liv home is here)
The word: Bella has officially taken on the role of mama dog, and even though she still keeps her distance, you can tell she loves Liv so much.
When I get home from running errands, I'll open the door from the garage into the house and Bell will come running out. I'll tell her "let's go get sissy!" and she'll race to the car, jump in the back seat and wait for me to get Liv out and bring her inside. She still smells her fairly often, and face kisses are not allowed, but I think she understands that Livi is a person, and that she'll be around for a while. During one middle-of-the-night feeding sesh, Bella curled up right next to me while I was feeding her, which made my heart happy because I know she was sad for a little while. I'll never forget the accusatory "traitor" glares I got during the first couple of weeks.
As you guys know, I wondered quite a bit about how things would go once the baby arrived. I knew Bella would never hurt the baby, but I didn't want her to feel like we loved her any less just because someone else was in the house. She was my first *baby*, and even though she's a dog, she's a part of our family. One of my friends, who also has a little dog and is expecting soon, emailed me and said she couldn't believe she'd love someone more than her dog, and at the same time, she was scared she that she would.
Some people told me while I was pregnant that your dog goes from being your baby, to "just a dog." For me, I've found that I love Bella just as much as ever, if not more because she's been so wonderful with Liv, but at the same time, it's hard to show her in the ways I used to.
She still gets lots of snuggles from Tom, myself, and whenever we have company over, but we take less walks and play less often. After Liv goes to sleep, we'll play fetch with Bell and chase her around, but during the day, she chills.
Even though she isn't quite as spoiled as she used to be, she'll never be "just a dog" over here.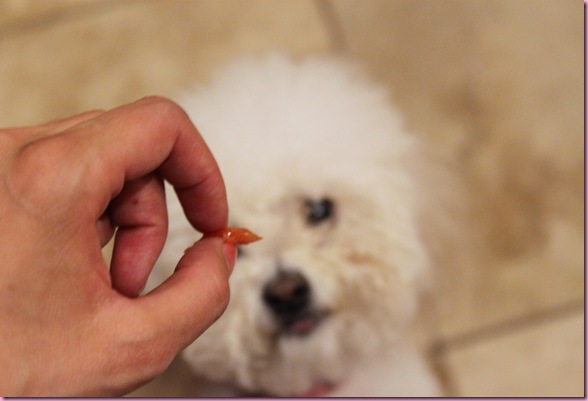 And I think she'll like Livi even more once she starts eating solids. Bella loves people food 😉