Hi guys! Happy Monday to ya 🙂
In case you missed any of the Disney Princess Shenanigans this weekend, here are the posts:
It was quite a blasty 😀
Even though I snacked a bit yesterday, I didn't feel that hungry… that is, until last night. I was a ravenous beast!
So I made a bowl of mung bean pasta with veggies, Earth Balance, garlic and nutritional yeast: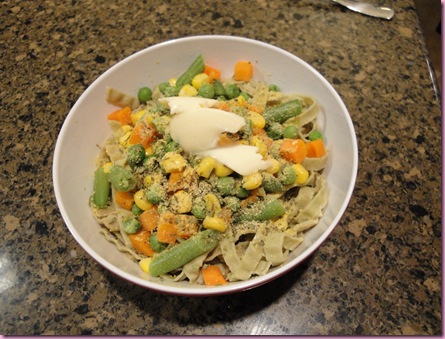 Then went with the pilot to pick up Viesa at the kennel and came home to watch the Oscars. I had two unpictured bowls of delicious spelt cereal with almond milk and chia seeds- a perfect carby delight 🙂
We watched the Oscars until I passed out (we had been awake since 4am for the race) and SLEPT IN. Sooooooo nice.
I awoke to a beautiful raw breakfast cookie: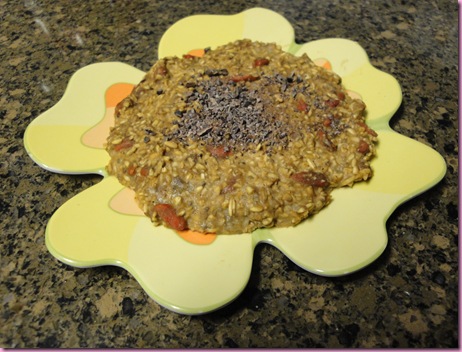 -1/3 C oat groats (processed in the food processor)
-Goji berries, chia seeds, maca, and cacao nibs
-Almond milk (I used carton instead of fresh, which isn't technically raw)
-1/2 banana
-1/2 Scoop Vanilla Sun Warrior
-1 T almond butter
-Foodgasms
Usually, I make the bfast cookies very thin on the plate, but this morning's was thicker and more cookie-like.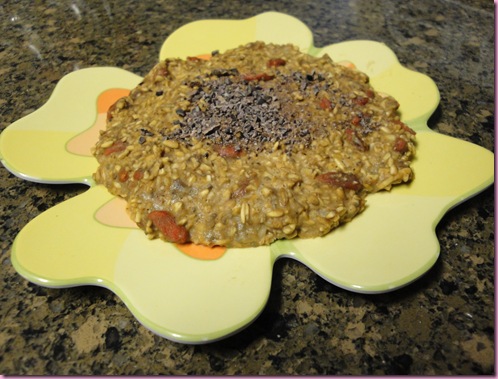 Amazin'
So in an almond-shell, my legs are KILLIN me. Not in an injured way, but in a my-body-needs-oil way.
I'm feeling a little like this guy: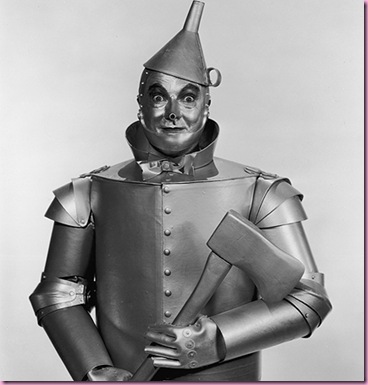 (Source)
My oil of choice for the next couple of days is going to be chia seeds. Chia seeds more than double their size when placed in liquid, because they absorb moisture. It's the same thing that they do in your body- assist in maintaining moisture, lubricate joints and eyes, and also help to build and regenerate healthy body tissue. The fact that they're high in healthy fat, protein and calcium is just the icing on the cake 😀
Any other tips on how I can get my leggies back to normal??? I've been foam rolling, rubbing Biofreeze on them, stretching, but I still have to crawl up the stairs and hold onto both rails to get down.
It's hard to believe that the day after the half marathon last year, I was wearing HEELS to welcome this guy home 😉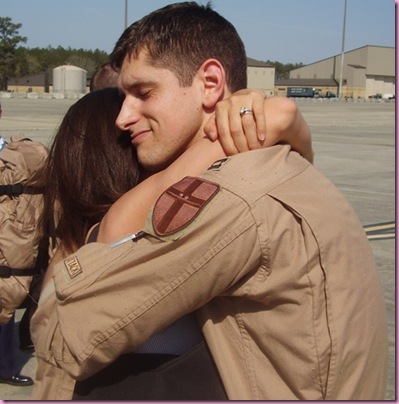 The things you do for love 😉
Well I'm off to write some guest posts, clean the casa, walk the puppers and FINALLY catch up on emails. I'm so sorry if you've written to me and I haven't gotten back to you yet. I will dominate my inbox today 😀
xoxo,
Gina
Something to do: Meet me back here later for the Intermediate Iron Pumping plan and an awesome giveaway!