Hey everyone!! Happy Friday! Anything fun going on this weekend?? 😀
I have to warn you in advance that my eats have been a little hodge podge today. Definitely more random snackage than official meals.
This morning, I got up bright and early to go to the beautiful Dr. Phillips YMCA. The gym was super nice before, but since it's gone through a remodel, it's ridiculously gorgeous. Another reason why I wish we could live in Orlando! I did 45 minutes on the elliptical watching Good Morning America on the little flat-screen elliptical TV, munched half an unpictured nanner, then took an hour pilates class.
Pilates was glorious- I haven't taken a class since Tucson! It felt nice to work my abbies and was very GC 😀
After my workout sesh, I hit up Whole Foods, bought some goodies and every Thai coconut in the house, and then proceeded to have salad for bfast.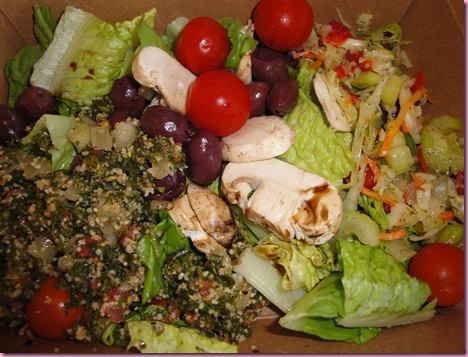 I wanted something raw, savory, and veggie-filled so a salad seemed like the way to go. It had romaine, mushrooms (MUSHROOM! MUSHROOM!), kalamata olives, tamaters, health salad (which was like a slaw dressed with lemon juice and dill) and cracked wheat tabbouli salad. So incredibly random and quite satisfying.
After my feast, I went back to my aunt's, packed up and hit the road back to V-town since I have a training appointment in a little while.
It was so nice to have my roadtrip buddy with me!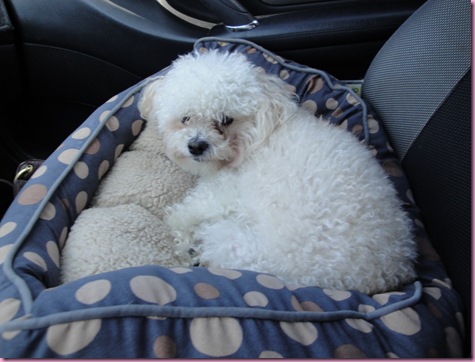 Her hair is so long and curly right now! She looks like a baby polar bear 😀
Road trip snack: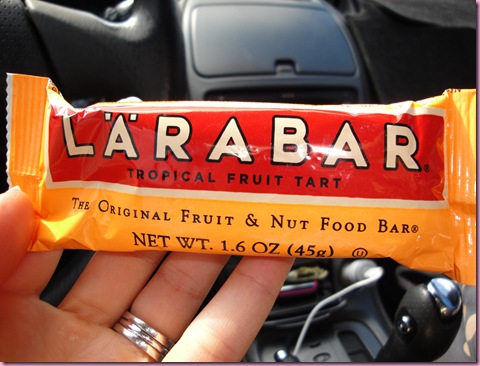 (If you haven't tried that flavor yet, definitely give it a whirl. It's my new favorite!)
I finished the book on CD I was listening to (and cried at the end because I'm a giant sap) and made it safe and sound back to Valdosta.
Since my juicer hasn't been used in a month, I decided to whip up some Cullen juice and added some kale stems (leftover from the kale chips):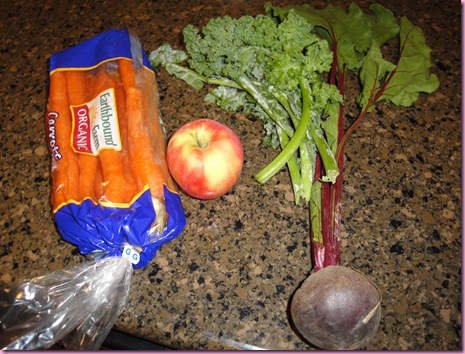 (I used about 1/3 carrot bag and all of the beet)
With a glass straw: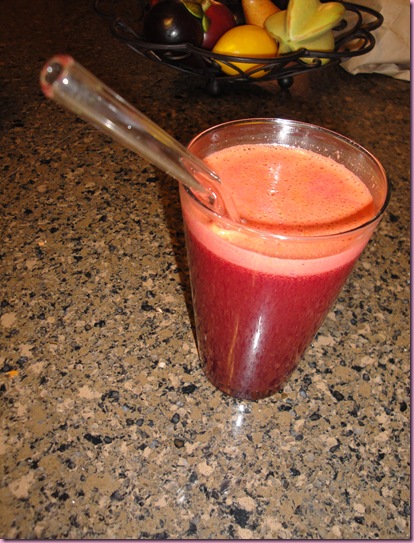 After I finished the juice, I was starvin' Marvin. I took a dip into the almond butter jar with a spoon and realized that's not what I was hungry for, and had the realization that I hadn't had hardly any protein today and that's why I felt so ravenous.
A smoothie totally fixed that problem: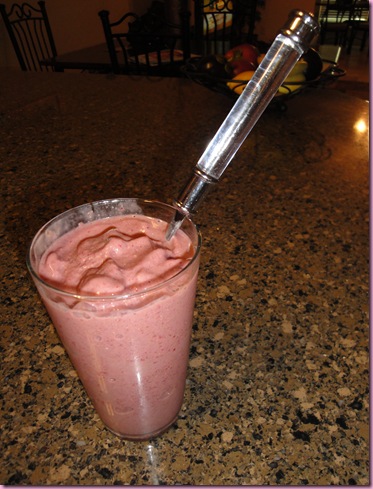 1 cup almond milk, a bunch of frozen organic strawberries, 1 pack Vega Berry Whole Food Health Optimizer, a pack of Stevia (which made it a little too sweet), a sprinkle of bee pollen and a pinch of sea salt.
Muuuuuch better.
I'm off to train funny quotes lady!!! I missed her so much! Then the pilot and I are going out to dinner and to see Couples Retreat with some friends 😀
xoxo,
G$
Questions and Answers: I get a lot of questions via the blog and email regarding whether or not to eat before a workout. A lot of professionals in the fitness world have mixed opinions on this, and it wasn't until a couple of years ago that I found what works best for me.
Here's the thing: generally our bodies will burn carbs first, then fat and then protein. If we eat before we work out, we have more carbs to burn before our body can get to the fat-burning phase. However, if you're hungry when you get to the gym, you're not going to work out as efficiently and will probably cut your workout time or intensity short of what you'd do if you had some pre-workout fuel. You'd burn less calories and approximately the same amount of fat as if you'd eaten something and worked out a little harder.
So usually the questions are this:
Am I hungry?? If the answer is yes, then I do the obvious and have a small snack before working out
What kind of exercise am I going to do? If I'm going to do a breezy walk or elliptical sesh, then I usually don't eat anything beforehand. If I'm going to teach/take an aerobics class, run (for longer than 45 minutes), or do cardio and weights in the same session, I'll definitely have a snack
Whether or not I decide to have a snack also depends on the time of day. If I have a big or late meal the night before, I'm usually not hungry enough to eat before working out. If it's later in the afternoon, I'll almost always need a snack for a pre-workout energy boost.
If you do choose to have a snack before a workout, the best snacks are a mixed of smart carbs, lean proteins and healthy fats and around 100-200 calories. Some ideas: Ezekiel or banana with almond butter, greek yogurt and berries, small fruit smoothie, apple and cheese, 2 egg whites and 1/2 wheat pita, 1/2 bar (Larabar, Luna bar, etc.). For more snack ideas, check out this page.
Happy training!