I could easily be a clothes hoarder.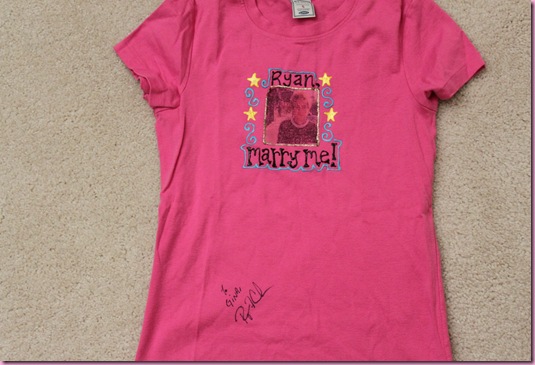 It's not like I would ever wear my "Ryan, Marry Me!" shirt again, but sometimes I get a little attached to the memories behind the clothes. They remind me of different times in my life, and it hurt a little when I got rid of the first dress the Pilot bought me when it was tattered and worn from so many trips to the beach. It was when he was living in Fayetteville, NC and I was finishing up my last year of school here in Tucson. We'd visit each other every 2 weeks or so, and one weekend he surprised me with a gorgeous white dress to wear to the beach.
Even though I have a tendency to get attached to clothes, I make myself go through the closet on a regular basis –especially when I pick up new pieces- and will find the things I'll no longer wear. Usually if I haven't worn it in a year, it's toast (with a little extra leeway this year since I was preg) and I'll either sell these items to invest in the current season's trends or donate the rest. Somehow my Ryan Cabrera shirt stood the test of time, and is buried in a plastic bin in the depths of the storage closet.
Since I picked up a few things this weekend, I made my rounds through the closet and got a pile together to take to Buffalo Exchange: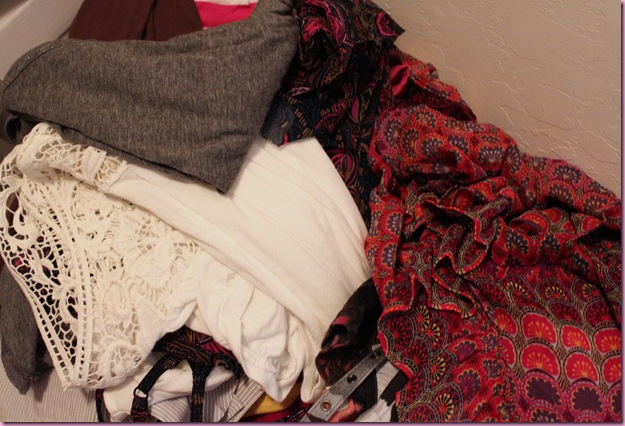 They had long lives and are reminders of events and times that I'll never forget.
When we were at the mall this weekend, I picked up this outfit from Loft: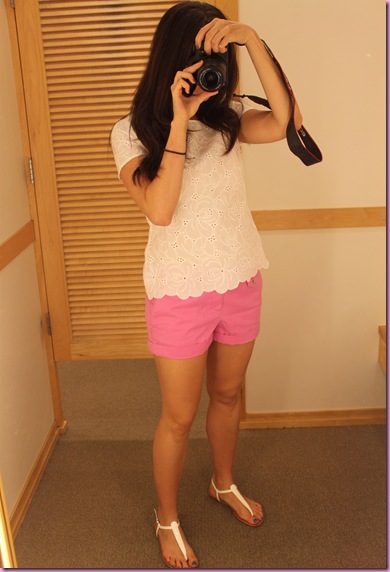 and this dress: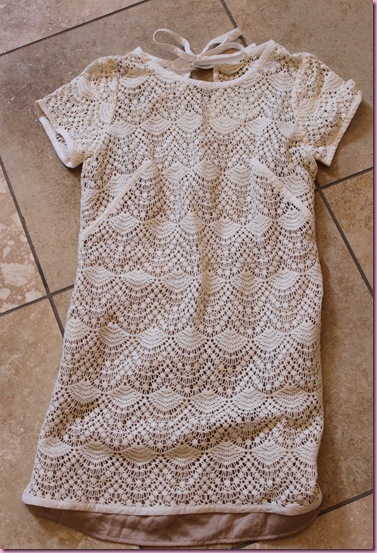 While I was trying everything on, I asked the Pilot if he'd mind grabbing me another size in the dress –even though he liked the smaller size, I felt like you could see my booty. When we left, I told him that the shorts, top and dress were $125. He said, "Whoa- that's a great deal. I saw the price tag and was thinking it was a little unlike you to get an $100 dress on the fly"
While I like to shop (a LOT), the time in our life when we were in debt made me extremely careful about spending, even though things are more comfortable now (knock on wood, and something I'm very thankful for). When we were first dating/engaged, living apart, we spent everything we owned to pay the bills and buy plane tickets back and forth to visit each other. When I first moved to Fayetteville, I wasn't working since we'd be moving in 3 months –ended up getting a management job at Target for 2 months.  We threw every extra penny back on the credit card to pay it off, and I remember when we had $50 to last us the week. We shared tuna steak for dinner and got very creative with pasta recipes. Things were tight, but we had the best time together. It was worth it to be able to see each other during that year we lived apart.
We started a budget and paid off the card during the Pilot's second deployment, but are still very careful about how we spend and make saving a priority. We still have a credit card, but only use it occasionally and pay it off right away to keep our credit scores up.
Some of my money-saving shopping tips are *here* and I'll always take advantage of online deals and coupons. I rarely buy full price, and follow the same strategies with Livi's clothes. She wears a ton of Baby Gap and Gymboree, but I've hit up sales or used coupons for all of it.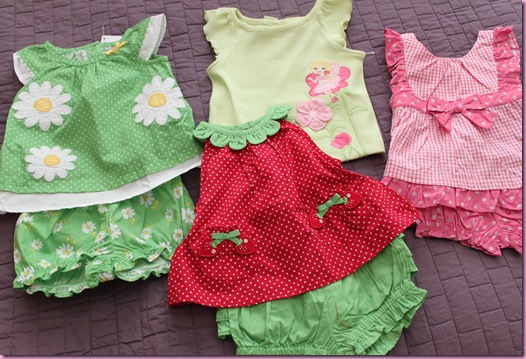 Pinterest has been providing me with awesome outfit ideas lately,
like this one: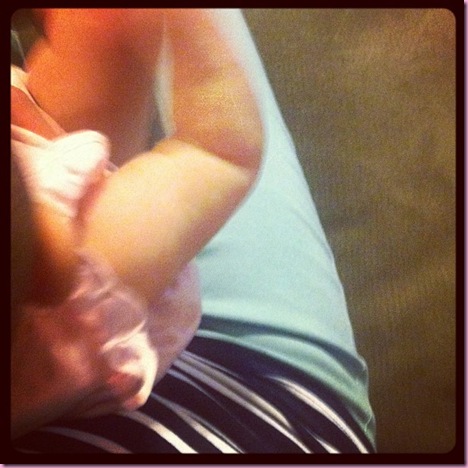 (mint pants and a striped tank, both from H&M)
and I'm excited to see what I can pick up using the money from the clothes I sell today.
It's the circle of life 😉
Do you sell or donate your clothes? Anything you're keeping forever?