Rocket Fuel, Tart cherry energy elixir + GIVEAWAY
This post is sponsored by the Cherry Marketing Institute.
I'm always looking for ways to improve my workout fuel game. Back in the day, I'd head out for a long run the night after a few cocktails, skip breakfast, and wonder why I hit a wall at mile 6. I'd feel frustrated that I couldn't lift heavier weights for my deadlifts. And, I couldn't understand why my energy was hit or miss while teaching classes. Finally, I started to dig in and learn about sports nutrition, and was shocked to see how much proper fuel positively affected my workout experience.
I fell in love with the sports chews and gels, and found that many of my favorite store-bought workout fuel items could easily be made at home using healthy ingredients. Here's something I made recently, using one of my favorite recovery tools: Montmorency tart cherry juice.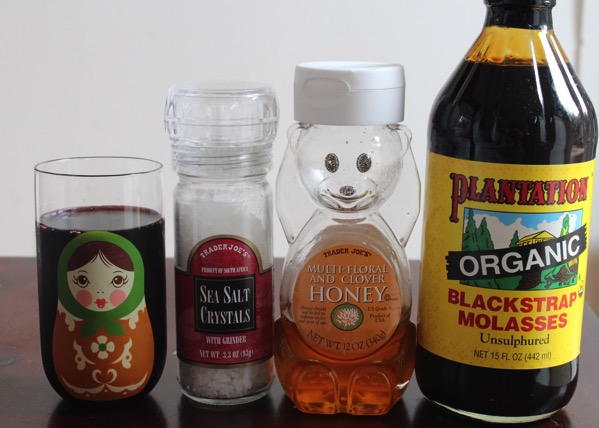 Here are some of the benefits of this delicious little fruit:
Montmorency tart cherries have a high amount of anthocyanins, which are beautiful in color and have been demonstrated to protect the body against inflammation and various diseases. You can check out more of the benefits here. You can find tart cherries in frozen, dried fruit, capsule, and juice form.
To be effective, some sports nutritionists suggest using Montmorency tart cherry juice as a "precovery" drink.
All of the exercise-related studies have had athletes drink Montmorency tart cherry juice or consume tart cherries in other forms at least several days or a week prior to an event – as well as the day of and after. Soreness after a workout is caused by a combination of inflammation, muscle damage and oxidative stress – and researchers suggest the natural compounds in Montmorency tart cherries, including anthocyanins, may help with all three when consumed prior to working out, as well as after.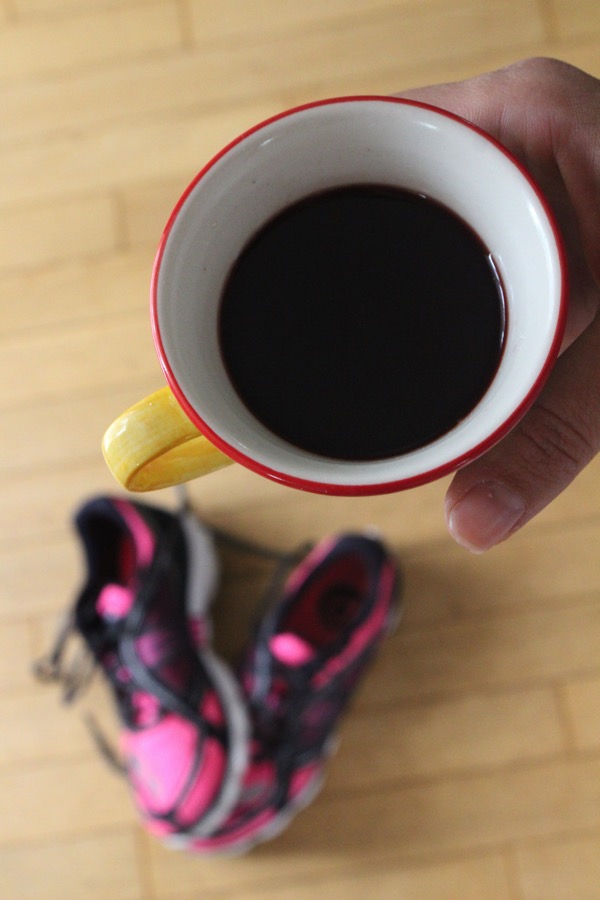 This little energy elixir is modeled after the energy gel you'll find in the pouches at sporting good stores. The best part: it uses ingredients you may already have on hand and has the added benefits of tart cherry juice!
Other benefits:
Salt: electrolyte replenishment
Honey: carb replenishment (energy!). Increased energy can lead to increased performance! It's also antibacterial and can boost the immune systems
Blackstrap molasses: vitamins and minerals, including iron, calcium, magnesium, B6, and selenium
It's a delicious mix of tart and sweet, with a slight kick of salt, following a sweaty workout. You can store it in little sport gel bottles or even reusable baby food pouches.
Here's the recipe if you'd like to give it a try!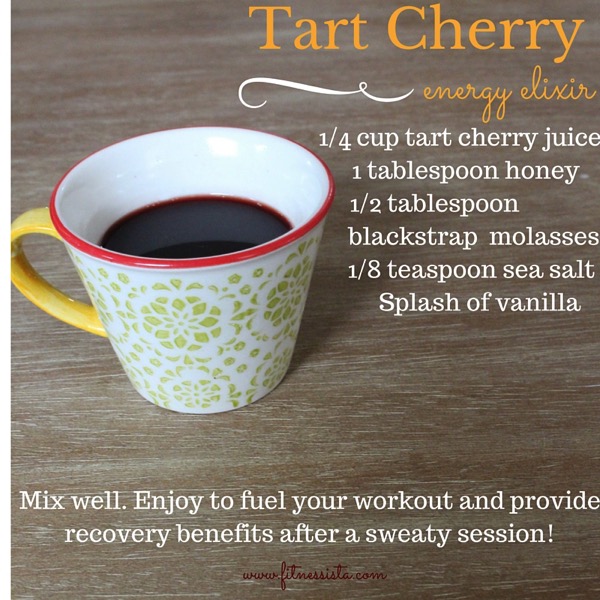 My friends at Tart Cherries sent me a new cookbook with lots of healthy recipes you can make at home to support your active lifestyle: Rocket Fuel. The author, Matt Kadey, is a Registered Dietitian and has created a cookbook packed with amazing recipes and new cooking ideas. I can't wait to implement many of these in my rotation! All whole ingredients and super easy to make.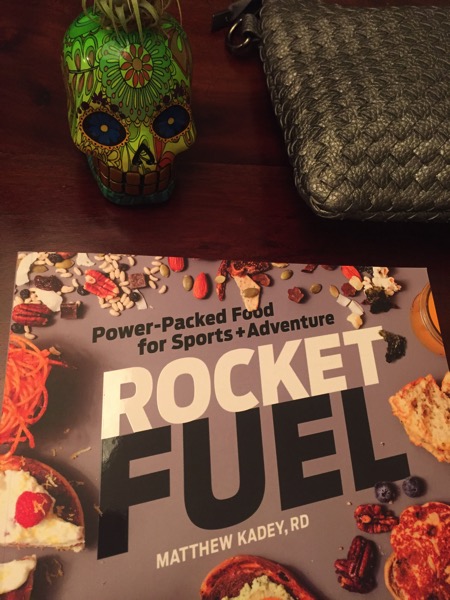 Here's what you'll find within the pages of Rocket Fuel:
126 recipe ideas for power-packed foods, snacks, and light meals including bowls, puddings, wraps, sandwiches, bites, balls, squares, bars, drinks, patties, cakes, stacks, drinks, smoothies, shakes, soups, muffins, sliders, pies, rolls, DIY energy shots, and all-natural sports drinks

33 Before, 43 During, and 50 After Exercise recipes

79 dairy free, 85 gluten free, 76 vegetarian, and 33 paleo-friendly recipes

Smart-yet-simple sports nutrition guidelines for before, during, and after exercise

Complete nutrition facts for every recipe
I also love that he really breaks down sports nutrition into a format that's easy to understand and follow. I can't wait to share it with a lucky reader friend!
Tart Cherries kindly offered a copy for a lucky winner, and I'd also like to share one of my latest fitness faves: a Fitbit Alta. I've been using it for about a month now to encourage activity throughout the day, track my sleep, and it's my favorite Fitbit because of the smaller, sleek design.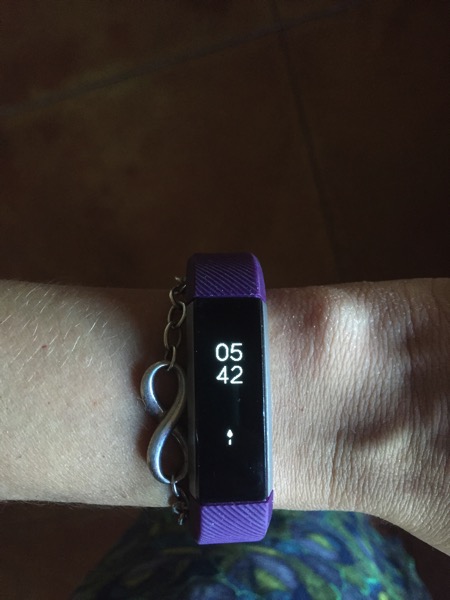 Enter via the widget below! The lucky winner will be announced Tuesday morning.
I'll see ya later today with Friday Faves!
xoxo
Gina