Hi friends! How are you? Cheers to the (long) weekend! Any exciting plans? We will definitely be spending some time on the beach, hitting up a birthday party (preschoolers have birthday parties every weekend it seems), and BBQing with friends. I can't wait. I hope you have some fun and relaxing on the agenda, too!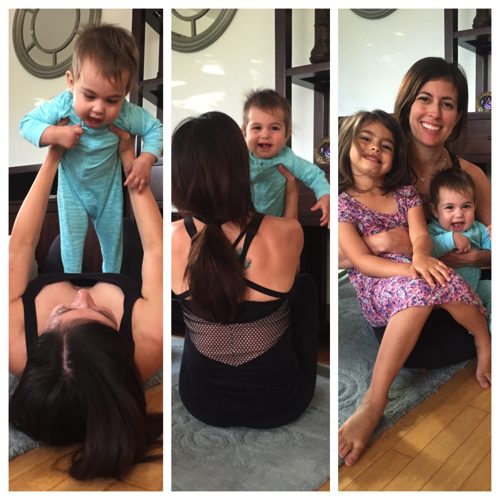 (Pic is from this morning's PBB newsletter)
It's time to start the weekly Friday Faves party! This is where I share some of the things I'm eating, wearing, reading, listening to, and enjoying from the week. I always love to hear about your faves, too, if you'd like to join in the comments below.
Some food finds from the week: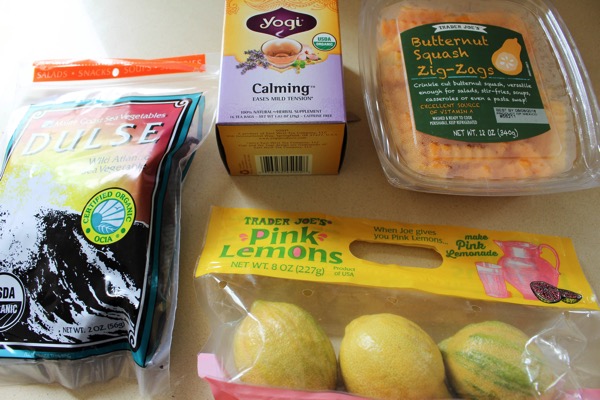 I haven't had dulse in way too long, and when I saw it at the co-op, I picked up a bag. Something about the saltiness sounded extra delicious to me, and I ate some straight out of the bag. It's also delicious on wraps and salads. If you haven't tried dulse, it's a sea vegetable, and similar to the nori they use to wrap sushi rolls. (I find dulse to have a milder taster than nori, which tastes more like.. the ocean.) It's high in minerals (calcium, magnesium and iron), vitamins A and C, iodine and fiber.
I also grabbed some calming tea (Liv loves it, too), pink lemons, and pre-cut butternut squash. As much as I love wrestling squashes and everything, the convenience is A+.
Same goes for these jicama sticks! I LOVE jicama dipped in guacamole, but it's not the most fun to cut into pieces.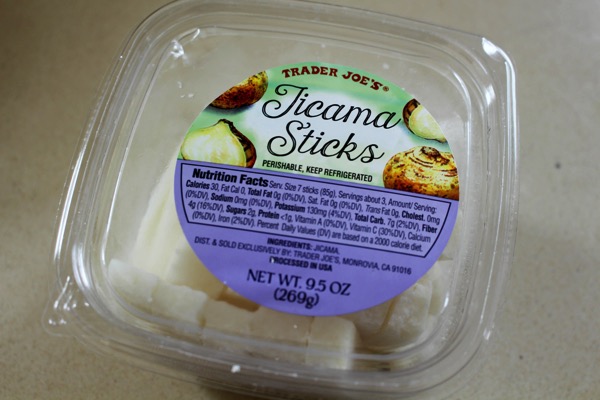 I shared my supplement routine on Snapchat, and quite a few people asked if I would break down what I'm taking.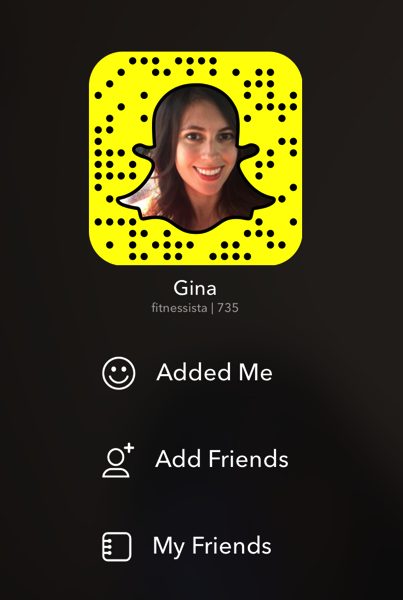 (Snap code if you'd like to follow along! It's mostly random videos of the girls, workouts and food haha.)
I thought about going over each herbal supplement, but I don't think it would be super helpful, especially since I would only be consulting the Googles. Each herb has specific benefits, and it's also a matter of how they all work together to treat what's going on. If you have questions about any herbs or supplements, I recommend talking to a doctor or naturopath in your area.
I'm working with my naturopath (Dr. Flynn) to boost my hormone levels, because they're still pretty low after the birth. I had a pretty comprehensive blood test a few months ago, and the results verified that some things need a bit of a boost. (3 of them were flagged in the post-menopausal range. Cool bro.) I've been taking many of the same herbs that I took when we were trying to get pregnant with Liv, in addition to these two supplements: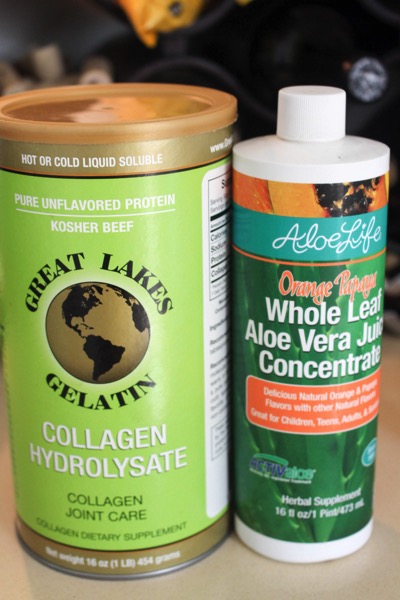 Collagen, and aloe vera juice concentrate. At first I was a little "ew" about the collagen because I'm not a huge gelatin fan. The good news is that this is not like Jell-O in the least. It dissolves beautifully into liquids (you hardly notice it's there), and I wash it down with a couple of tablespoons of aloe vera concentrate. This is the papaya orange flavor (which is ok), and I recently bought the cherry berry flavor which is not delicious.
My friend Julie is taking a similar collagen supplement and talked about some of the benefits on her blog here! I've noticed that my hair has been growing like crazy and feels much healthier since I started taking it a couple of months ago. I've had two haircuts, and usually I have wait forever to get my hair cut.
Love these funny workout shirts.
Well this sweet short video made me cry.
Back at the barre. I start teaching again next week, so I took a class last night to get back in the zone. It killed me. How did I do that when I was pregnant? Muscle memory, please kick in.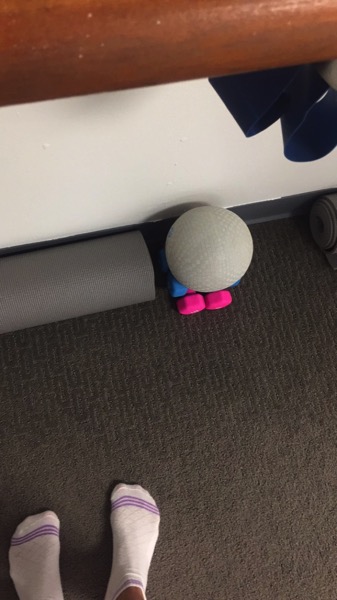 LOVE these Apolis bags, especially for farmer's market trips and beach days. I already have the Tucson, Arizona one and added the San Diego one to the collection. Here's a pic of it from this post! I can't believe how much Livi has grown since then.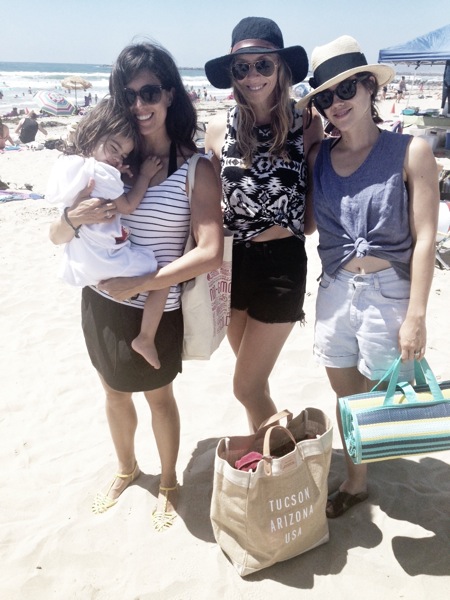 10-must try Mexican inspired dishes from Tucson via Food Network.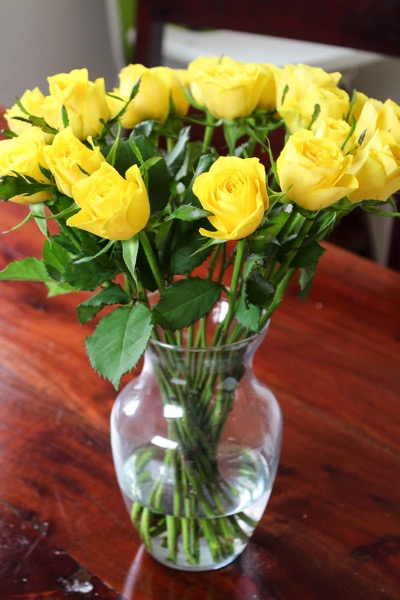 Memorial Day sales! Here are some of the amazing sales going on this weekend:
Banana Republic– 40% off with the code TAKE40
Nordstrom anniversary sale! Up to 40% off. Love this pink dress, my favorite sandals on sale, these cuffed jeans and this quilted bag.
Reebok– 20-40% off depending on how many items you purchase with code MEMDAY
J Crew– 30% off
Old Navy– tanks, tees, shorts and swim are 50% off. I'll definitely be hitting up the kids' section for Liv and P
gap– 35% off with the code EVENT
Anthropologie– Extra 30% off sale items. This jumpsuit is super cute.
Happy Friday, friends <3
xoxo
Gina