Spring Bodyweight Workout + Tart Cherry Pineapple Cake Parfait
This bodyweight workout and tart cherry recipe are sponsored through my partnership with the Cherry Marketing Institute.
Hi friends! Spring is officially here, and we're getting into that weather "sweet spot" where you can take your workout outside. It's a great way to switch up your routine, and also get a little fresh air.
Bodyweight Workout You Can Take Outside This Spring
When we lived in Tucson, I'd get some questions and/or funny looks for taking my workouts outside. This is also because Tucson is usually a thousand degrees, but I digress. "Why do you have your yoga mat? Are you really going to do yoga outside?" "Why are you carrying that kettlebell around?" In San Diego, it's very different. It's very common to see multiple solo and group workout sessions happening at the parks and beaches, all the time. It's pretty cool to see the various fitness stations that people set up, including TRX straps tied onto trees, mats and dumbbells, agility ladders, and kettlebells.
I created this workout that you can try out outdoors as a way to change up the scenery, and it's also perfect for a traveling or hotel room workout. All you need is your own bodyweight. As always, check with a doctor before making any fitness changes and modify as needed.

Tart Cherry Recipe for Workout Recovery
I've been trying to pay more attention to my nutrition lately, especially when it comes to pre- and post-workout choices. For every workout, I make sure to get a good balance of protein and carbs both before and following my sweat session. A special touch I've been enjoying for recovery: Montmorency tart cherry juice.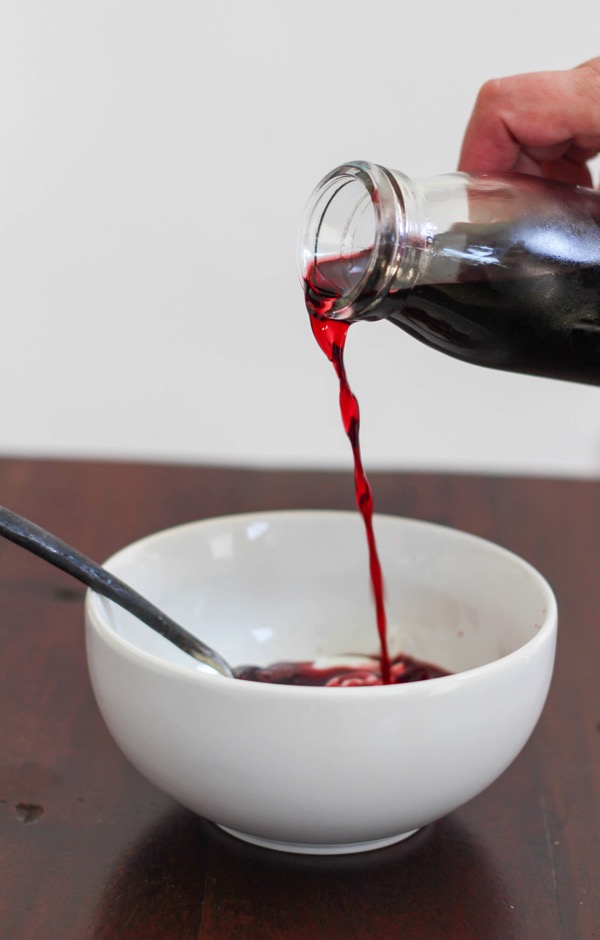 There is an incredible amount of research on the positive effects of tart cherries. They may reduce strength loss and aid in recovery following intense exercise. Runners in two studies who drank tart cherry juice before and after their races experienced a faster recovery of strength. Montmorency tart cherries have a high amount of anthocyanins, which are beautiful in color and have been demonstrated to protect the body against inflammation and various diseases. Drinking tart cherry juice can also aid in sleep. You can check out more of the benefits here!
The best part: tart cherries taste AMAZING, so it's easy to include them in your diet. (You can find them in juice form, frozen or dried.) They are certainly tart, which makes them a perfect complement to sweet and savory dishes. I'm always looking for more ways to enjoy tart cherry juice in my diet, and one of my favorite methods is to mix equal parts tart cherry juice with goat Greek yogurt. It combines the muscle-building and probiotic properties of the yogurt, with the recovery benefits of the tart cherry juice.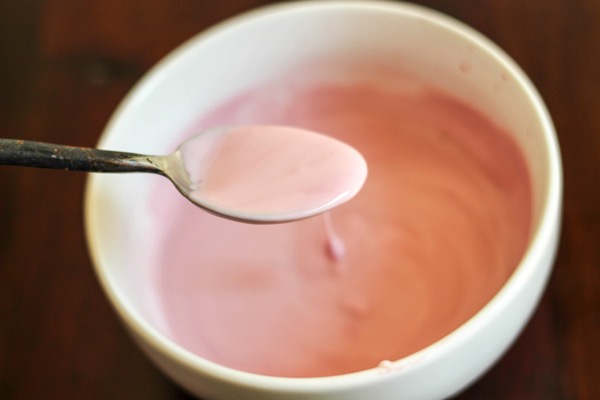 Tart Cherry Pineapple Parfait
Something I did lately to take it over the top: layered it with some grain-free pineapple cake for the ultimate parfait. It looks decadent, but this breakfast treat is packed with healthy fats, protein, and tart cherry juice. Plus, it will get those summer vibes going strong. 🙂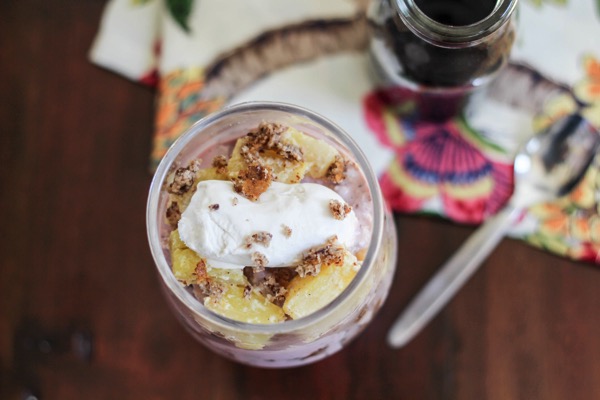 Here's the recipe if you'd like to give it a try!
Tart Cherry Pineapple Cake Parfait
For the pineapple layer
2 cups

of chopped pineapple, fresh or frozen
pinch of sea salt

2 tablespoons

of maple syrup
For the cake
2 cups

of almond meal

1/2 teaspoon

baking soda
pinch of sea salt

3

eggs

1/4 cup

honey

4 oz

cinnamon applesauce

1 teaspoon

vanilla
For the parfait
4 oz

yogurt mixed with 4 oz tart cherry juice
Instructions
Preheat the oven to 350 and spray a 10×13 baking dish with nonstick spray or olive oil.
In a large bowl, combine the pineapple, sea salt and maple syrup. Spread on the bottom of the baking dish in an even layer.
In the same bowl, combine the almond meal, baking soda and sea salt. Whisk in the eggs, honey, applesauce, and vanilla.
Pour the batter on top of the pineapple, and bake for 30-35 minutes, until set and golden brown. Allow to cook slightly.
Build your parfait! Crumble some the pineapple cake into a wine glass or tumbler, and then alternate layers of crumbled cake with your tart cherry yogurt.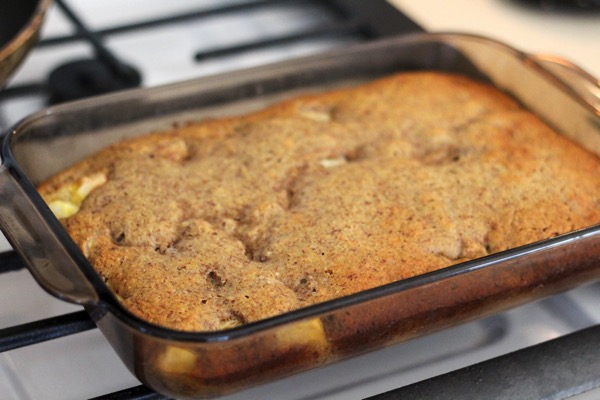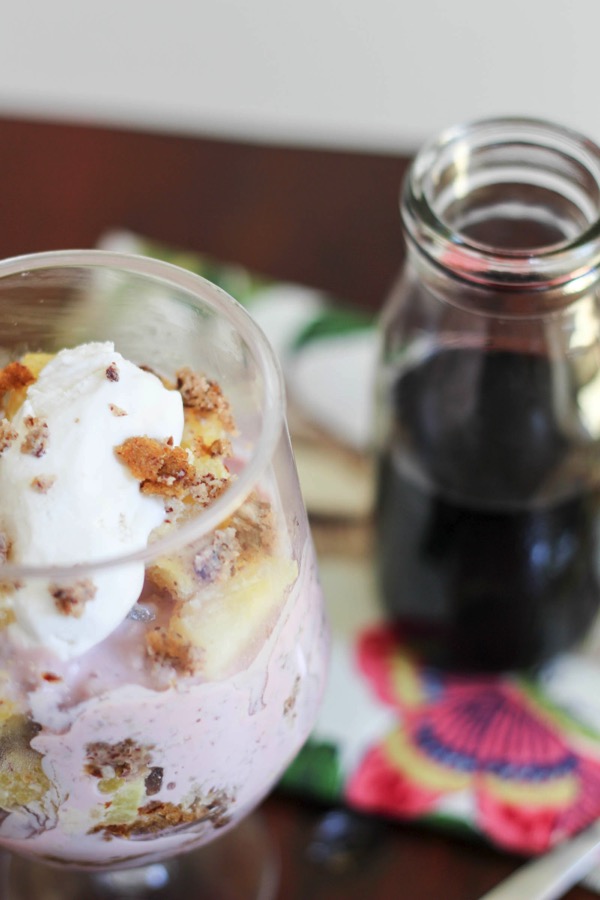 I topped mine with a little coconut milk whipped cream. 🙂
Enjoy!
Do you have a solid pre- and post workout nutrition routine, or do you like to change things up? Have you tried tart cherry juice? What's your favorite way to enjoy it?


Hope you have a wonderful day!
xo
Gina
This post is sponsored by the Cherry Marketing Institute. Thank you so much for your support surrounding sponsored posts.