Hi friends! How's the morning going? Hope you're having a great day so far. <3
The girls and I made a little roadtrip to Disneyland!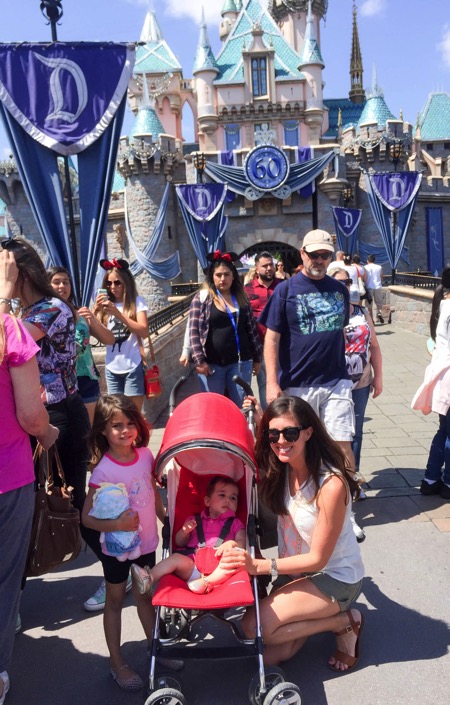 The Pilot was traveling for work this week, and I figured it would be fun to head up to Disney before it gets too hot. Liv has been wanting to go for a while, and she's been an extra amazing helper since it's just been the girls over here for a few weeks now. I packed up the car, we made a stop at Starbucks for scones and caffeine, and after some terrible San Diego traffic, we made it to the hotel!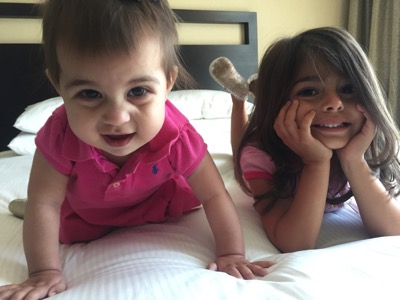 A lady at Starbucks and the hotel valet both joked about how I was "crazy" to head to the park with two kids by myself, but whenever we go to Disneyland (or travel in general), it's super low-key. We don't have an agenda, and just enjoy being there and seeing the sights together. Any ride or show we see is considered a bonus. My strategy for this trip: wheel P around in the stroller, and then carry her in the Ergo during any lines or shows. It worked out really well.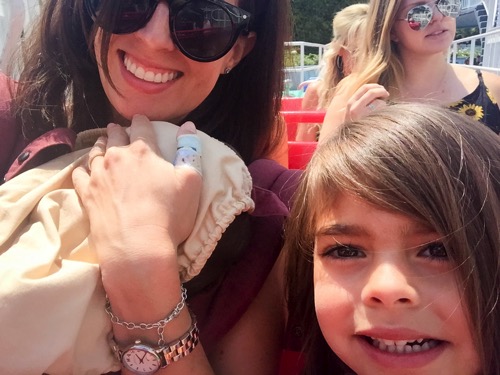 Liv and I were super excited about taking P on Small World, but she wasn't impressed. I thought for sure she would wake up and wonder where the heck we were, but nope. She peacefully snoozed through all 4,000 renditions of the song.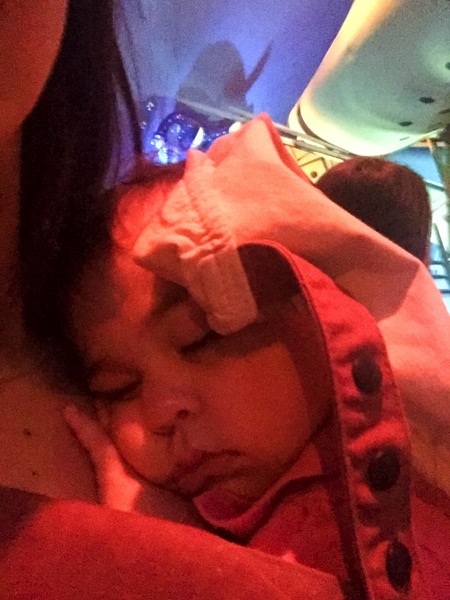 Our main priority: the sweets shop.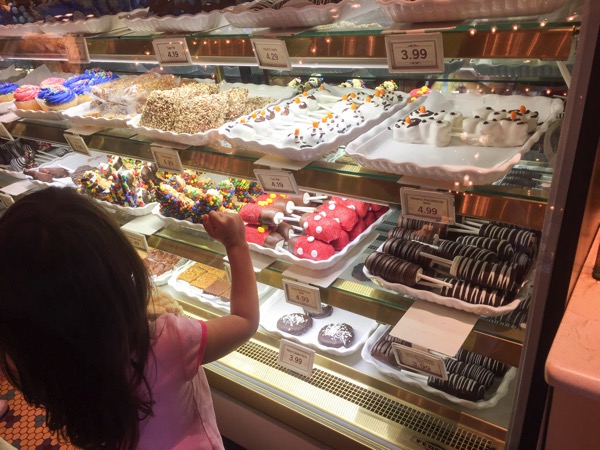 They sprinkle that Disney magic all over these rice crispy treats. A crispy treat just doesn't taste the same anywhere else.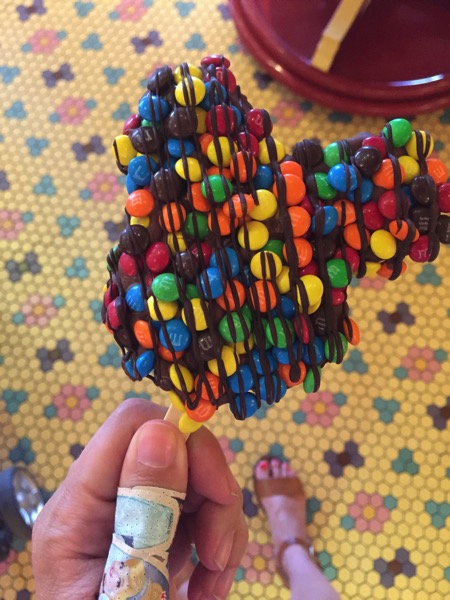 The Pilot was doing some flying in LA for his license, so he was able to meet up with us when he was done for the day. The girls were so happy to see him, and P snoozed happily on him in the Ergo.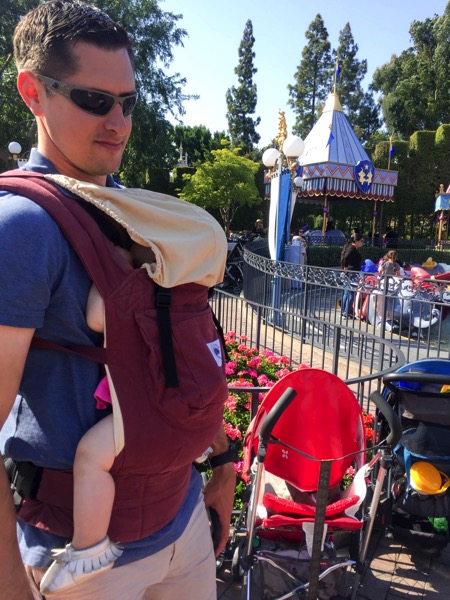 (Love that the little attachment can protect her head from the sun)
Miss P goes to bed early (just before 7pm), so we all headed to the hotel together. Liv and I grabbed our sweaters and ventured back to the park for more rides, and the Pilot stayed at the hotel with sleeping P so he could get some studying done. During past trips, Livi only preferred a small handful of rides, but was really about the characters, parade and shows. This time, she wanted to go on everything! We went on Dumbo, Small World, Peter Pan, Pirates of the Caribbean, Mr. Toad's Wild Ride, and the teacups. It was such a blast. We capped the evening off with the Electric Parade (which is seriously incredible), and she watched it sitting on my shoulders. It was a serious core workout haha.
It felt extra special because while I get a lot of time with both girls and with just P, time spent alone with Liv is more rare. I've been making an effort to plan dates with just the two of us, but even so, it's usually a couple of hours here and there. This was definitely a trip that I'll remember.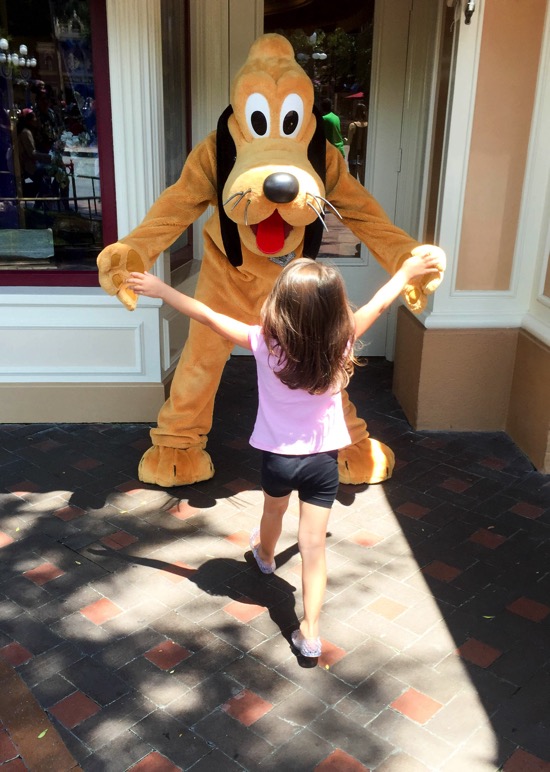 Some more things from the week:
-I have been LOVING kitchari for lunch. The trick is to stop eating it every day so I don't get sick of it.
–This is the book I'm currently reading, and shared some quotes on my Snapchat.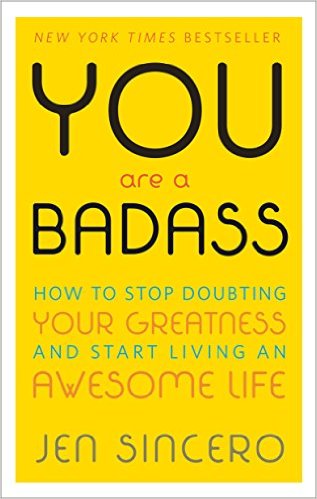 Sometimes personal development books are a snore; this is the exact opposite. It's well-organized, fresh, and enjoyable to read. I highly recommend it.
–Nordstrom half-yearly sale is heeeeeere! I'm so excited to check it out.
Hope you have a wonderful Thursday.
xoxo
Gina