Hi friends! Happy Monday! Hope you had a wonderful weekend. We are back in San Diego after our trip to Virginia to celebrate these two lovebirds: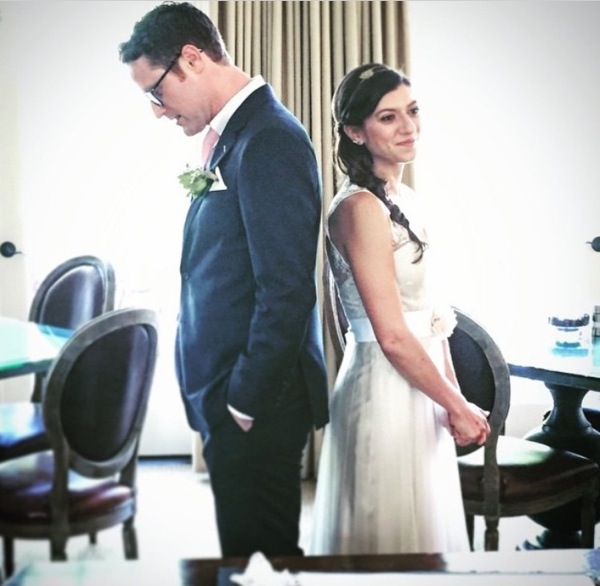 Ryan and Elisa got married. 🙂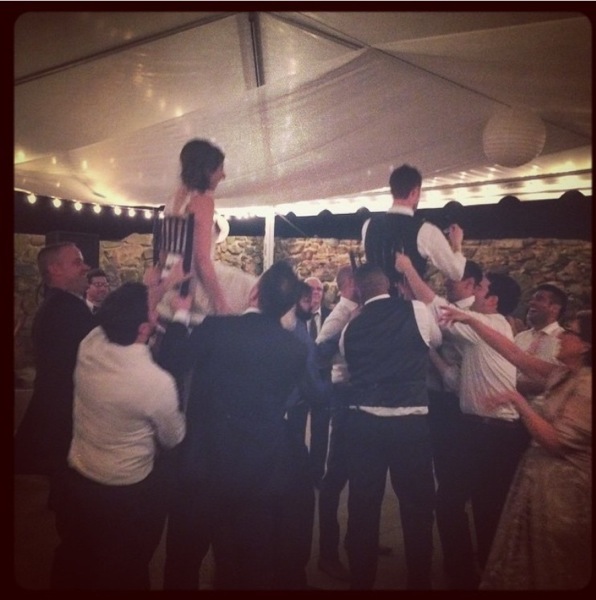 (both photos above from their Instagram hashtag, #ryanandelisa)
We have known them for many years, as the Pilot went to elementary school with Ryan and they've been close friends ever since. It's been a while since we've seen them -last time was during a visit to NYC, where they live- and it was amazing to catch up with everyone. Ryan was one of the best men at our wedding, and we were really excited to be able to travel out to the east coast and celebrate their special day.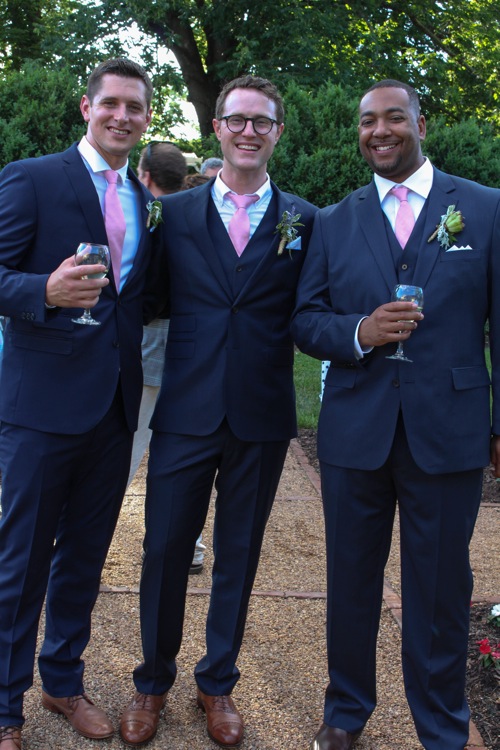 (with Robbie! He was a best man at our wedding, and for Ryan and Elisa's wedding, the Pilot and Robbie were his best men.)
The wedding was in the charming town of Orange, Virginia at the Inn at Willow Grove.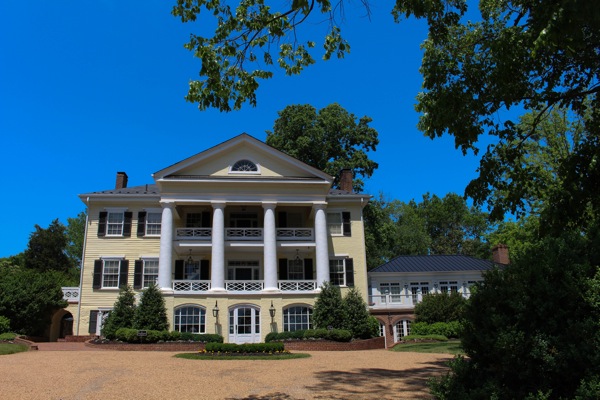 The Inn at Willow Grove is described via their website as "urban plantation" and was the perfect setting for Elisa and Ryan's rustic romantic celebration.
The main house is framed by large columns, and while it has a classic and historic feel to it, it's also clean and modern. The Inn is surrounded by lush, green grounds with multiple acres and paths for walking.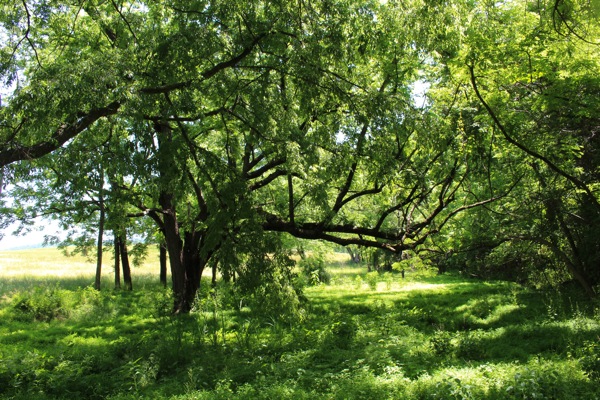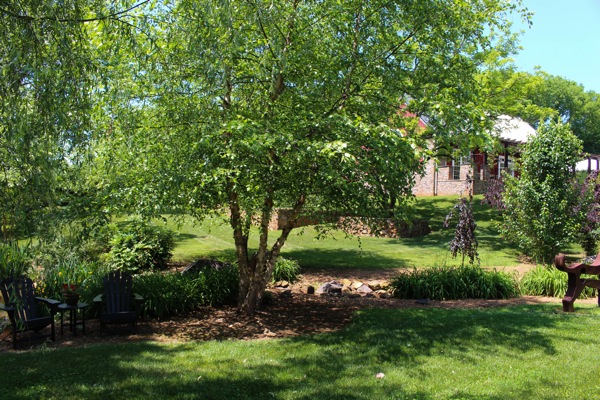 It has a restaurant, small boutique cottages throughout the property, large patio, a spa, and a barn + outdoor venue.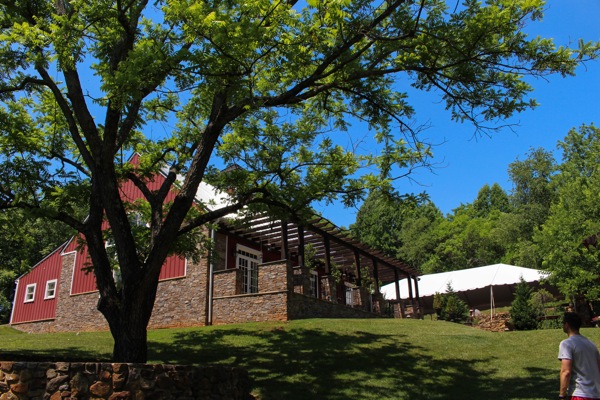 At night: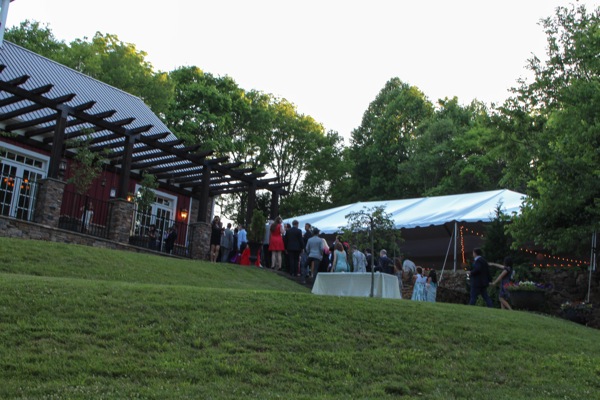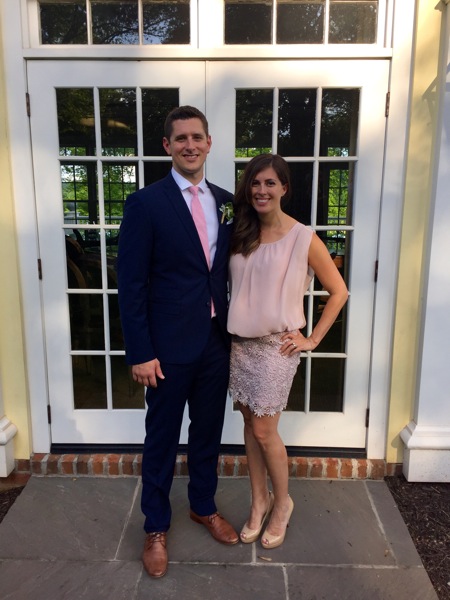 The ceremony was absolutely beautiful. It was outdoors, and while it was definitely warm outside, the clouds decided to grace the ceremony with the perfect amount of coolness. Elisa's mom is a rabbi, and was the officiant for the ceremony. Preceding the outdoor ceremony, the Ketuba was indoors, which included their vows and signing the marriage documents. Weddings always make me cry like a baby, and this was no exception; it was gorgeous. Since I was in the back and didn't want to disturb anyone with photos, I only grabbed one at the end of the ceremony: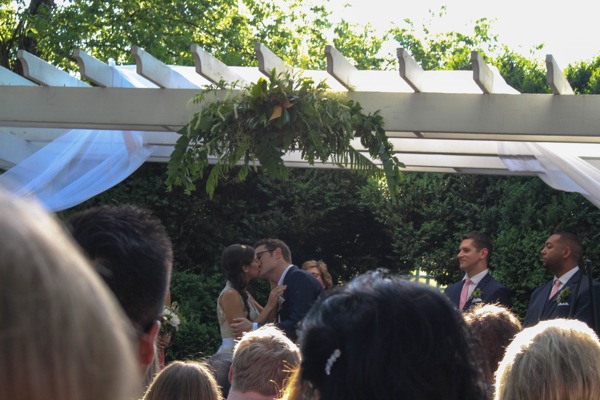 (after breaking the glass and yelling, "Mazel Tov!")
The bridesmaids wore dresses in varying shades of red and blush, while the groomsmen wore navy suits with blush ties, and succulent boutonnieres. Elisa's dress was absolutely breathtaking: cream with a white sash and lace detail on the bodice.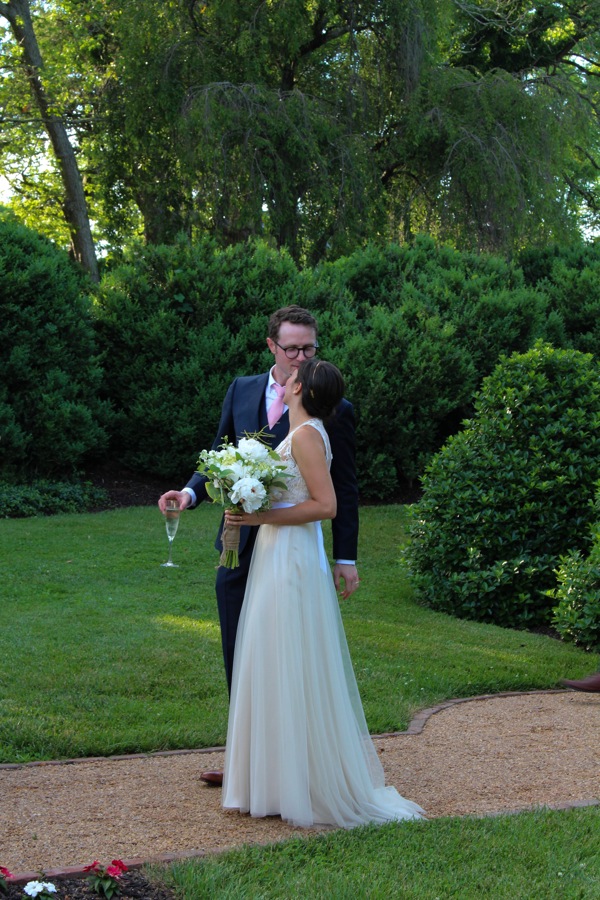 You could tell the couple spent a lot of thought into creating the special touches for their wedding weekend. For the rehearsal and rehearsal dinner, we were given stickers with our respective teams: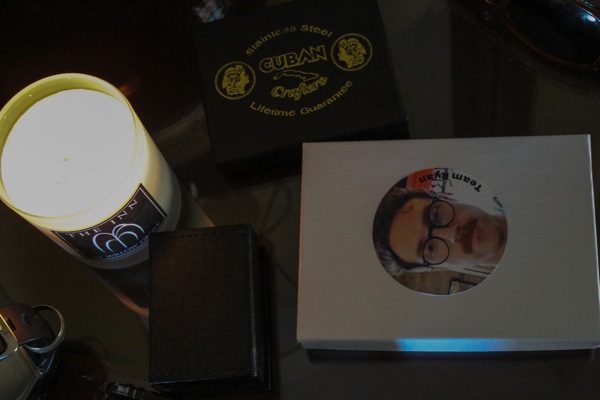 So good.
And after the ceremony, we headed into the barn, where dinner was served.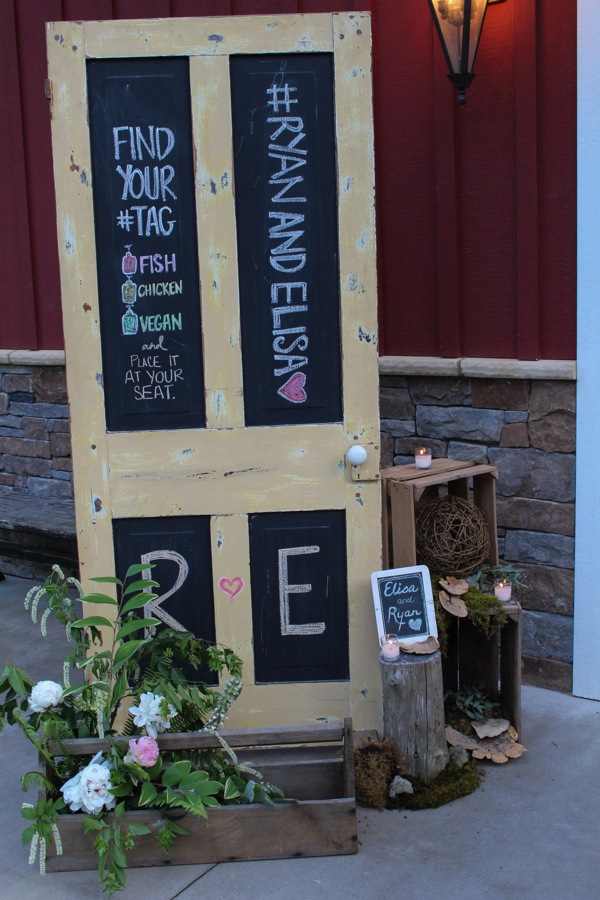 The tables were adorned with small stones among the flower arrangements, one of which had the table number on it.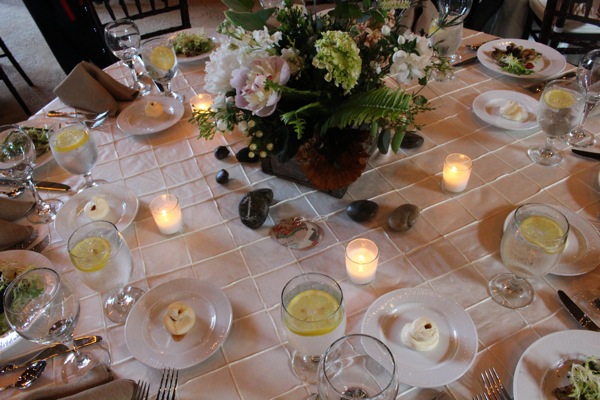 (At the entrance, we grabbed our tags which were color-coded to indicate our dinner preference, and Elisa had written a small note on the back of each one.)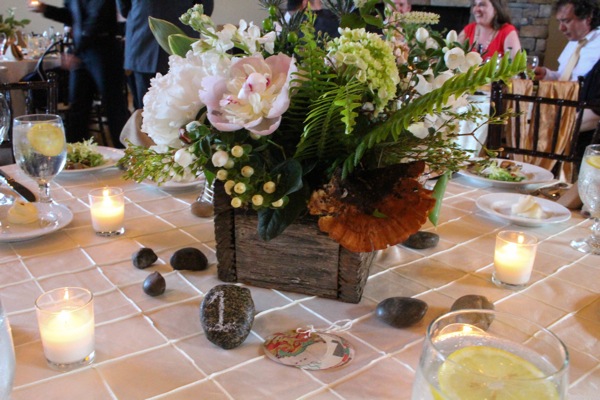 When I saw that vegan was one of the dinner options, I knew I had to try it, as I'm a non-vegan lover of vegan food. Also, at the time of RSVP-ing, I was very early in my first trimester and didn't have the best relationship with meat. 😉
It was a hearty tofu steak with mild curry broth, fennel, and rice noodles: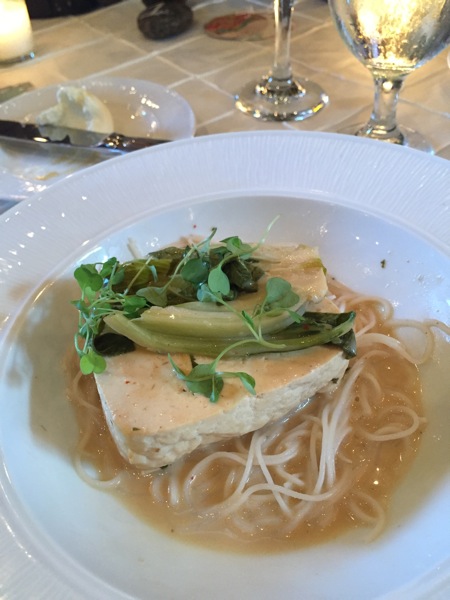 After dinner and toasts (with laughter and all the feels), we headed outdoors for dancing and dessert. Instead of cake, they had a pie bar! It was a huge hit.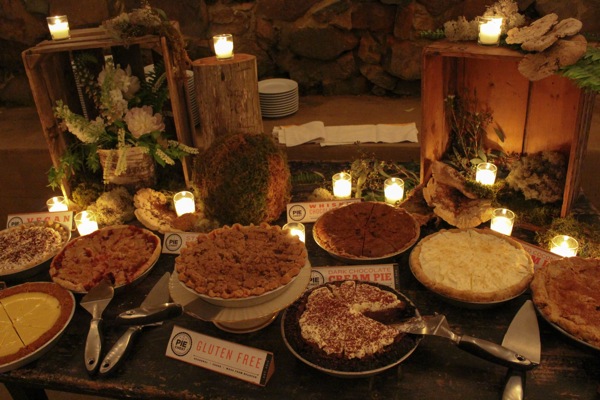 A great weekend with great friends. <3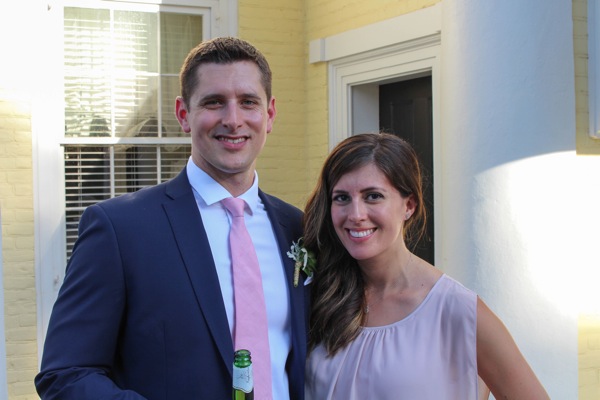 I'll be back later today with some more travel adventures! What did you do this weekend? Did anyone run RNR San Diego? How'd it go? What's the most unique dessert option you've seen at a wedding?
Have a wonderful morning!
xoxo
Gina