Hey guys! Happy humpday! Wherever you are, please celebrate Indian food Wednesday for me 😀 Our Indian restaurant is still closed for re-modeling. You can bet your booty I'll be there the day it re-opens, waiting for them to unlock the door.
Last night, we had a dinner I've been dying to try since I saw the beautiful Ina Garten (who is my hostess with the mostess inspiration) make it.
(Anything shrimp and I'm a fan)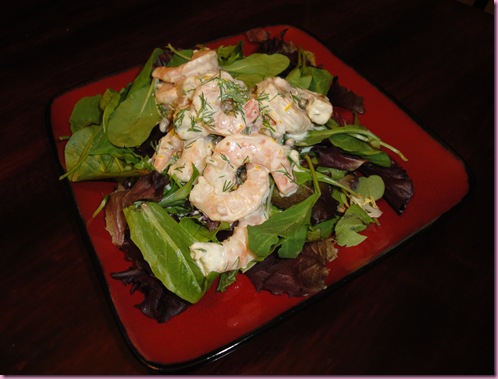 I had to scale the recipe down since it was just for the pilot and I, so he had 25 shrimp and I had 15 and I made the sauce separate.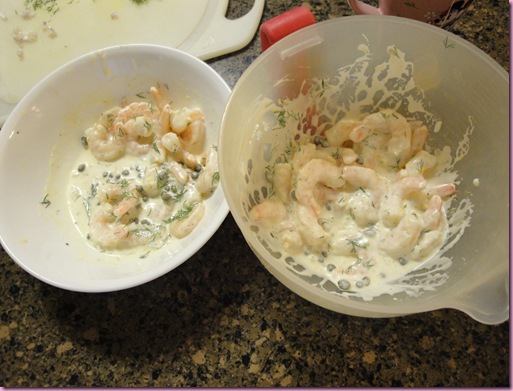 I used canola oil mayonnaise (much healthier than the regular type and can be found at most grocery and health stores) and mine had 1 T while his had 1/4 cup.
I get a lot of questions on how I juggle making our meals, since we have different nutrition and caloric needs. Usually I make a meal that I would want, and "beef" it up a little for the pilot. For example, when we have enchiladas, they're vegan with lots of veggies and on Ezekiel or other Gina-friendly tortillas, and I add chicken or cheese to his. Or when I do skillet meals, we each have our own skillet—mine is full of veggies and goodness, while his also has meat and cheese.
For last night, my shrimp salad was much lighter (and smaller, with more greens):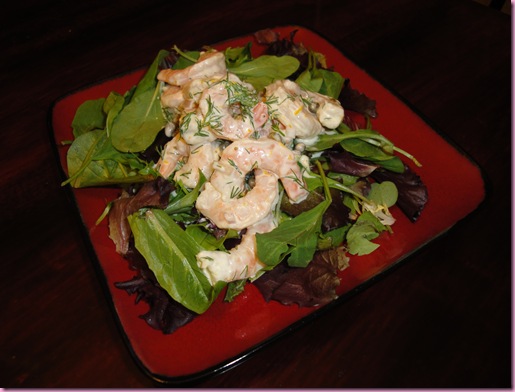 While his was  more shrimp-heavy, mayo-heavy and with a side of brown rice and butter: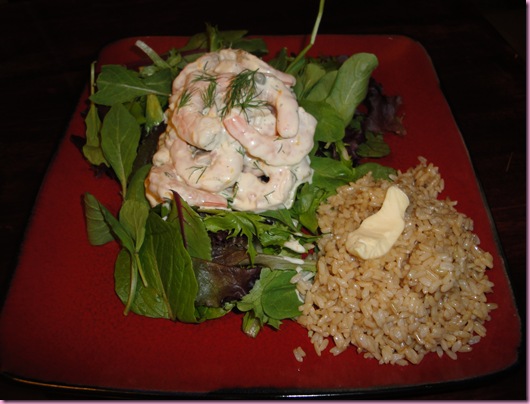 Do you eat the same thing as your significant other, or do you alter your meals a little, like I do?? I've found that by doing it this way it keeps everyone happy….. and my favorite jeans fitting 😉
I couldn't help but break out this vino that a previous dinner party guest had brought over: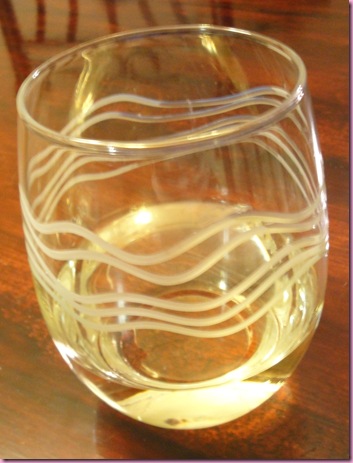 No idea what it is but I've been loving white vino lately. I almost always roll with red, but ever since our ridiculous Valentine's Day feast, I've been all about the white wine.
When I pryed myself away from the couch, puppies and the Chelsea Handler book I'm reading, I made a bfast cookie for this morning and some slow cooker oats for the pilot.
Some mornings the pilot leaves to fly SUPER early and doesn't have bfast. I figured this might be a good way to get him to start since it will already be cooked and waiting for him 😀
Before: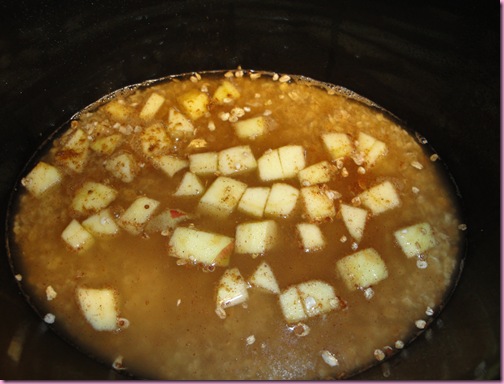 (1 C oats, 1 1/3 C water, 1 peeled and diced organic apple, Sucanat, sea salt, vanilla and nutmeg. I put some flax seeds on the side for him to sprinkle on top –for healthy fat, which makes it a perfect meal- and the camera so he could snap this "after" pic)
After: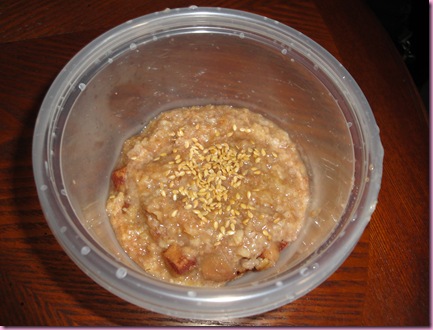 I hope he liked it 😀
Here's my bfast: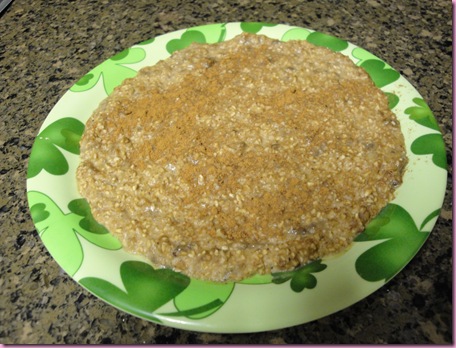 Another raw bfast cookie with 1/3 C oat groats ground into flour, mesquite, Sun warrior, 1/2 banana, cinnamon and vanilla.
Amaaaaaazing.
I'm off to pump some crazy iron!
xoxo,
Gina