Slow cooker butternut squash lasagna
Aka one of the easiest and most nutrient-dense recipes I've made in a while! It's gluten-free (no grains at all!), packed with veggies and protein, and cooks in the slow cooker. "Set it and forget it" for the win.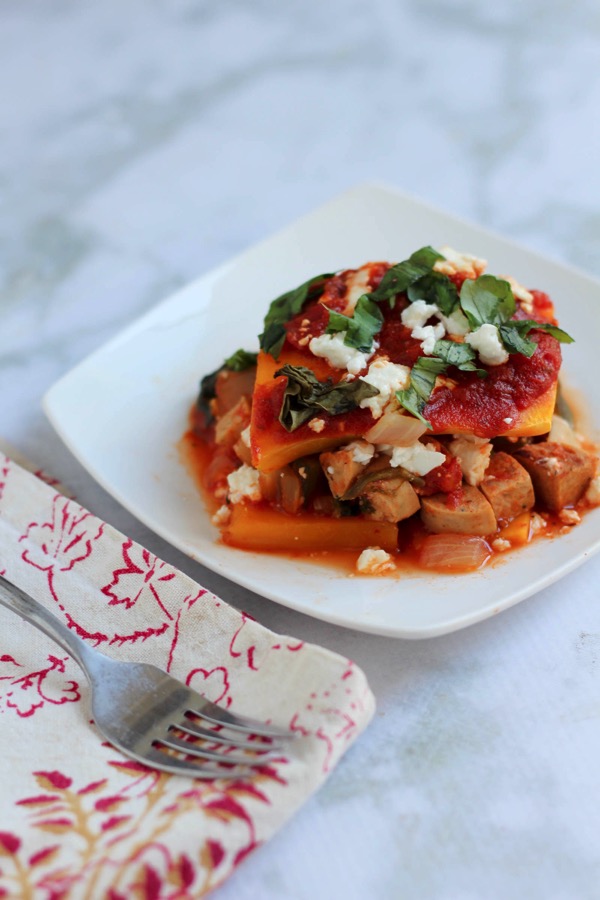 Hi friends! How's the morning going? Hope you're having a great day so far. <3 The weather finally cooled down again, so I'm excited to take the pups for a long walk -they're still recovering from their own "Disneyland" which was a weekend with our awesome dog sitter- and catch up on some work around the house.
Some adventures from lately:
Yesterday the Pilot was off work, so I was able to catch a midday Orangetheory class, which was a special treat. And by "special treat" I mean I got my booty handed to me on an orange platter. One of the many things I love about OTF is that it never gets easier. You work within rounds, you choose your weights, and you push yourself as hard as you can at that time. The fact that you can scale it according to your level and how you're feeling that day is one of the things that makes it an appealing workout option for so many.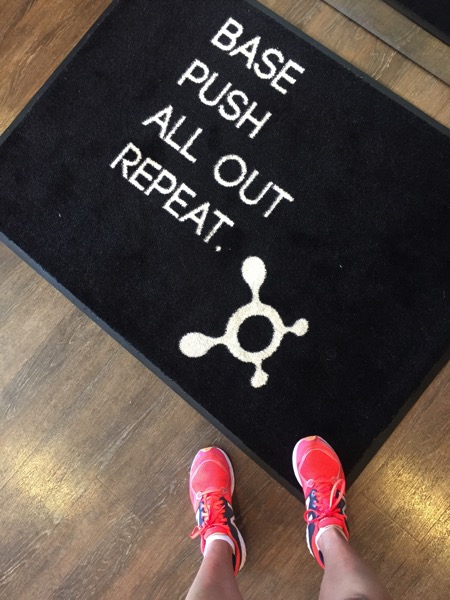 It was coach Jolen's birthday, so we all cheered for him while he did his birthday burpees after class. (Note to self: skip OTF on my birthday. hahah)
Yesterday we worked on some projects around the house, and P and I played before heading to pick up Liv from school. I had to show you her new chambray shirt.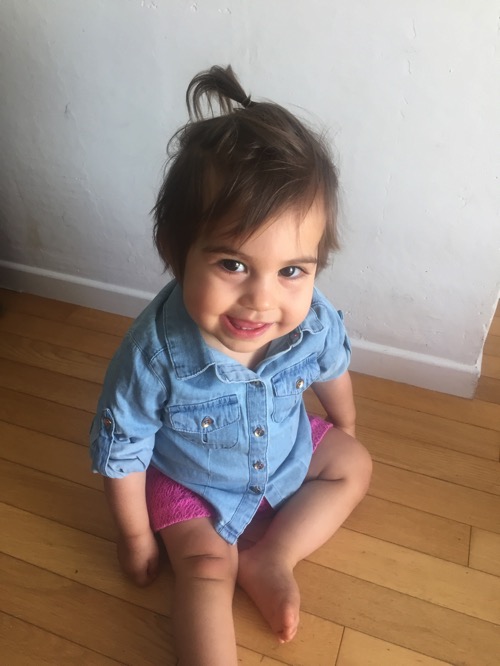 I can't even. (Also, her 11-month update is up on the Family page if you'd like to check it out!)
I'm excited for today's post because it's one of those super easy throw-everything-together recipes that came out surprisingly well. I was thinking about my beloved butternut squash lasagna, and thought it would be fun to change it up a bit and use the squash for the noodles. While this recipe is easy enough on its own, the slow cooker also does the cooking process. You layer everything together, and dinner is happily waiting for you hours later.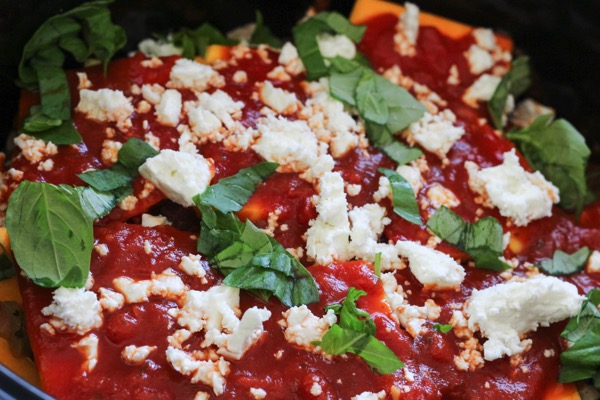 I peeled and sliced the butternut squash noodles carefully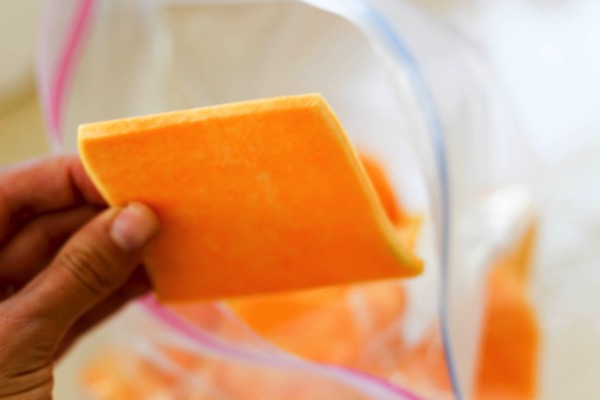 (random: if I touch peeled butternut squash with bare hands, my skin gets all weird and itchy. The same thing happens with white potatoes)
and sautéed the filling on the stovetop. I was stoked to find organic chicken sausage at the nearby market, and used that along with sweet onion, garlic, zucchini, spinach, oregano, salt and pepper.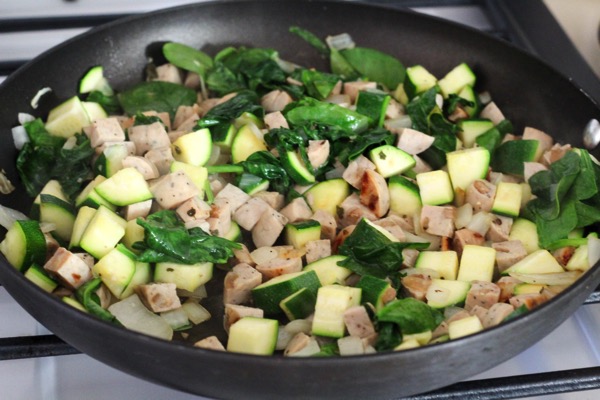 Layered it up with the "noodles," sauce, feta cheese, and topped with fresh basil, and boom.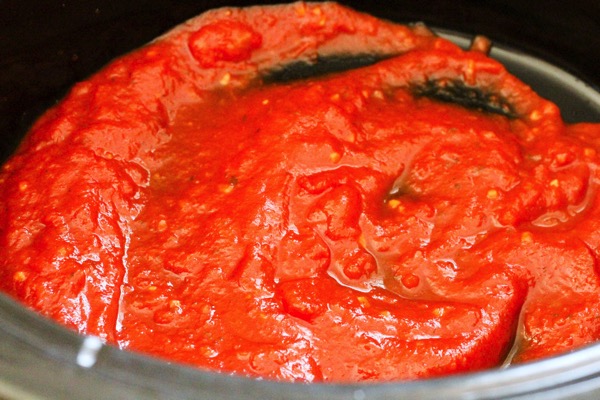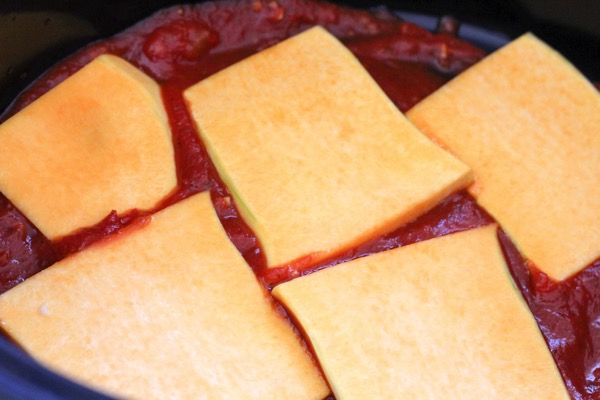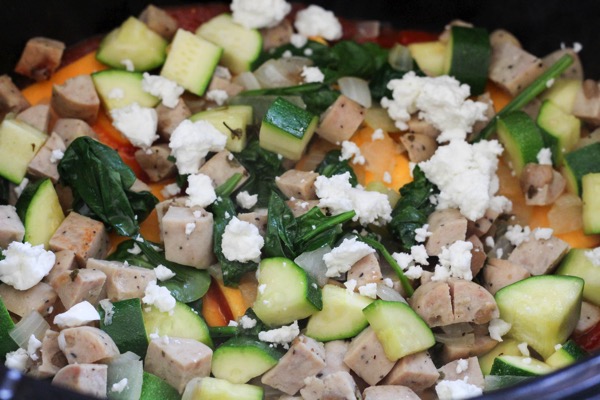 Dinner was cooking away! It took about 15 minutes to put together while P banged on pots with a wooden spoon.
Here's the recipe if you'd like to give it a try!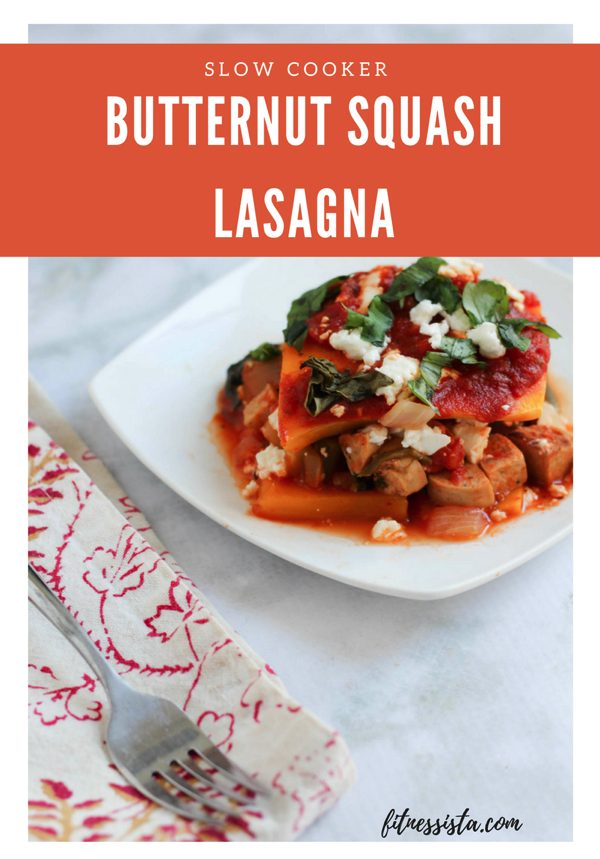 Healthy slow cooker butternut squash lasagna
A delicious grain-free dinner recipe, packed with veggies and protein. This is great to make at the beginning of the week, and enjoy the leftovers for lunches.
Prep Time:

15

Total Time:

15 minutes
1

large butternut squash, peeled and sliced into "lasagna noodles"

1/2

sweet onion, diced

3

cloves of garlic

1/2

bag of spinach

12 oz

chicken sausage, diced

1/2 teaspoon

dried oregano
salt and pepper

1

jar of your favorite marinara sauce
Cheese of choice

1/4 cup

fresh basil
Instructions
1. In a large saucepan, saute the onion, garlic, and season well with salt and pepper. Cook until fragrant- about 3 minutes. Stir in the chicken sausage and spinach, and cook until the spinach is wilted and the sausage is browned. Remove from heat.
2. In the bowl of the slow cooker, add a spoonful of sauce, and using the back of your spoon, smooth out to coat the bottom. Add 1/3 of the butternut squash noodles, 1/2 the chicken sausage mixture, and sprinkle with cheese of choice. Add 1/3 of the remaining sauce.
3. Top again with butternut squash, filling, cheese and sauce. The top layer will be butternut squash, sauce, cheese, and 1/4 cup of fresh basil.
4. Cook in the slow cooker on low for 5-6 hours, or high for 3-4 hours, until the butternut squash is soft and tender.
5. Serve with extra cheese and fresh basil on top.
Have a wonderful morning and I'll see ya soon!
xoxo
Gina