Guess who grilled last night?!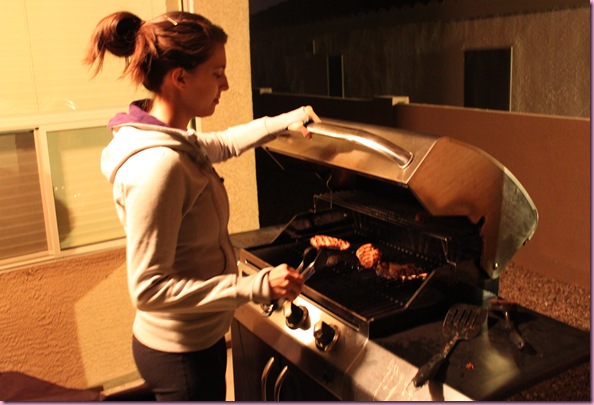 Actually no, not me. It was fun to pretend for a sec and "check on things" 😉
We did the usual routine: I prep, he grills. The Pilot is just so good at it, and you shouldn't mess with perfection, really.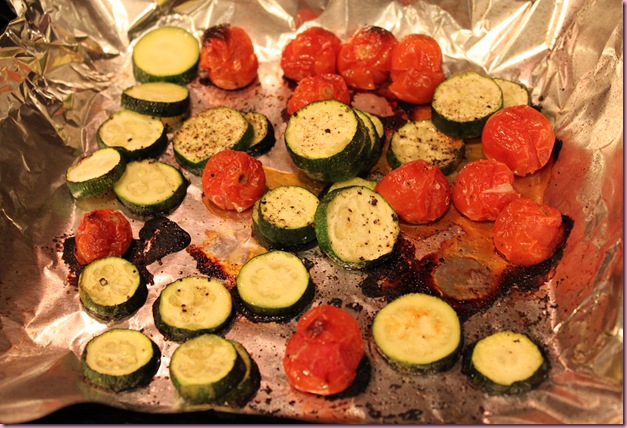 The star of the show was the veggies: salty zucchini and bursting, garlicky tomatoes.
For the main course, I'm pretty sure Bell can tell you what it was…
The C-word <—we can't say "chicken" around Bella, or she goes bananas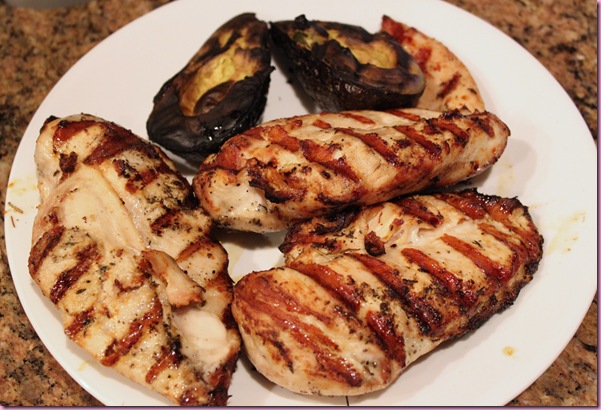 The grilled avocado was an idea I saw on Pinterest. You get some lovely char marks on the 'cado and fill the little boat with salsa and top with cheese. It looks as awesome as it sounds.
Well, we kind of forgot about the avocado and ended up with a charbroiled, but still tasty version. We'll get it next time 🙂
So, we've been eating a lot of chicken over here lately.
I haven't had time to make separate meals and we both like chicken, non-salmon fish doesn't sound great lately, chicken is very versatile and an easy way to get in a hefty amount of protein at once. Since I've been able to get back into strength training on a semi-regular basis, I'm trying to get in high-quality protein at every meal. It's easy to do with animal proteins, like chicken and eggs (which I looooooove), and through the usual culprits, like beans, nuts, quinoa, etc. Veggies also have surprising amounts of protein (like the 2g in 6 Brussels sprouts!), but it can take more calories to get the protein you need by only relying on these sources.
The interesting thing is that I've read quite a few contradicting articles stating that society in general consumes too much protein (stored as fat and the precursor for potential health complications), and then others stating that diets low in protein hinder lean body mass (increasing fat as well)- thanks to Sara for posting that link.
I'm of the belief that by consuming whole foods, lots of fresh fruits and veggies, and proteins of choice, you'll get enough of what you need. Anything in excess isn't a good idea, whether it's protein, or ice cream. Moderation is the way to go.
Are you mindful of your protein intake, or trust that by eating whole foods, you're getting enough?
I'm mindful of my protein intake, because otherwise I'll take a nice daylong ride on the carb wagon 😉
Any words you can't say in front of your pets?
We can't say: walk, chicken, park or PetSmart.
Going to head out on a w-a-l-k….
Hope you have a wonderful day <3
xoxo
Gina