Hi guys:D How was your day?? I'm writing to ya'll with a giant Southern food baby.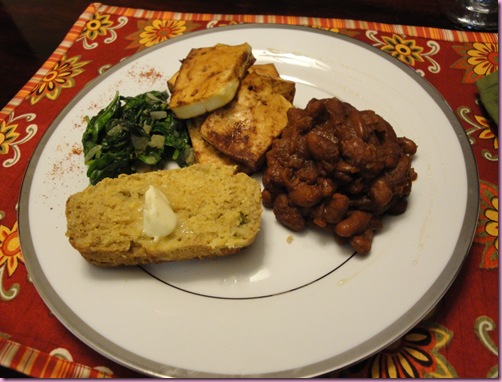 Tonight, I decided that I neglect to feed the pilot food from his youth. We eat a lot of ethnic foods (especially Mexican, since that's what I grew up with) and FoodNetwork specials, but the pilot is a good ol' Southern boy. I figured it would be a fun surprise to make some Southern food 🙂
We had jalapeno goat cheddar cornbread (recipe from the Babycakes cookbook)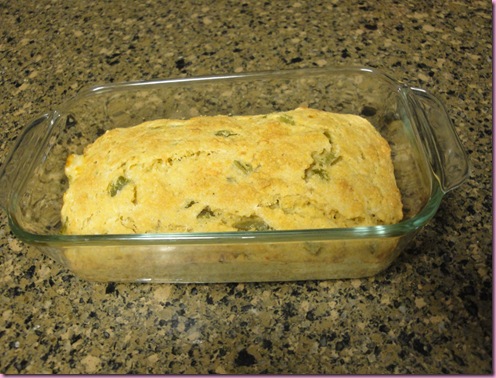 He had BBQ chicken (I had tofu… usually I stay away from soy products but a little tofu in my life every now and again is a delicious treat), with wilted spinach(with cayenne, lemon juice, garlic, onion, and sea salt) and vegan baked beans (recipe here– I used a little dark molasses and Sucanat instead of the light molasses).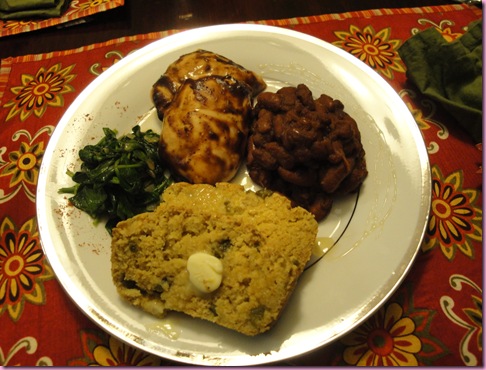 Ahhhhmazing.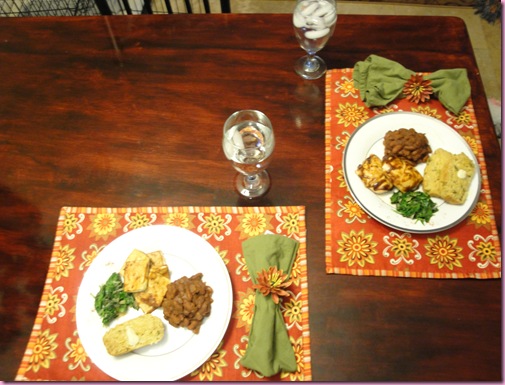 We were happy kids 😀
The casa is done with the spring cleaning frenzy (it feels BEAUTIFUL!) and I ran errands and planned our meals out for the week. I didn't hit up the gym –last day of recovery week- but I'm refreshed and ready to jump back into it starting tomorrow morning. It's funny, after taking a week easy I can definitely see how exercise can slip out of the day's plans. You really have to make exercise a priority and before this past week, it was right up there with brushing my teeth everyday. Since I was forced to take a brief hiatus due to my knee problemo, it's even more obvious that if you aren't determined to make exercise happen, it won't. I felt a little lazy this past week, not gonna, lie and am excited for some exercise endorphins and SWEAT! I miss getting my beastly sweat on.
I'm off to film that breakfast cookie video and watch the season premiere of Kendra. I love her to pieces, even though her laugh makes my ears bleed a little 😉
xoxo,
Gina
Something to do: Hug someone you love <3
We had a death in our family yesterday. Even though it's always sad to lose someone you're close to, I was relieved to hear that he's at peace now and am so grateful that he had a very long life, surrounded by so many people that love him.
To my great-grandfather:
-You taught me the value of hard work and persistence. Not just the type of work that's annoying enough to make you complain, but the kind where sweat is stinging your eyes, you feel totally spent when it's done, and then can reap the rewards of what you've accomplished
-You taught me the importance of family, and how you should always enjoy the company of the people you care about
-You taught me that once you find the love of your life, never let go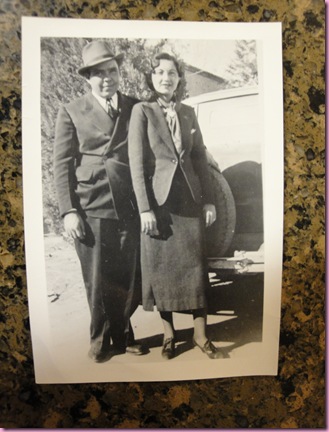 I love you, Tata.