Spa Day at Miraval Tucson
Hi friends! How are you? How was your Thanksgiving weekend? Did you shop the Black Friday sales? We braved World Market, Home Goods, and the BX, and other than that, I shopped online. I ordered some leggings and long-sleeved tops/sweaters from Gap, these furry J. Crew slippers, and today, I'm ordering all of our holiday gifts. Other than that adventure, I've been spending time with the girls (we did an arts and crafts festival, crepes, the park, the children's museum, and baked cookies), watching Christmas movies on Netflix, decking our halls with all the holiday decor, and enjoying Sushi Sunday. (It's a thing now.)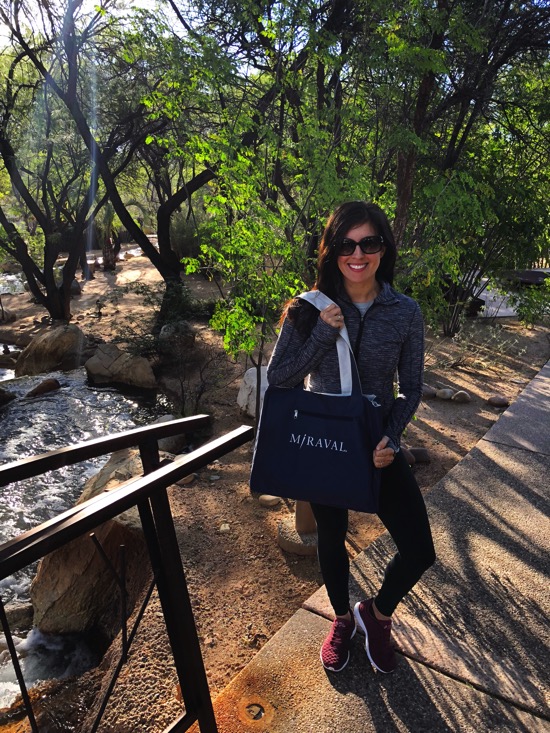 For today's post, I thought I'd share a recap from our day at Miraval last weekend! My friend Betsy came to visit as a birthday surprise, so we thought a spa day would be the perfect way to celebrate. We checked out Canyon Ranch and Miraval, but since I've stayed at Canyon Ranch a handful of times (and worked there for 2 years!), we figured we'd switch things up and try Miraval.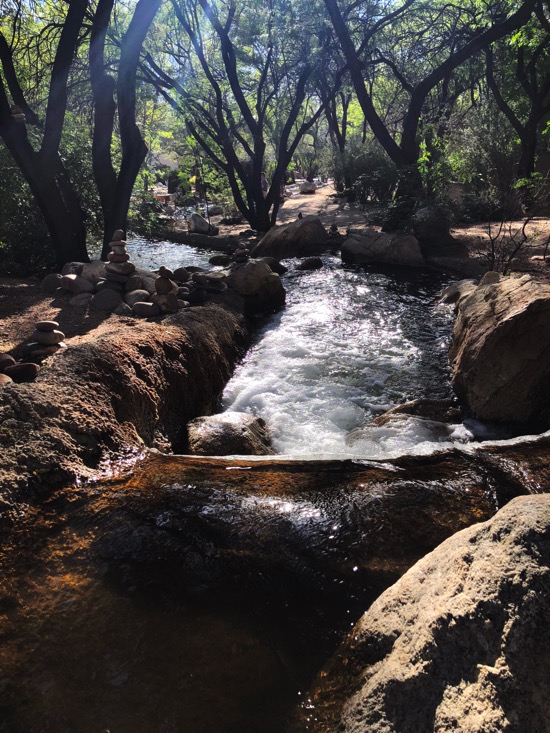 When we arrived on property, I instantly noticed the Zen vibe. Everything was incredibly clean and beautifully designed, and they had peaceful streams running throughout the massive desert landscape. We checked into the lobby, received our free tote bags and water bottles, and then grabbed a quick snack at the juice bar.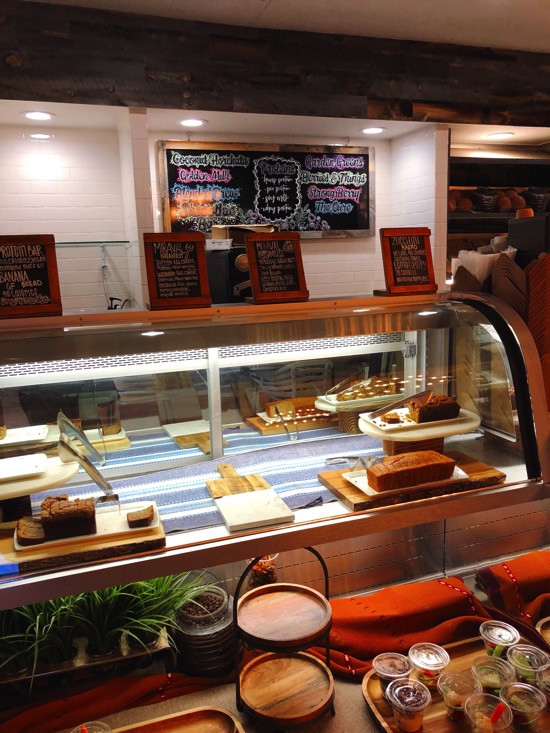 This snack bar is open all day and serves sandwiches, small bites, oatmeal (with lots of toppings!), coffee drinks, fresh juices, housemade bone broth (YES), and smoothies.
I grabbed a decaf coffee, green juice, and an oatmeal, topped with protein powder, lots of chia seeds, and a little maple syrup.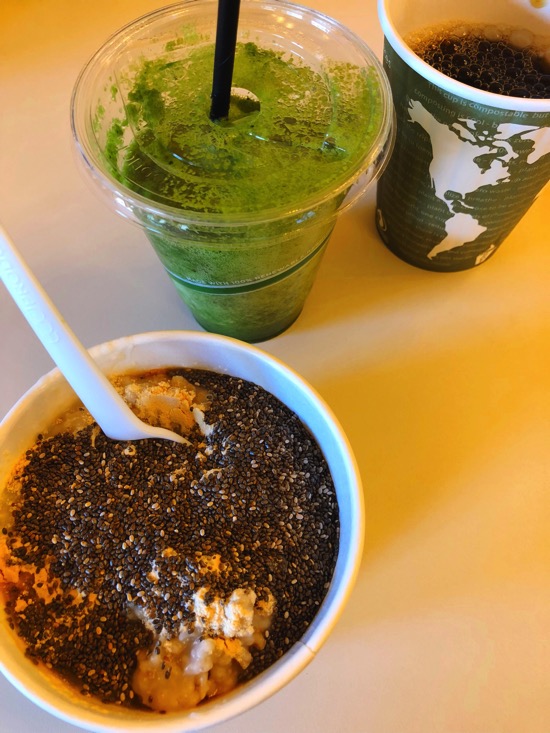 After our snack, we headed to our first class.
Our spa day serendipitously corresponded with dance week, so I was PUMPED to take some dance classes while we were there! (My friend Todd, who owns BreakOut studios, was one of the dance instructors and his classes set.my.soul.free.) I took a Bollywood class with Russel, which I LOVED, and then a Rock n' Roll class with Todd. We danced to "Don't Stop Me Now" by Queen, and it was amaaaaazing. While I was dancing my little heart out, Betsy took a lecture about stress management that she really enjoyed.
Then, it was time for lunch!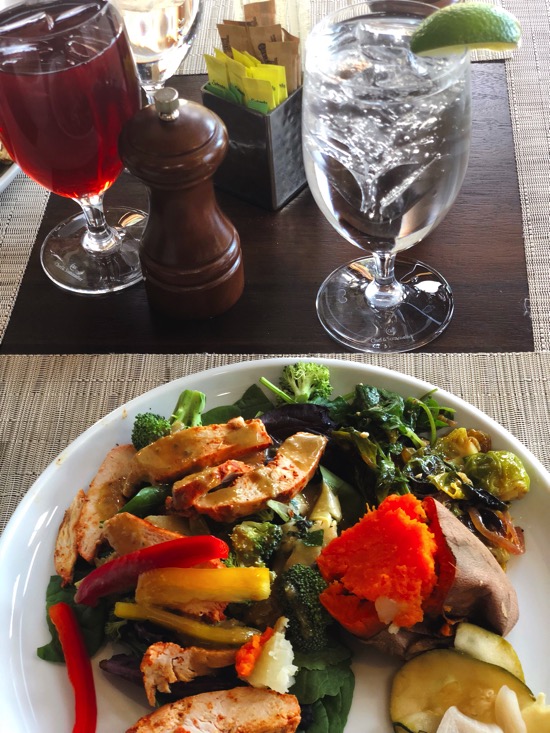 They had an incredibly healthy buffet-style spread set out, including soup, salad with so many toppings and protein options, roasted veggies, different types of sweet potatoes, healthier desserts, muffins, breads, pork posole (the special of the day), caprese, and pickled veggies. I piled my plate with salad, veggies, chicken, sweet potatoes, and pickled veggies, and got the asparagus onion soup (which was really, really good).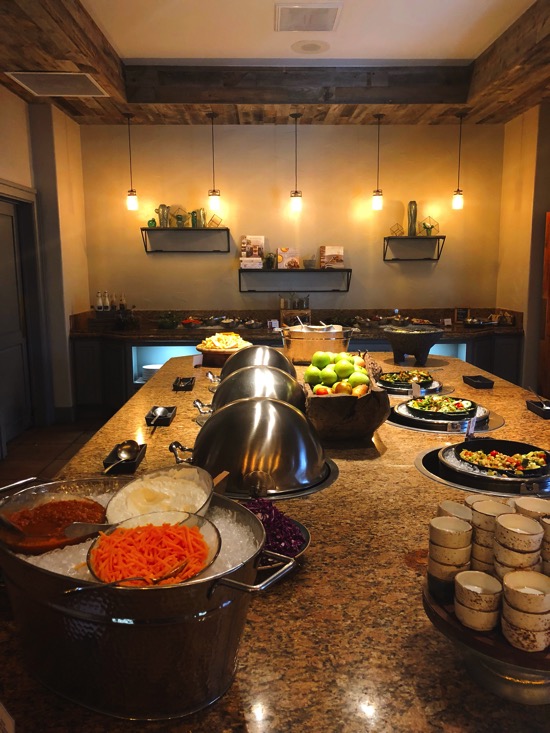 After lunch, we took a circuit and strength training class,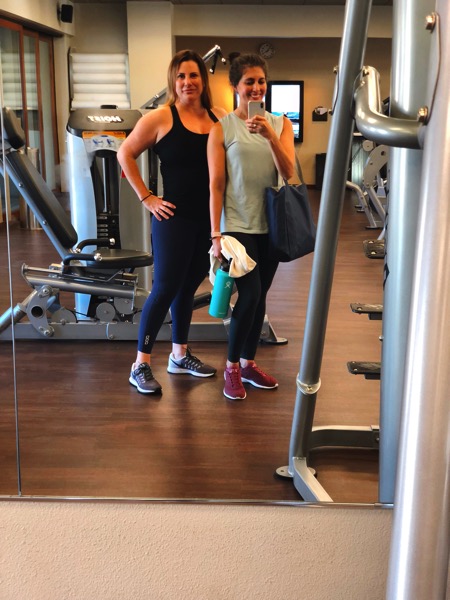 and then headed to a session about taking better pictures with your smart phone. After that, it was my favorite part of the day: we got tea and chilled in a relaxation room in the spa. It has comfy couches, chairs, and blankets, and large windows, so you get an incredible view of the mountains. It felt so luxurious to just lie around for a little while. As someone who's always moving or looking for something to do, especially during the day, this just felt like pure heaven.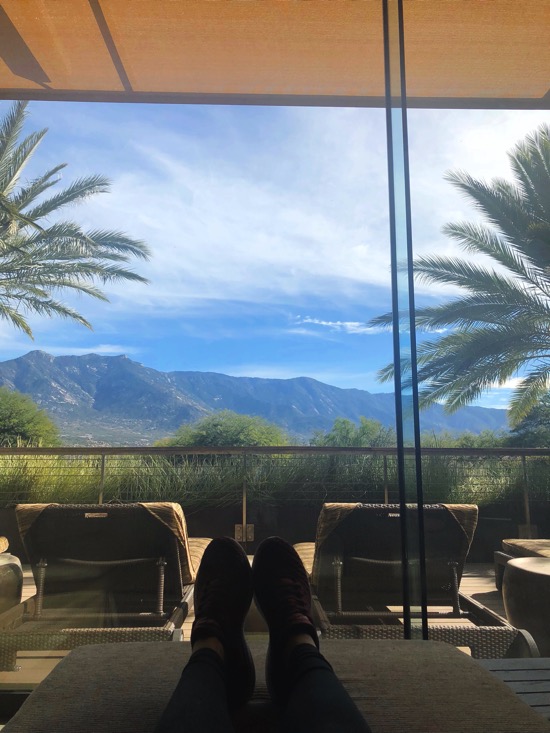 We took some quintessential robe pictures (ha),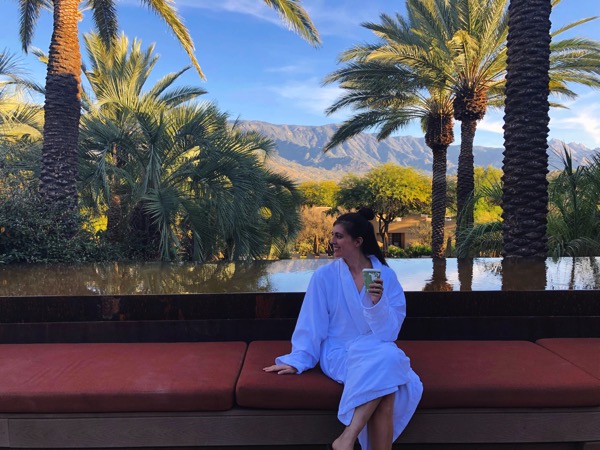 shopped in the gift shop (I grabbed a shirt for the Pilot and a super cute Miraval beanie)
and hung out in the hot tub for a while. (I drank a mug of their bone broth with cayenne, salt, and lemon juice, and it was awesome.)
In the evening, Miraval has their bar set up with tacos and appetizers (including a full bar with cocktails and organic wines), so we grabbed a little snack and had our spa treatments. We both went for the grounding massage, which is purely head, feet, and hands. It was AMAZING. Also, the massage therapist kindly rubbed some arnica on my foot where I'd dropped my Hydroflask on it earlier in the week.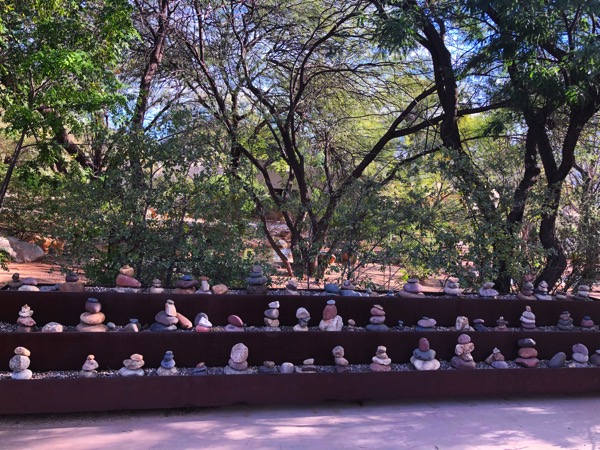 While we were at Miraval, I realized how long a day truly is. I feel like so often the days FLY BY. We wake up, a thousand things happen, and then we go to bed. This was such a great reminder to truly take advantage of time and stop looking for excuses to always be busy. Since our trip, I've taken more time amidst the chores and to-dos to stop and just enjoy. I also realized how important it is for me to have relaxation or mental health checkpoints to look forward to. I looked forward to this spa day (and a weekend of hotel sleep!) for a couple of months. When things felt stressful and really crazy, I knew I'd get to sleep/relax at some point in the near future, and that gave me a little boost to get through it. I'd been feeling pretty drained on multiple fronts, and this put some pep in my step.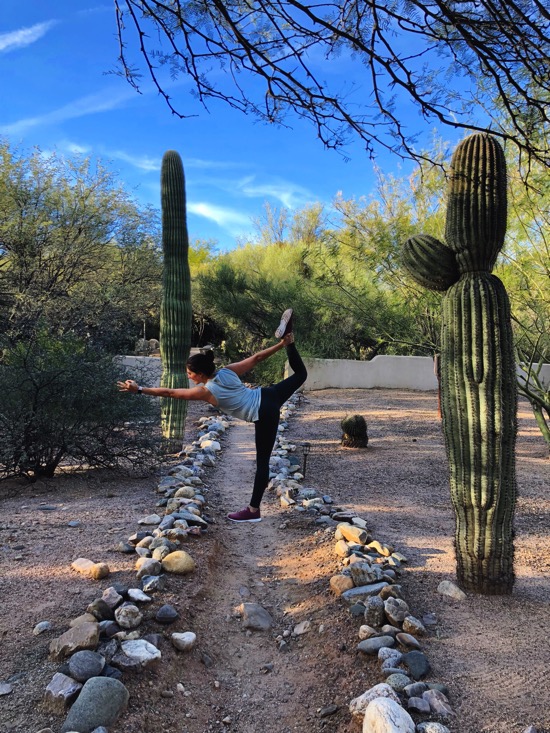 Miraval is a magical place and I think I'll be back sooner than later. I'm also so happy that I got to enjoy a weekend with my BFF Bets.
So, which is better: Miraval or Canyon Ranch?
They're both incredible places to visit if you're looking for a spa day or a getaway to focus on health and wellbeing. They're similar but very different. The program offerings are different – I'd check out schedules at both to see what activities and spa treatments you'd prefer – and the vibe/accommodations are also very different.
Some of the major things I noticed:
– Alcohol. Canyon Ranch does not serve alcohol, which is great if you're looking to detox or you're on a program to eliminate alcohol, but for those who'd like to partake, it can be a little bit of a bummer to not have a cocktail on vacation. When I worked at CR, guests would often just bring their own wine and drink it in their rooms. If we would have stayed the night, I definitely would have had a cocktail with dinner at Miraval; the bar menu looked fantastic.
– The vibe. The vibe at both properties is very different. Miraval feels very peaceful and healing, while Canyon Ranch has more of a gentle energy to it. At Miraval, I just wanted to lie in the nap room all day, and at CR, I always want to take as many classes as possible. I heard that Miraval has a strong focus on mental health, which was prevalent during our time there. Canyon Ranch has a full Life Enhancement Center focused on specific medical conditions and weight loss. Canyon Ranch also has a medical staff on hand. I did a quick google search and it doesn't look like Miraval has a medical staff.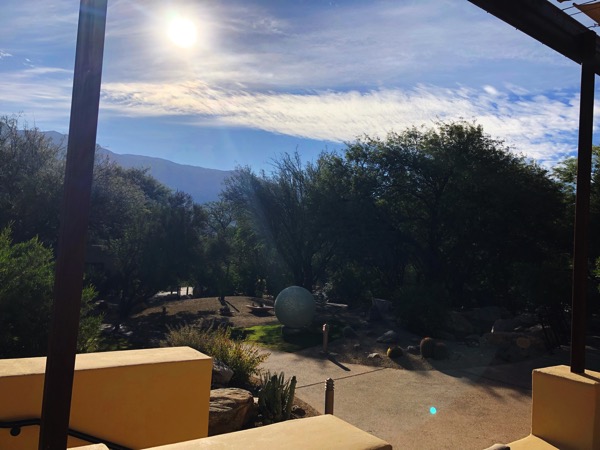 – The people. This was interesting, but I didn't see a ton of people around who worked at Miraval. The lady who worked at the juice bar was wonderful, but I didn't see a lot of staff around. This was kind of nice, because I didn't feel like people were hovering over me, but I also got lost while I was walking to the gym and there was no one to ask. (I ended up asking another guest after wandering aimlessly for a little while and she showed me the way.) Also, I didn't find the few people we did encounter to be overly friendly (or what you'd expect at a health resort). One of the girls who worked in the lobby acted annoyed that we couldn't find the photography class (we were with a few other guests who also didn't know where it was) and the instructor for said class was kind of rude to one of the guests who arrived late. It was just unexpected. At Canyon Ranch, you pretty much can't walk 30 ft without seeing a staff member.
– The food! I really, really loved the appetizers, bar area, and the juice bar at Miraval. Sometimes at Canyon Ranch, I'd ask for extra food at lunch or breakfast to pack up and keep in my room for later. Sometimes you get hungry and there isn't really anything open. It was really convenient that you could get a healthy snack, bone broth, juice or smoothie, whenever you wanted it. While I loved the healthy buffet at Miraval, I do like the option to order off more of a set menu at Canyon Ranch (or you could have a casual lunch at the cafe or more formal lunch at the dining room).
All in all, I feel like you can't go wrong no matter what you choose. It was a great experience at Miraval and I'm excited to have this as an option for when I need a little bit of Zen in my life. I'll probably make it back to Canyon Ranch eventually too, especially since I've heard they've made a lot of changes and added new classes since I've been there.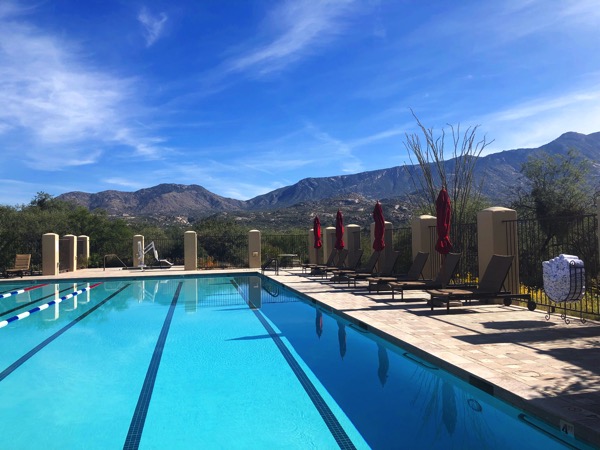 I hope you have a very happy Monday! Thanks so much for stopping by the blog today.
If you had a day to do whatever you wanted (no chores, work, kiddo-related tasks, or events), what would you do?
xo
Gina
Some of my favorite Cyber Monday finds:
– This peacoat that looks way more expensive than it is
– Super cute over-the-knee boots
– Obsessed with these leopard ballet flats
– This pop-pom sweater in olive
– After 10 years, I might up my juicer game
– Great deal on the Fire stick! We have one in the playroom TV and love it