My experience with acupuncture
Hi friends! How's the morning going? Hope you're enjoying the day so far!
Last night, the Pilot went out to dinner with some friends, so that meant OB Noodle House takeout for the girls. 
We shared some chicken pho and veggie spring rolls. It was perfect.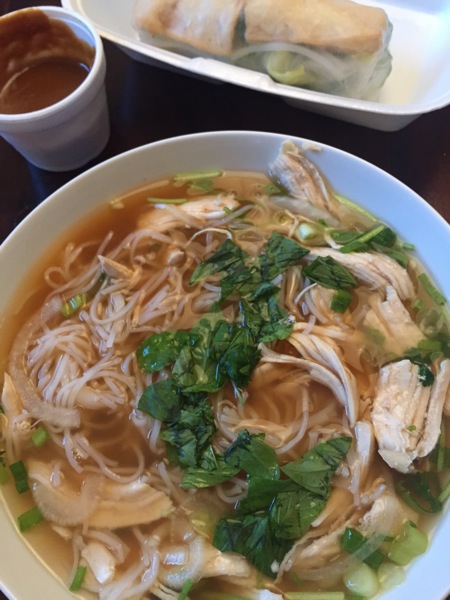 This morning's breakfast was super simple: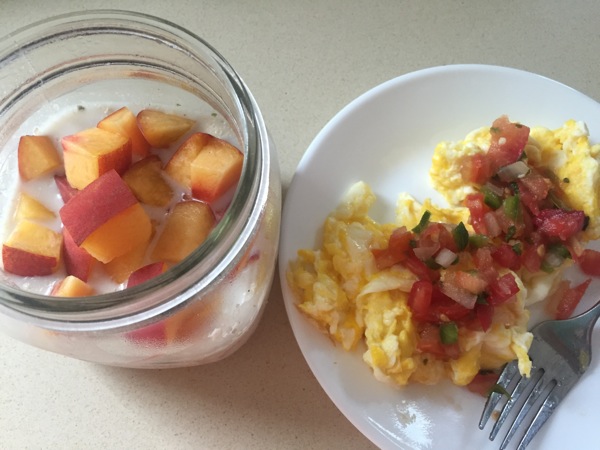 (two eggs with pico + the new Trader Joe's gf oat blend with almond milk and chopped peach)
It's a day to finish catching up on life -I tried to really unplug a bit this past weekendt- acupuncture, Livi's swim class (the best!) and spin later today. 
Since I've been going to acupuncture for a few years now, I've had a lot of requests to do a full post on my experience. I wasn't sure how I'd be able to articulate this one, because acupuncture, like massage, or chiropractic care, doesn't have guaranteed or tangible results. You really know if it's working for you by how you feel. Acupuncture works extremely well for some people, and doesn't work at all for others. I didn't want to guys to think I'm trying to "convince the naysayers" or anything like that, but rather share why I think it's been helpful since I've had so many emails and comments about it.
So what is it exactly?
My nutshell version: a nap with tiny needles placed in your skin. 😉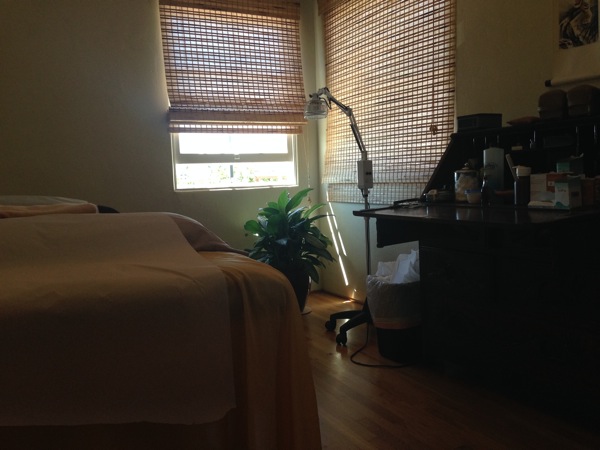 An explanation from this site, which has a lot of interesting info about acupuncture:
Acupuncture involves the insertion of very thin needles through the patient's skin at specific points on the body – the needles are inserted to various depths. The medical community is not in conclusive agreement about how acupuncture works scientifically. However, we do know that it does have some therapeutic benefits, including pain relief and alleviation from nausea caused by chemotherapy.
According to traditional Chinese medical theory, acupuncture points are located on meridians through which gi vital energy runs. There is no histological, anatomical or scientific proof that these meridians or acupuncture points exist. Acupuncture remains controversial among Western medical doctors and scientists.
Acupuncture is controversial because the results are subjective, and it can be challenging to study and separate control groups. This study indicates that acupuncture may efficiently treat a variety of diseases and provide therapeutic effects. 
My thoughts: talk to your doc before trying it, and if you try it and it works for you, rock on with your bad self. 🙂
It's something I think has really helped me, particularly with the following:
-Relaxation/stress relief. Acupuncture is like a guaranteed nap. Also, when the acupuncturist inserts the needles, I can instantly feel the energy moving throughout my body. You know that feeling following your savasana after an awesome yoga practice? To me, that's exactly what it feels like. Even when I don't sleep, I leave the sessions feeling more calm and alert, like I just had a restorative nap.
-Fertility. I started acupuncture treatment while we were trying to conceive Liv, and while there's no way to prove that it helps -I did a lot of different things over that course of time- I think it was a mix of everything we tried, including treatment with my naturopath. 
-Wound healing. When I cut the nerve in my thumb, I was worried I wouldn't have feeling in it ever again. I immediately started seeing an acupuncturist to promote healing in my hand, and while my hand isn't 100% -my thumb could likely be numb for a long time as nerves grow slowly- it has remarkably improved. I also saw an occupational therapist, who was WONDERFUL and helped decrease some of the pain and sensitivity. 
-Allergies. I have seasonal allergies, and this year, they are the worst they've ever been. I sneeze violently all day and have been pretty miserable. Last time I went to acupuncture, I didn't sneeze for a few days, which was huge!! I'm back to my sneezy ways, but it's not as bad as it was. Even the Pilot noticed, because I wasn't waking him up in the night with sneezing fits.
I've heard of so many awesome situations and concerns that have been possibly alleviated with acupuncture. Even my madre, who was once kind of skeptical, now goes every week and has noticed changes with some of the health obstacles she's experienced.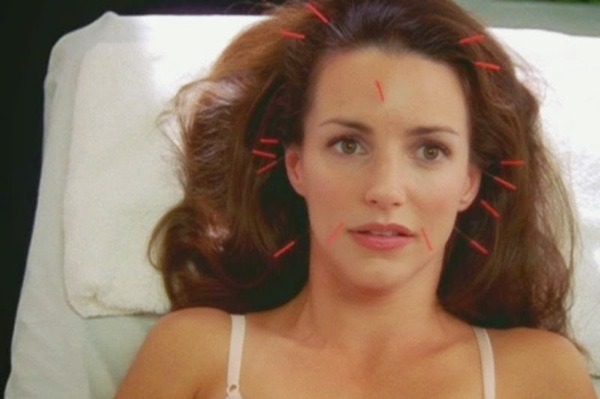 I think about Charlotte every time I'm there haha. 
Some of the things I've noticed about finding a good acupuncturist:
-Ask for a recommendation. All of the acupuncturists I've visited have been referred to me by a friend or medical provider. A blog friend recommended my first acupuncturist here, and my chiropractor recommended the one I'm currently seeing. They have both been amazing.
-Check out their credentials. <— important. I always like to see where they received their training, how long they've been practicing, any patient reviews, and that they're licensed. 
-Of course, do your research and talk to your doctor if it's something you've been considering. It's up to us to become advocates for our health, research, ask questions, and make the choices that best suit our unique needs.
-See if a community treatment option is available. This is my favorite way to be treated, as I like the group atmosphere -you relax in a comfy chair and they usual have low lights with tranquil music- and it's far less expensive. Tucson Community Acupuncture has a sliding scale, so you pay what you can afford. 
Does it hurt?
Not for the most part, which was surprising to me. I hate all things medical and needles, and I was shocked that the first time I went, it was absolutely fine. I like I just really love any opportunity to relax and snooze for a bit. 😉 There is one point (Stomach 36) that is always painful for me, so I just ask the practitioner to skip that point. 
Have you tried acupuncture, or do you think it's something you would try?
Hope you have a wonderful morning!
xoxo
Gina