Today I was feeling extra anxious for some reason. I'm usually very good about handling (and thriving) on my busy schedule, but with the Pilot not knowing when he'll be home, the house sale in the process and some other things, I was a little stressball. There wasn't a yoga class anytime soon, I'd already done my cardio for the day.. which left one remedy: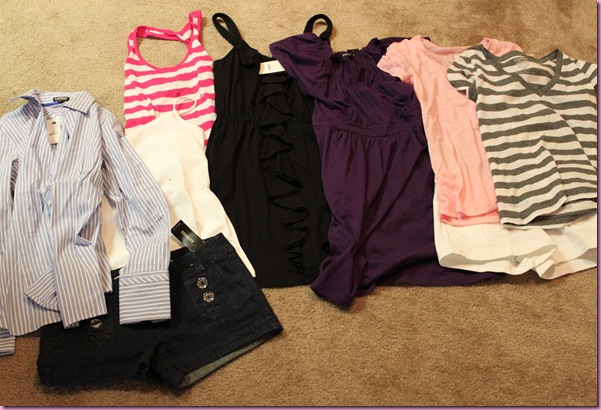 Express.
I'm a fierce believer that shopping is excellent therapy, but only if you don't bust your budget or rely on credit. Plus: I had these Express coupons I had to use! <—the more coupons you use, the more they send you. It's a beautiful cycle haha.
Today's buys were all stripes and solids! I love stripes, solids and florals. They're always in style and look especially fresh in the spring.
Today's buys:
Jean shorts and white front-button shorts (buy one, get one half off)
Pink striped tank, grey striped tee, pink soft tee (buy two, get one free)
Black tank dress, purple short sleeved dress (full price)
White under-tank (full price, but I lost my other one)
Blue and white button-up (29.99 sale)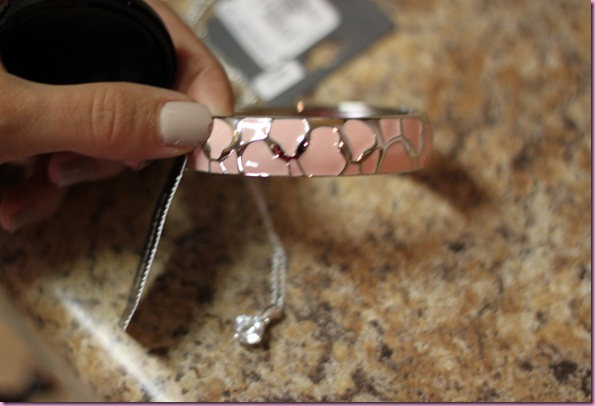 Giant CZ necklace and cute beachy pink/silver bangle (even though it's pink, it's a neutral pink and can be worn with pretty much anything)- buy one get one half off
+ $75 in Express coupons
= $221 grand total
Not bad, right?
They're all classic pieces that I'll be wearing for a while. Since they're all a little on the plain side, I plan on using accessories to make them more exciting by belting the jackets, adding a blazer with the stripy tee and tanks, funky wedge shoes and jewelry.
Today I rocked a casual look with my new jean shorts, grey striped shirt, silver Aldo sandals and both of the jewelry pieces.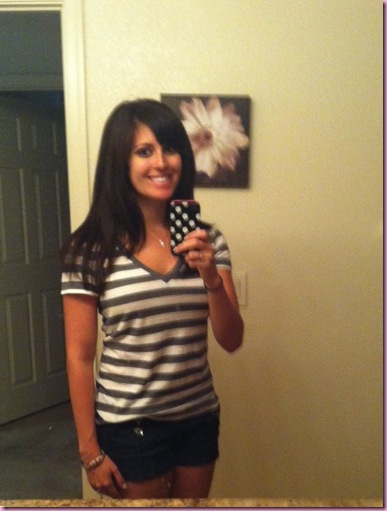 (Sorry for the MySpace style pic, I was having self timer issues)
My Express shopping strategy:
-Bring coupons! If you don't have any, ask a sales rep very sweetly "Hey, do you guys have any coupons right now?" They ALWAYS have coupons and even when I forget mine, they have them at the register. Just be polite and they will hook you up.
-Buy one, get one is your friend. Almost all of the clothes have some sort of discount, so make sure you get the bundle deal if it's something you'll use. I've bought two pairs of crops for $70 before! It's pretty decent quality stuff, too, considering the prices.
Hope this helps a little! Let me know if these are the types of posts you'd like to see on the "Fashion" page- I always love your feedback.
xoxo
Gina