Quick shrimp and quinoa stir fry
I took about 30 minutes yesterday to prep some goodies for the week: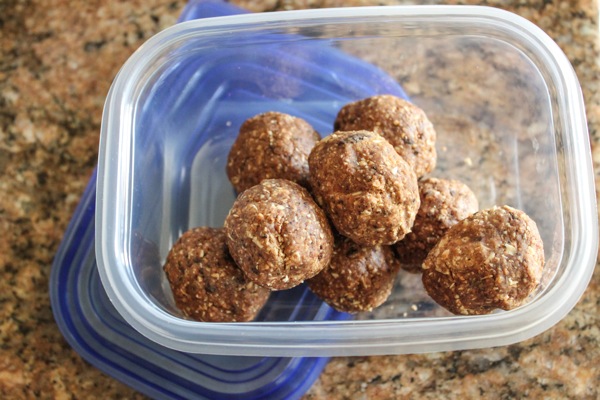 Steamed eggs and quinoa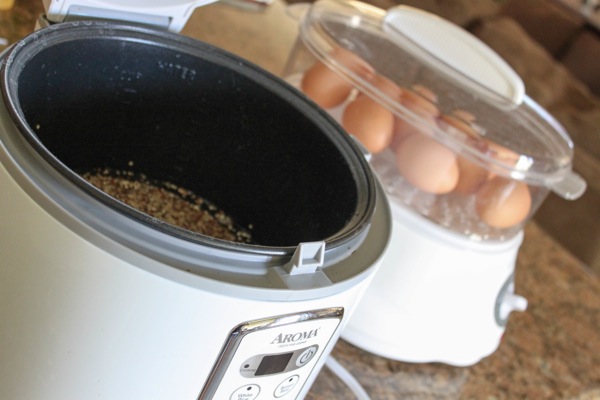 and dinner was one of those one-pot wonders where everything came together to make a delicious, quick and satisfying meal.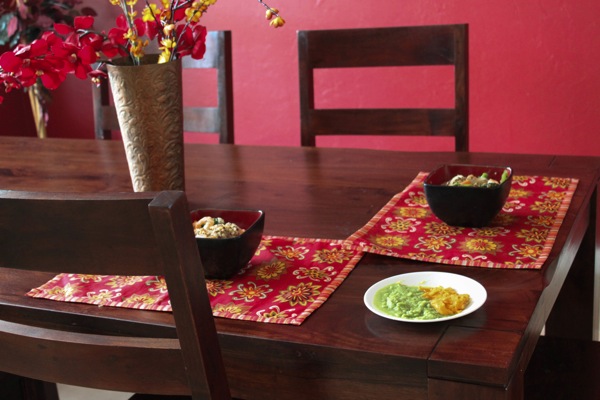 I just threw some ingredients into the pot, said a silent prayer to the cooking gods, and decided to see what happened.
Here's what went in:
-a pack of Trader Joe's stir fry veggies
-can of organic garbanzo beans, drained
-olive oil + butter
-seasoned with Tamari, cayenne, garlic, sea salt, pepper, large drizzle of honey
-After everything was cooked up, added about 1.5 C cooked quinoa and a bag of defrosted shrimp (cooked with the tails removed)
 I was pleasantly surprised with how well it turned out- the Pilot loved it, too!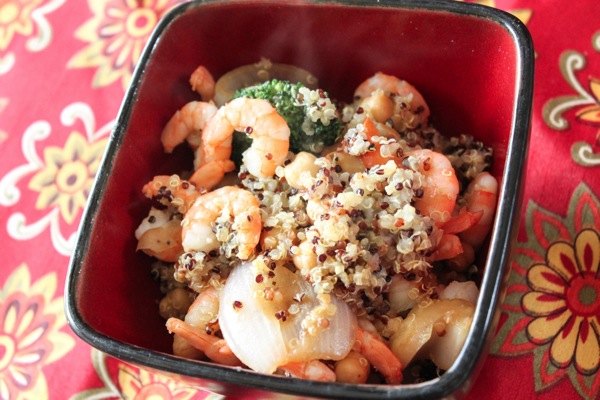 My legs are SO SORE today. Thankfully it's a rest day, and I'm really glad I actually got my training run in this weekend or I would have been relegated to the dreadmill. I usually don't mind it too much- mostly because I'm a 20-minute HIIT girl- but for longer runs, I die. I put a magazine over the counter so I can't watch the mileage slowly creep by, and hope that I'm too distracted by my killer playlist and celebrity gossip to realize how bored I am. This is a huge reason why I'm excited for fall runs- I can run outside with the beautiful scenery. 
I was pretty sure the treadmill was only good for the obvious use, until I was recently introduced to a medley of killer exercises, all performed during a treadmill cardio workout.  Here are some fun ways to add strength training and bust boredom in your next treadmill workout- all you need is a resistance band and pair of dumbbells.
-Tip: perform these while walking at a steep incline (like 12%) at a very, very slow pace (maybe 2.0-2.5), unless otherwise indicated
-Avoid holding onto the hand rails. Did you know that holding onto the hand rails can decrease your calorie burn by 30%? 
-As always, use your best judgment before trying anything new with the treadmill. If your balance feels off, or you need to adjust something to suit your needs, please do so. Nothing is worth injuring yourself. Check with a doc before making any fitness changes.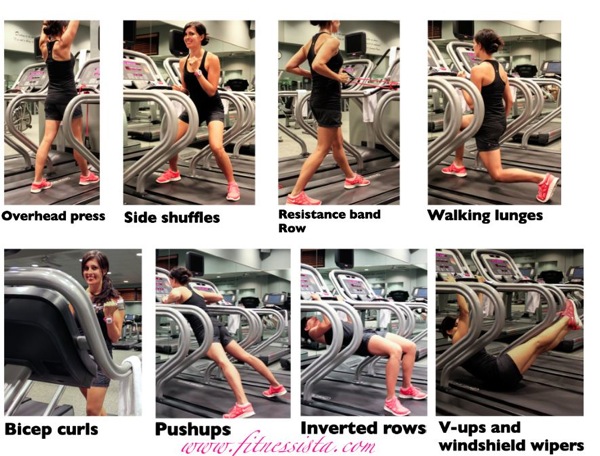 -Form cues:
Overhead press: Press the weights up overhead as you take long, slow steps up the hill at a very steep incline.
Side shuffles: Sit your hips down while keeping nice posture and your torso lifted. Think about keeping soft knees the entire time, like a mini squat. You pick the pace. Repeat on the other side (30 sec each side).
Resistance band row: pull the bands back and think about squeezing a lemon in between your shoulder blades.
Lunges: Take LONG, slow steps, so you may need to reduce your speed dramatically to get in a good walking lunge. Lunge straight down and watch your front knee to make sure it doesn't shoot forward. 
Bicep curl: Bicep curl as you climb up the steep incline- you can do unilateral curls or hammer curls to switch things up.
Push-up: place your feet on either side of the belt and perform pushups with hands wide on the hand rails. Exhale on the way up and think about bringing your chest to the bar, not your forehead to the control panel.
Inverted row: STOP the treadmill belt and you'll step to either side of the belt. Use the hand rails to perform a pull-up type movement, while keeping your hips lifted and squeezing your booty.
V-ups or windshield wipers: STOP the treadmill belt, and after it's fully stopped, have a seat on the belt directly under the handrails, facing away from the control panel. Hold onto the hand rails, lean back slightly and engage your core. Exhale as you raise your legs, then inhale as you lower them towards the belt. Do not let them touch the belt and exhale to lift again. Repeat. For fun, try a windshield wiper-style movement from side to side.
BONUS:  Perform each exercise for 1 minute and add 2 minutes of running or speed walking (challenging pace) in between each strength exercise. This type of workout will help to encourage muscular endurance as well as speed.
If you try it, let me know how it goes… and how hardcore you feel when everyone in the gym is checking out your treadmill moves 😉
Have a happy Monday!
xoxo
Gina
Something to talk about: How do you keep yourself from getting into a cardio rut? What's something that you regularly alternate in your routine? I make sure to change the weight exercises I do each week (posting them keeps me from getting into a habit of repeating workouts and certain moves), and I like to change my cardio each week depending on my teaching schedule.
Something to read:
Raw pizza recipe (one of my favorite raw meals ever)
Our review of the new Sleep Number M7