Hiiiiii 😀 How are you? Hope your day has been fabulous! Thank you for the reader's request ideas- I should have a new RR post up on Friday 🙂
I started mine off with a crazyawesome BodyPump class: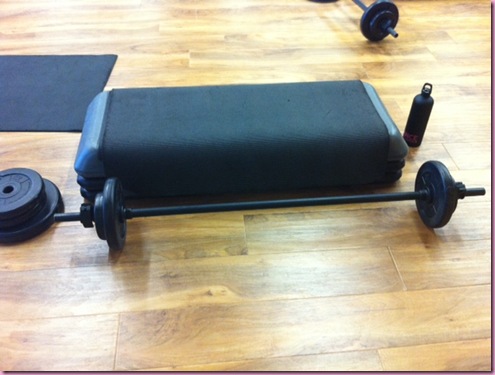 It's been a while since I've made it to a class and wowzers… I felt it.
Protein replenishment in ice cream form: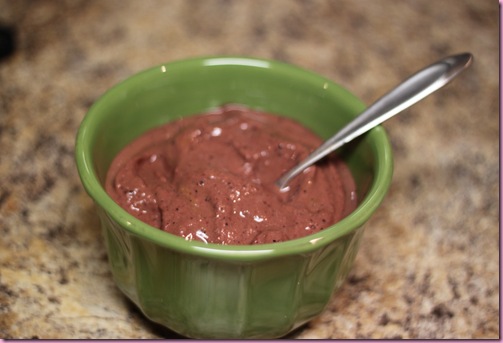 My new fave mix:

-1 C frozen organic strawberries

-1/2 C frozen organic blueberries

-1 C-ish almond milk

-1 scoop nasty Dr. protein + 1 scoop beautiful Sun Warrior protein

-1 T decaf instant coffee

-1 T raw cacao powder

-cinnamon, pinch of sea salt, raw honey
Coffee and berries are a match made in heaven, I promise 🙂
I ran errands all day (and still have so much to do), sold a giant bag of clothes at Buffalo Exchange (my rule is when I buy new clothes, I also dig through the closet to find clothes to sell or donate), and picked up Abreva at Target for my heinous cold sore. It just appeared out of NOWHERE this morning- not a fan 🙁
The cold sore had no effect on my foodgasm face, though 😀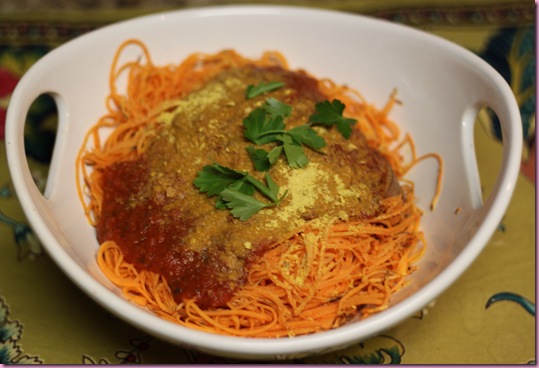 Sweet potato spaghetti!
All I did was spiralize a huge organic sweet potato with the spiralizer,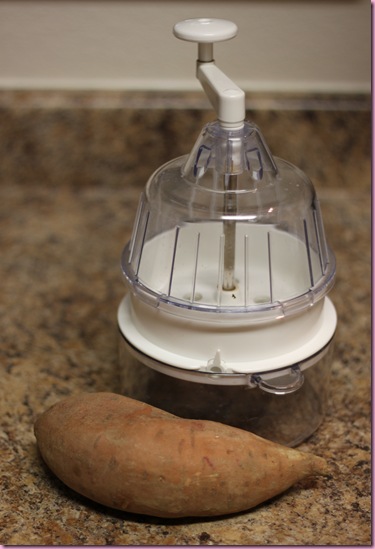 and steam the *noodles* for 5 minutes, so they still had a slight crunch to them.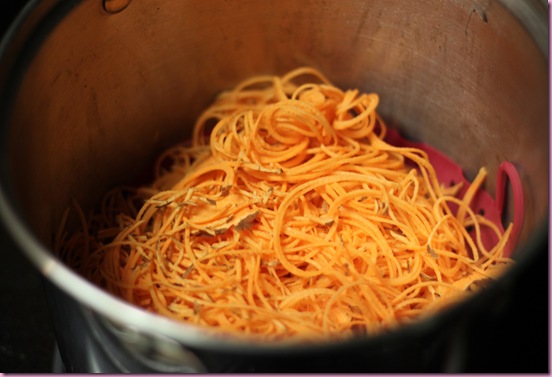 Covered in TJs marinara and nutritional yeast, it was a perfect blend of savory and sweet.
I've got to get ready to teach –fingers crossed for a HUGE class tonight!- and then get back to work 🙂
Have a great night and I'll see ya tomorrow with a macaroon giveaway and my re-cap of the first 10 days of the Doctor Detox.
xoxo,
Gina
*We find out ANY day between now and mid Feb where we're going to be stationed!! I'm so nervous/excited 🙂
****Winter Shape Up warriors, how's it going this week?!
Something to think:
"The longer I live, the more I realize the impact of attitude on life. Attitude, to me, is more important than facts. It is more important than the past, the education, the money, than circumstances, than failure, than successes, than what other people think or say or do. It is more important than appearance, giftedness or skill. It will make or break a company… a church… a home. The remarkable thing is we have a choice everyday regarding the attitude we will embrace for that day. We cannot change our past… we cannot change the fact that people will act in a certain way. We cannot change the inevitable. The only thing we can do is play on the one string we have, and that is our attitude. I am convinced that life is 10% what happens to me and 90% of how I react to it. And so it is with you… we are in charge of our Attitudes."

Charles R. Swindoll