Carrot, beet and bean burgers
Hey friends! Happy humpday! This week feels so short since I was traveling this weekend- I like it 🙂
So to those of you who guessed beet burgers were last night's dinner…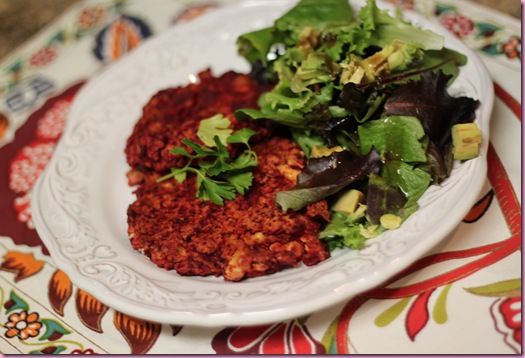 Cha-ching!
Totally right 🙂
Carrot Beet & Bean burgers

-1 organic beet, roughly chopped

-2 carrots, roughly chopped

-1 can cannellini beans

-1/3 C chickpea flour (ground oats would be lovely too)

-1 t mustard powder

-1/t dried oregano

-1/4 t garlic powder

-sea salt and pepper

1. Preheat the oven to 350 and grease a cookie sheet with the Misto ( or non-stick cooking spray)

2. In a food processor, add the carrots, beet and pulse to finely chop

3. Add in the beans, seasonings, chickpea flour and blend well. Don't taste the mixture- uncooked chickpea flour tastes foul.

4. Transfer mixture to a bowl and stir in remaining beans. Using a measuring cup, make burger patties on the cookie sheet

5. Bake for 30 minutes at 350, gently flip over and bake for an additional 15 minutes.

Serve with a salad or roasted veggies. 🙂
Glorious! They were also a marvelous shade of reddish-pink, so I was definitely a fan 🙂 It's also fun to switch things up from the usual black-bean burgers (Emily has my fave recipe).
I ended up skipping out on yoga last night because traffic was horrendous and when I was 4 lights away with 2 minutes to go, I knew I wasn't going to make it to class on time. It was probably for the best because my body was exhausted (I think it's a mix of traveling and lack of sugar), so instead I went to acupuncture to take a nap.
It was pretty peaceful and wonderful, but the same spot on my leg hurt like a biotch when they put the needle in, so I asked them to remove it. They told me the name of the point is Stomach 36 and that it's a pretty critical point for getting the qi (energy) to flow. Apparently Stomach 36 and I aren't friends. Any acupuncturist bloggies know what the dealio is?
I still think it's pretty funny that the biggest needle chicken in the world likes going to acupuncture 😉 It's the closest thing I can get to renting a nap pod (the US really needs to get on this trend), so if it means I have to have needles sticking out of my arms, legs and head, I'll take it:)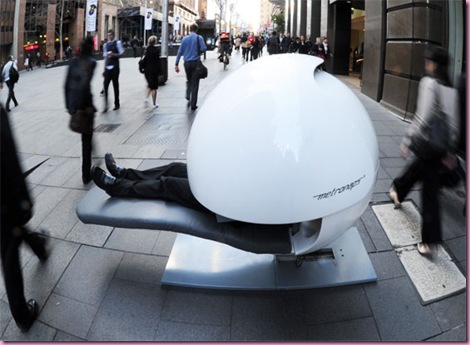 Source
(If you're curious about acupuncture, Caitlin's hubby has an awesome blog with FAQs)
After all of that, I came home, feasted on above beet burger meal and called it an early night.
This morning, I couldn't wait to get some green juice: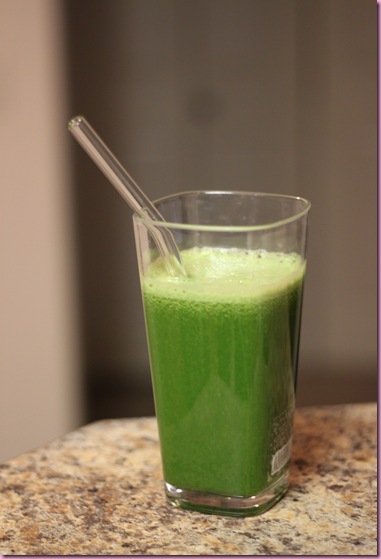 -1 head of romaine

-1/2 cucumber

-1 green apple

-handful of dandelion greens

-1/2 lemon
Lurve.
I'm meeting a friend for BodyPump (I've missed it!), coming back for b-fast, running errands all day, and I have this to deal with: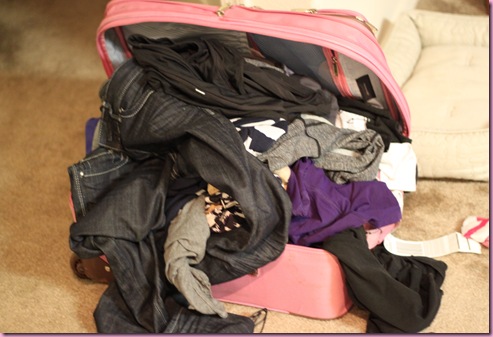 *Shudders*
See ya later today!
xoxo
Gina
Something to talk about: Please leave any reader's requests for this week in the comment section! 🙂 If there was a nap pod near you, would you do it? Do you know any companies that do?
Today's tip: After dinner, try sipping a cup of ginger tea. It aids in digestion, tastes fabulous and helps to prevent bored late-night munchies