Tempeh Taco Lettuce Wraps
Doing the same thing all the time can get a little boring, even if it's something you like.
Take tempeh, for instance. Tempeh-as-bacon is my usual favorite way to enjoy it, but I was looking for a new way to prepare it.
The result?
Tempeh tacos! Not just any tacos–lettuce wrap tacos!
Does that make them a burrito? Do discuss.
Anyway,
It was a good day. I enjoyed a nap (thank you, Liv!), new-to-me ice cream,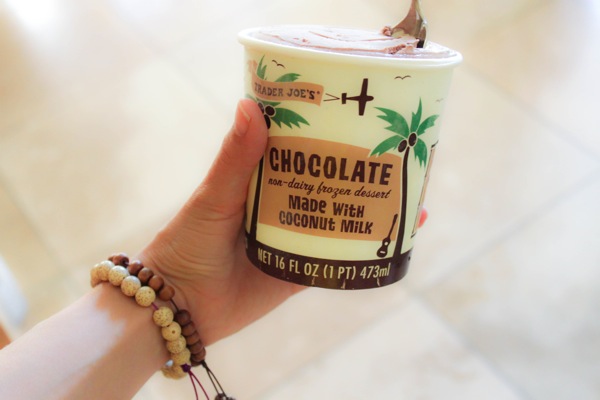 (you girls weren't lying when you said it's amazing. Rich, dark, handsome…)
a Bella in the sun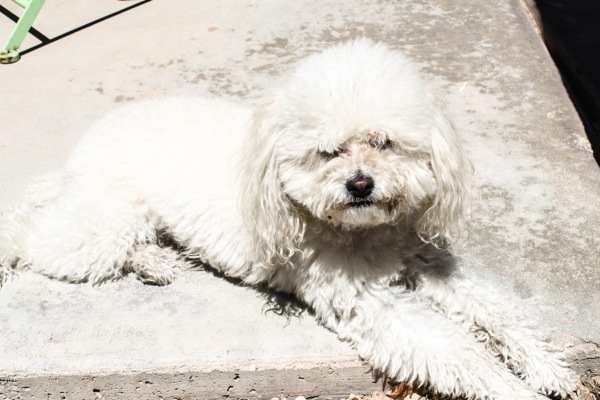 and a late lunch with some friends at Pita Jungle.
Since I stuffed myself to the brim (just to let you all know, the salmon salad is amazing and the garlic potatoes set my soul free), I just wanted something light for dinner.
Tempeh lettuce-wrap tacos were born!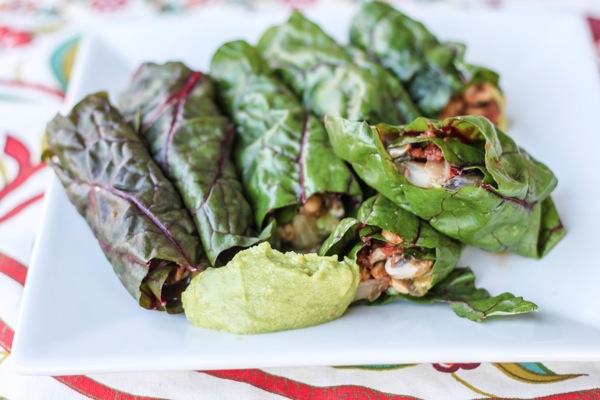 South Park and Tacos
Ok, digression here: Anyone know the "taco-flavored keeses" from South Park?
I'm going to go ahead and nerd myself out – I like South Park. It all started in college when one of my good friends would come over after dance for South Park, sushi and frozen yogurt. Good times.
Now, our DVR is filled with educational shows including the likes of Bethanny, It's Always Sunny in Philadelphia, Guiliana and Bill, Ellen, and still some episodes of South Park. We don't mind a little SP after a long day. It's crass, mindless and hilarious…all things that are good after you've had a long day that requires a lot of thinking (like the Pilot holding his life in his hands as he flies, and myself, taking care of the needs of another human all day).
Whenever we have tacos, I sometimes sing "taco-flavored keeses."
(It bothers me that "burrito" is missing an "r" but you get the gist)
Back to the point: tacos!
Tempeh Taco Meat
I made a new kind of taco. Taco burrito. Lettuce wrap? My philosophy: eat now, debate title later.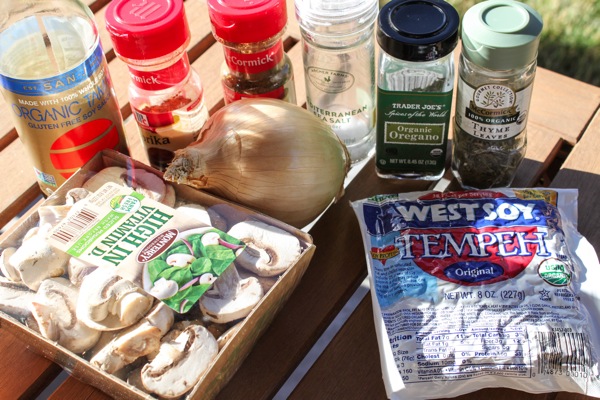 There's been a lot of chicken on ye ol' blog lately, so I wanted to make a recipe that my vegetarian and vegan friends would enjoy, too.
I love the taste of tempeh so much, but watch my consumption because I don't like to eat a lot of soy products. Fermented soy like tempeh and whole food choices like tofu are said to be healthier than processed versions of soy (like soy protein isolate).
Taste wise, I think tempeh > tofu. As I mentioned earlier, my absolute favorite way to enjoy tempeh is in bacon form, but this taco meat is a close second. With mushrooms, onions, spices, topped with guac, salsa and wrapped up in lettuce (I rolled with chard since the lettuce at the store looked a little rough), it's an amazing lunch, light dinner or fun party appetizer.
Hope you love it!
The tempeh taco "meat":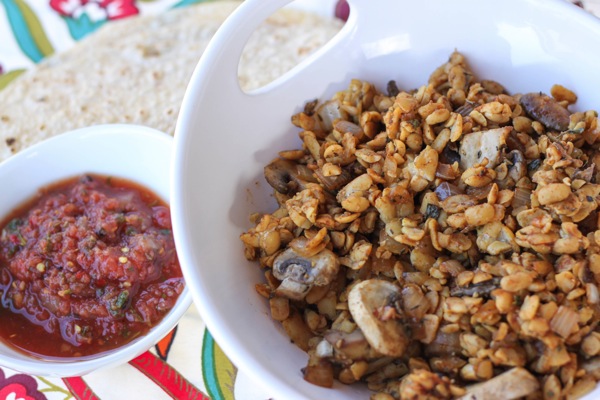 Tempeh Taco "Meat" in Lettuce Wraps
1/2

onion, diced

1/2

pack of pre-sliced mushrooms

1

pack of tempeh

1 1/2

T tamari

1

T olive oil

1/2

t dried oregano

1/2

t paprika

1/4

t thyme

1/4

t cumin
pinch cayenne
squeeze of lime juice
Lettuce or chard
Instructions
Sautee the mushrooms and onion in the oil until soft and translucent – about 5-7 minutes.
Add the tempeh + spices, crumble using the back of a wooden spoon, and heat for an additional 5 minutes.
Squeeze lime juice on top.
Scoop into lettuce or chard leaves, wrap and enjoy!
You could also enjoy tempeh taco "meat" on a salad beast, wrapped up in a tortilla, mix into eggs or served in taco shells. It's also good cold out of the container in the fridge. Just sayin'.
When you just want something light for dinner, what do you usually choose?
Any unique shows that you love?
Hope you have a great night and I'll see ya in the morning!
xoxo
Gina