20 things to do with a stability ball
This stability ball and I have been through a lot.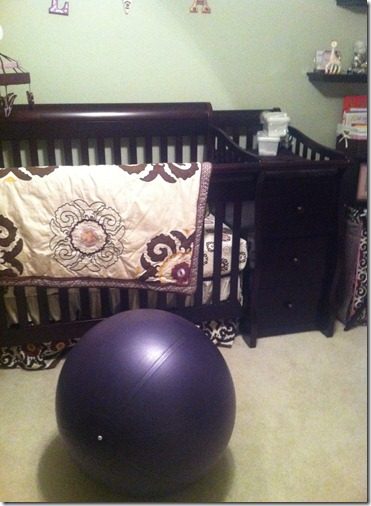 We were together during my senior year in college, when I lived in an apartment with only Bella (my mom said it's good to live alone before getting married because "you should know how to date yourself." I'd always had roomies before, but ended up loving my little apartment with just Bell and myself), the ball traveled with me to North Carolina to live with the Pilot, to Valdosta with us, in a POD for a year and now to Tucson. 
I spent hours bouncing on that ball trying to get Livi to flip from sunny-side up while she was in my belly (which I think helped!)
used it as a desk chair with the computer
used it to bounce Livi to sleep when she would only nap in my arms
and oh yeah, I use it for workouts, too 😉
When the Pilot said he was going to deflate and store it since Livi doesn't need to be bounced to sleep anymore, I said, "Noooooooooo!! I need it!"
"You use the ones at the gym."
"But I like having one here for at-home workouts."
He put it in the office for me, instead of as a living room fixture like it had been.
The stability ball is one of my all-time favorite pieces of workout equipment because there's so much you can do with them- you can get an entire workout (strength and cardio) using only your body weight and a stability ball.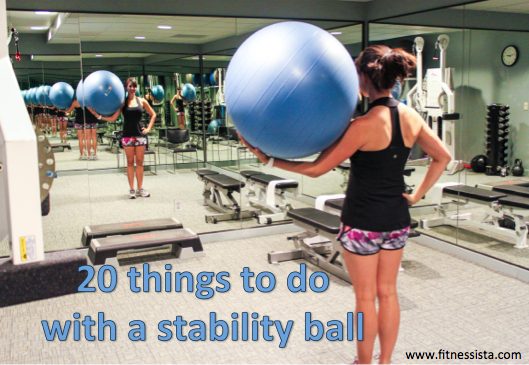 Here are some of my all-time favorite moves:
2. Crunch:
level 1: arms across your chest
level 2: arms out to the sides, keeping elbows in line with your ears
level 3: arms glued to your ears overhead, maybe holding a light weight or medicine ball
2. Oblique reach-back: Sitting up on the ball, learn back and twist to one side, sweeping the arm (on the same side) back behind you, making long sweeping motions. Exhale to rise back up to center, arms overhead. Twist to the opposite side.
3. Plie squat with thigh squeeze: perform a plie squat with the ball on the floor in between your legs. As you rise up and exhale, squeeze the ball, egging your adductor (inner thigh) muscles.
4. Lateral lunge and raise: come into a lateral lunge tapping the ball to the floor, almost directly in front of the bent leg. As you step together, bring the ball up overhead and switch to the opposite side. 
5. Back extension: lay on the ball so it's in line with your lower stomach and hip bones, feet are on the floor. Engage your core as you exhale and come into a slight back extension- be mindful not to hyperextend. The first time you do these, you will be SORE, so take it easy.
level 1: arms crossed across your chest
level 2: arms out to the sides, keeping elbows in line with your ears
level 3: add a twist. Come up, twist to one side, back to center, and lower. Repeat, twisting to the opposite side.
5. Push-up: the closer the ball is to your ankles, the harder it is.
6. Split squat: be mindful of your front knee and emphasize sinking straight down instead of forward.
7. Plie squat and ball circle: come into a pile squat and hold the position as you engage your obliques and make large circles holding the ball. Repeat to the opposite side until your thighs can't take it anymore 😉
8. Roll out: the key is to keep your hips in line with the rest of your body- no booties up in the air (ayer).
9. Pike: come into a plank position with the ball close to your ankles. Exhale and come up with straight legs into a pike. Keeping control, bring the ball back to a plank position and repeat.
10. Alphabet abs: while in the plank position, bend your knees and try to "draw" each letter of the alphabet using the ball. Try to make it all the way through, even though I'm usually toast by the letter "o."
11. Tuck: Same as the pike, but bend your knees instead of keeping them straight the entire time. Bend into a tuck and straighten out to a plank.
12. Squat-together in a circle: this is an easy way to get your heart rate up. Sit on the ball in a squat position, and keeping low, step together all the way around the ball. Repeat going the opposite way.
13. For supine exercises: chest presses, flys, and tricep extensions are great options.
14. Hip raises
15. Plank
16. Hamstring curl: laying on your back, feet on the ball, bring your hips up and bending your knees, roll the ball towards you. For a challenge, try it with one leg at a time.
17. Half circle obliques: laying on your back, "grab" the ball in between your ankles and raise the ball off the floor. twist the ball (making a half circle) and twist the opposite way.
18. Leg raise: grab the ball with your knees or ankles (laying on your back) and exhale as you raise the ball off the floor and lower down. Be careful if you have weak inner thigh muscles and try with a small ball before moving up to the larger ones.
19. Ball bounce: sit on the ball and bounce and bounce. Then using your core, immediately stop bouncing. Repeat.
20. Stretch! This is one of my favorites. I love to lay on the ball and roll back into a deep back arch for a lovely stretch.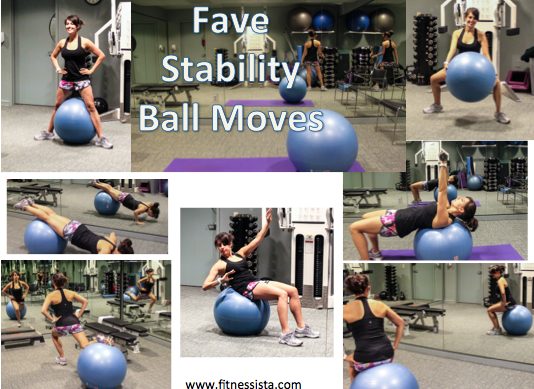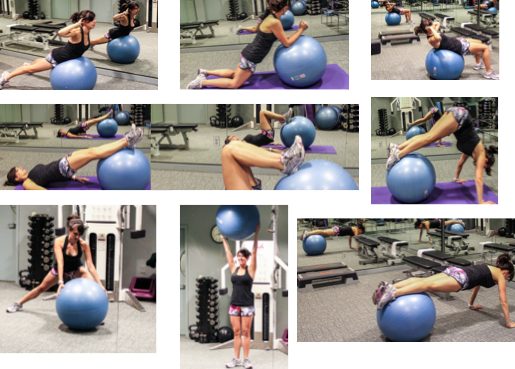 Did I miss any of your faves? What's one piece of at-home gym equipment you can't live without?
If I could recommend an essential 3, they would be a stability ball, resistance bands and a jump rope. All inexpensive, don't take up a ton of room, and can be used to get killer strength and cardio.
Speaking of training, Summer Shape Up 2012 will start June 11th! Mark your calendars if you'd like to join in the fun! I've tried the first workout twice now and kicked my booty. My friend from work saw me doing it yesterday and said "what are you doing?! It looks intense!" I really hope you love it.
Have a wonderful day <3
xoxo
Gina
More: