Hi friends! How's the morning going?
Last week, I talked about some of the things that I learned the hard way, and I thought I'd continue on the topic and share how I learned the art of moderation. Just a heads up: if you think this topic would be uncomfortable or triggering for you, please skip the rest of this post. What we read can impact our bodies and minds, and it's up to us make smart choices. Sending love and light to you all, and I'll see ya this afternoon. <3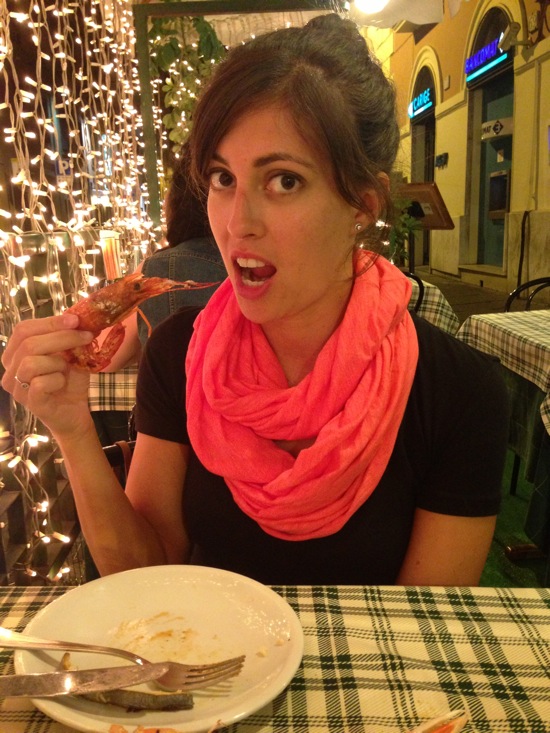 For as long as I can remember, I've had a bit of an "all or nothing" mentality. For me, I think it came from being the firstborn, the Type A in the family. I was focused on perfection from an early age. If I wasn't "all in," it wasn't worth doing. This attitude helped me in certain ways and enabled me to succeed academically, but as you can imagine, it certainly had its drawbacks. I was hard on myself when I didn't do something particularly. I also strived to please everyone (which I learned over time isn't possible, and isn't always worth the effort). My "all or nothing" attitude followed me throughout college and into my journey in transforming my lifestyle.
When it came to changing my health and fitness, I thought it had to be all or nothing or I wouldn't succeed. I also felt this way because it's what I'd read in many of the diet and health literature I surrounded myself with: talks of out-exercising a brownie with a hard run, stringent eating plans, and foods to avoid with an ominous, virtual red "X" marked on them. While I did achieve my fitness and weight loss goals, it sometimes affected how I felt about some of my once-favorite foods. Sure, I never felt hungry, and overall, I was eating healthier, but I missed out on some of the things I truly enjoyed. I remember eating my sugar-free Fudgesicles and longed for the real thing (this was also when I ate far more processed foods and lots of diet, low-cal, low-fat and low-carb foods).
Then, there was the cheat day option. I would enjoy some of the things I craved, but once a week, and in large quantities. When using a cheat day, it was easier to stick to my clean-eating plan throughout the rest of the week, but when you think about it, it was still a variation of the "all or nothing" idea. Don't get me wrong, cheat days work well for many people, but I realized that the method, if you can call it that, wasn't the best way for me to achieve my overall health goals. After all, striving towards these long-term goals should feel like a marathon, not a sprint. So instead, I began to enjoy little bits of treats here and there to keep me even-keeled. I found that I could eat all things in moderation because I actually enjoyed the way I felt when I ate healthy (and still enjoy the way I felt after a treat here and there). It does take a little bit of discipline. I try to focus on my fitness goals to avoid too many treats, but if you have a few more than you wanted to, don't sweat it! Get a good night's sleep and then get back to eating the clean, healthy meals that'll help you live a long, happy life. Also, if you prefer and enjoy the structure of a meal plan, you can incorporate some treats and things you'll look forward to within the meal plan.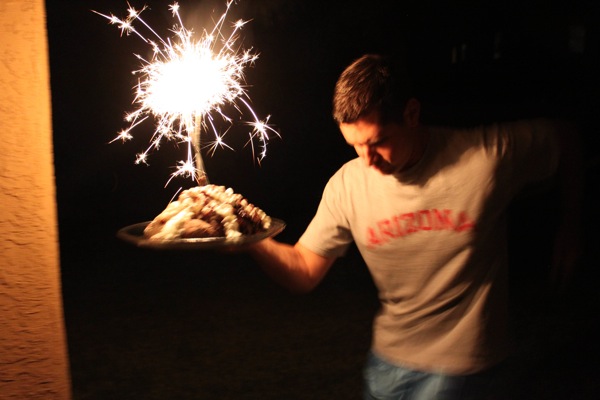 (This is the legendary family volcano tradition, which involves a bed of ice cream, an outer layer of brownies, with whipped cream, chocolate sauce, a sparkler, and the entire family chanting, "VOLCANO! VOLCANOOOOO!")
The major turning point for me and moderation was when I became pregnant with Liv. I really had to listen to my body (my hunger cues, my energy levels, the modifications I needed to make to work out). Growing another human made me reevaluate some of my habits and philosophies. It wasn't about me anymore, and I strongly considered the type of environment and mindset I wanted our daughter to grow up in. I started eating everything, and fitness became a complement in my life, instead of a star. I don't have the amount of time to waste at the gym that I once had, so I teach a class or get in my own short workout, and get out.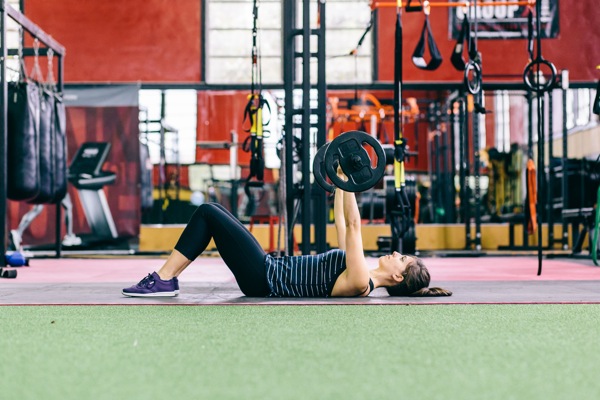 (Photo: Danny Chan)
Some of the things I learned about moderation:
-When you allow yourself to enjoy everything, it's instant portion control. What makes something 1000x more desirable? Telling yourself you can't have it.
-Eat what you love. It's easy for me to pass up on store-bought treats and packaged cookies and chips. When it's something that's homemade, or something I've never had, it's worth it for me.
-Eat what makes you feel good. I think we all would love to eat brownies and nachos and donuts all day… but we'd feel lethargic and like crawling into a food coma afterwards. I learned that eating a variety of clean and nutrient-dense foods energizes me, but sometimes nothing will do the trick like a serving of gooey chocolate cake. It really is a matter of finding that balance of food that enables your body to thrive, and food that just tastes really dang delicious.
-For for a "grand scheme of things" approach. Aim to eat whole, non-processed foods most of the time, but give yourself room to enjoy the other foods you really love. Nutrient-dense foods will make you feel better (more energy, better digestion, more satisfying), but sometimes you'll be craving something entirely different, and that's ok. Eat it, don't go crazy pants on the serving size, and enjoy it. It's much easier to stay mindful and enjoy your food if you're not thinking "omg I haven't had this in so long, must eat as much as I can as quickly as possible." If you make it no big deal, it will be no big deal, and will not have a negative impact on your goals.
I share more about my history with diet and fitness in "HIIT It!" (and really poured my heart into the pages), if you'd like to check it out. <3
Did it take a while for you to learn moderation, or is it something that's always come naturally to you?
What was a turning point or something that influenced your health or fitness journey?
As always, I can't wait to read your thoughts and comments.
xoxo,
G