The best gluten-free brownies
Hey friends 🙂 How was your day? Mine was pretty bueno- got lots done (drug test for work, called to make sure my cert is good to go, conference call, brownie baking), and LOVED reading your comments to this morning's post.
Since there was a lot of back and forth (which was civil and polite- you guys are awesome), I thought I'd throw in my two pesos:
1) I haven't tried any of her workouts, so can't give an educated opinion of them. From what I've seen, they're super low weight and high rep (similar to Physique 57, which I can't rave enough about), and the dance moves are a little funky, but still look like fun. The main thing I think she's accomplishing are burn out and muscle confusion, which both promote results. Quite a few of ya said that Tracy has claimed "no woman should lift more than 3 lb weights" and her preaching that "heavy weights make you bulky." As we all know, this isn't true, and many people see fantastic results from lifting heavy weights. Weight lifting is also critical for bone health, and it's also been said that Gwyneth Paltrow is facing early onset osteoporosis, which I believe is due to a combo of extreme dieting and not enough weights. Tracy is capitalizing on the myth that women will get bulky by lifting heavy weights, and by doing so, she's appealing to many gym-goers who may not have the fitness education and background that many of us have.

As with anything *new*, chances are that you'll see results from it. You're taking your body out of it's cruise control and as I always say, change creates change. I don't see any prob with trying this or any new fitness program as long as you check with your doc and practice safely. I also believe that high rep low weights can definitely shape an awesome physique and would certainly give this program a try (minus the diet plan!!)

Remember, different strokes for different folks. Some people like high weight, low rep, low weight, high rep, or my personal fave: moderate weight and moderate rep. Switching things up is the key to success.

2) As far as the "diet plan" goes, it's just that: a diet. It's NOT a lifestyle (and anyone who chooses to follow it is cuckoo), and doesn't provide the nutrients and fuel for laying in bed all day, let alone working out as she suggests. I think it's wise to separate her workout plan from her diet plan, and see them as two different entities- one that I personally support (but may not float everyone's boat) and one that I think is a load of trash (her diet).
As always, I really enjoyed your discussion this morning <3
Now, let's talk brownies…..
When my bro started taking his gluten-free class, I was scary excited. Like I said, Monday night I was waiting for him to get home (like a total creeper) so I could have first dibs on his latest baked creation. Last week, he made the best brownies I've EVER tasted. When I asked him for the recipe, I tried to throw it in casually, because like a typical chef, he's sometimes stingy with his recipes 😉
I was SO stoked when he tossed a paper at me with the recipe for these brownies AND a flourless chocolate cake recipe. It was my lucky day, fo sho 🙂
And maybe it's will be yours too??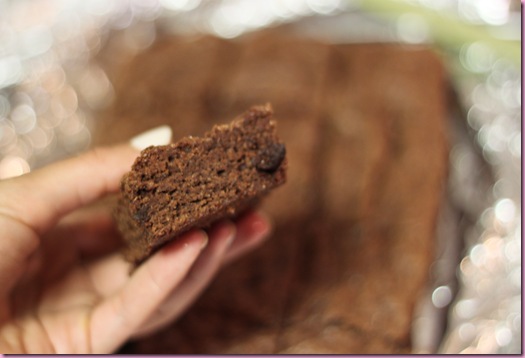 Here's the recipe:
Glorious Gluten-free Brownies

-2/3 C brown rice flour mix (see below)

-1/2 t salt

-1/2 t baking powder

-1/2 t xanthan gum

-2 oz. unsweetened chocolate

-4 oz semisweet chocolate

-1/2 C unsalted butter

-1 1/4 C granulated sugar

-2 t pure vanilla extract

-3 large eggs (can also use flax eggs)

-3/4 C chopped toasted walnuts (optional)

1. Pre-heat oven to 325. Position rack in lower-middle of oven. Line a 8 in square baking pan with foil and grease with cooking spray.

2. Combine flour, salt, baking powder and xanthan gum in a small bowl and set aside.

3. Melt chocolate and butter in a double boiler- removed from heat. Whisk in sugar, vanilla and eggs, one at a time. Continue to whisk until mixture is smooth and glossy.

4. Add flour mixture and whisk until incorporated. Stir in nuts (if you wish to add them)

5. Pour batter into prepared pan and bake for 45 minutes, or until a toothpick inserted into the center comes out with wet crumbs. Cool in pan on rack for 5 minutes. Remove brownies from pan by lifting up foil and cool completely on rack. Cut into squares or triangles.

Brown rice flour mix:

Brown rice flour 2 C

Potato Starch (not flour) 2/3 C

Tapioca Flour (also known as starch) 1/3 C
The thing is, I can't possibly eat all of these by myself.
Want some?
Just leave a comment and let me know why you could use a brownie today 🙂
I'll pick a winner tomorrow morning and will send the brownies out via Priority Mail tomorrow. [If you're vegan or have other nutritional needs, I'll happily make a special batch just for you]
xoxo
Gina
PS> Don't forget to save yourself a lil batter 😉