Hiiiii 😀 It's Friday!! This week went by so quickly- I lurve it. <3
So does Viesa…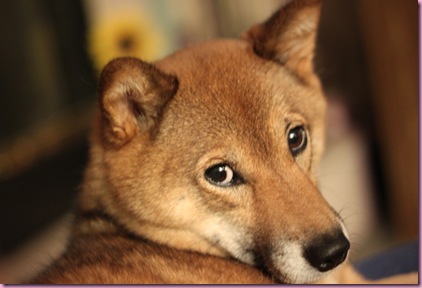 Even though she's giving the stink eye 😉
Thank you for the compliments on the lunch box and for telling me it's BPA-free. Winner 🙂 Also, thank you to those of you who posted your 10 year visions– they are so beautiful and fun to read. Not gonna lie, I had a moment last night where I was thinking "Mother of pearl. Why I did I just post that on my blog?". The blog is about my life of course, but whenever I post about super personal things, it's a little scary! Thank you for being amazing as usual 😉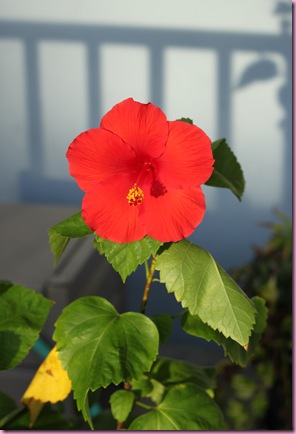 (Isn't the flower gorgeous?? My aunt has a green thumb. I'm enjoying this because alas, my thumb is black. I can keep herbs alive but I kill flowers like it's my job)
So last night, my cousin, aunt and I went to Urban Flats, one of our favorites, for ladies' night. They have awesome drink specials, half-priced entrees and free dessert for ladies on Thursday night.
*All these pics were taken via Blackberry since my cousin and I went straight to dinner from the gym
Vinooooooo: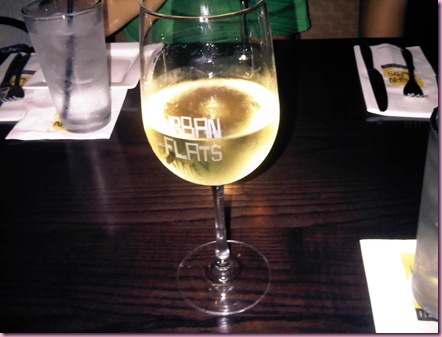 Shared Flat Dips– wheat flatbread with different types of hummus, tapenade and foodgasms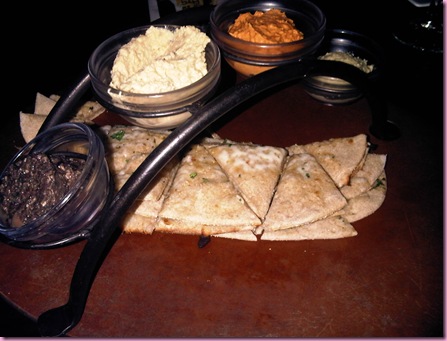 The salmon of my life: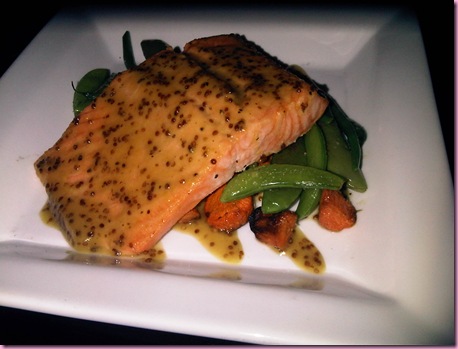 With a stone-ground mustard and maple sauce… it was a HUGE piece (like the size of my head), and I ate it all 😀
Free dessert was cannoli: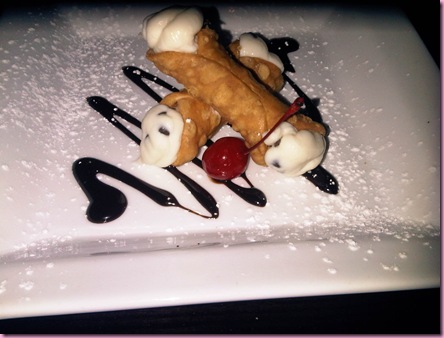 It was my first time trying cannoli (I've only had the raw version) and I think I'm a fan 😉 Who are we kidding, though? If it's dessert, chances are that I'll like it 😉 (except creme brulee… blechhhhh) I ate the end nubs off of the cannoli and we rushed home to watch Grey's Anatomy.
This morning, I'm off to power yoga and to get groceries for tonight's dinner. I'll post the menu this afternoon but I'm about to tackle a culinary beast that I've never messed with before 😉
Have a wonderful Friday!
xoxo,
Gina
Something to do: Interval training! As you guys know, I'm a HUGE lover of HIIT (High Intensity Interval Training) workouts. It's a great way to burn a lot of calories in a short amount of time, increase cardio endurance and speed. Last night after weights, I *tried* to take a Zumba class and ended up leaving after the warm-up and first song. It was more of a… restorative Zumba class, and I wanted my booty kicked 😉 So I hopped on the RAD (revolving apparatus of death) and did an interval workout.
5 minutes warm up (walked at 4.0 with 2.5% incline and brought up speed to 5.0 for 5 minutes)
1 min 30 second jog (5.5), 30 second sprint (7.5) – repeat for 25 minutes
5 minute cool down (walk at 4.0 for 3 minutes, walk at 3.5 for 2 minutes)
Stretch
Do you practice interval training? What's your fave workout or time split??