Hi friends! Happy Monday! Hope you had a great weekend. It feels like spring here! It's hilarious because last week it was snowing and this week we're putting on sunscreen, but I'LL TAKE IT. If only it could stay like this forever, but before we know it, it will be a scorching oven so just making the most of it for now.
It was a fun-packed weekend over here. I took a barre3 class with a friend on Friday morning, and then we got smoothies at Nekter and watched the kids run around the courtyard and played hide and seek with them. Gymboree is having a huge sale, so I picked up some shoes for the girls and some outfits for baby August. I can't believe he'll be here in a little over a month!
When the Pilot got off work, we headed to the Funny Foot Farm to pet all of the animals.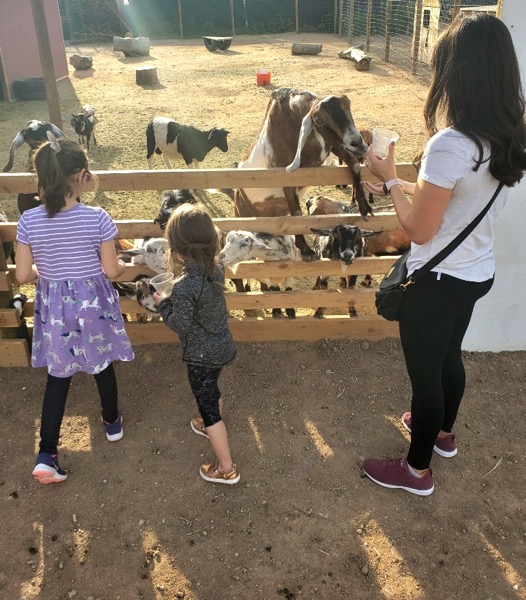 We were greeted by the most enthusiastic rooster, who cockadoodled his face off the entire time we were there. Last time we were at the Funny Foot Farm was shortly before the Pilot left. It had been a while, and now they have the sweetest baby goats! It didn't help our major goat fever. The only thing stopping us is our homeowner's association. When we're old and likely living somewhere else, chances are that we'll be surrounded by goats.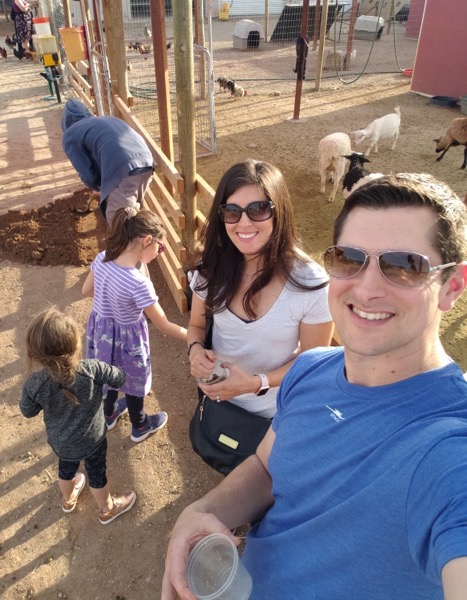 We saw the pigs (who grunted at us excessively), the emus (which scared the bejeezus out of poor P), capybaras, tortoises, donkey, and porcupines. There's something super fun about feeding a slice of sweet potato to a porcupine, I tell ya.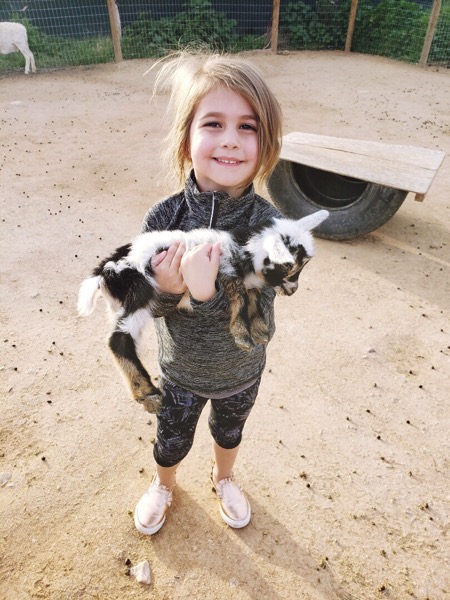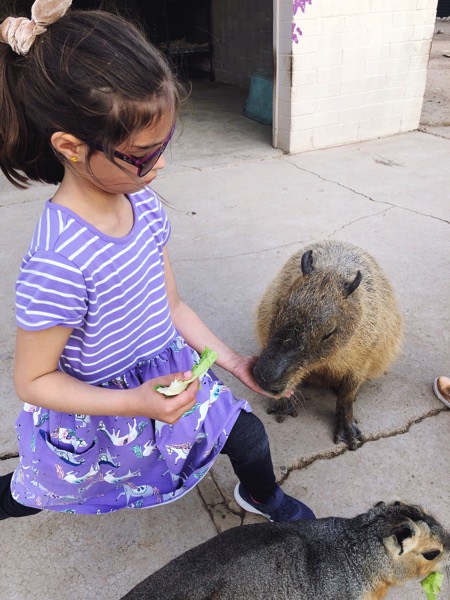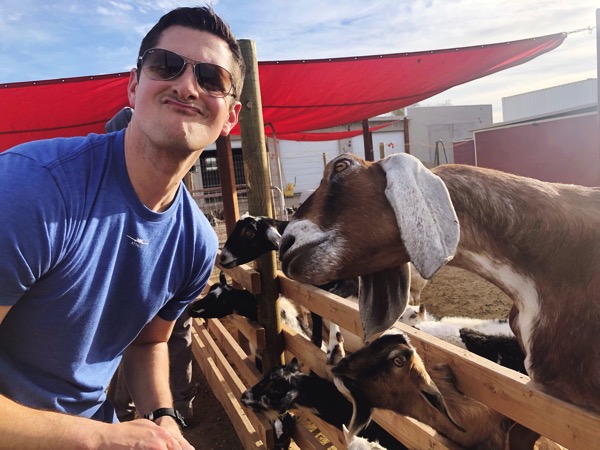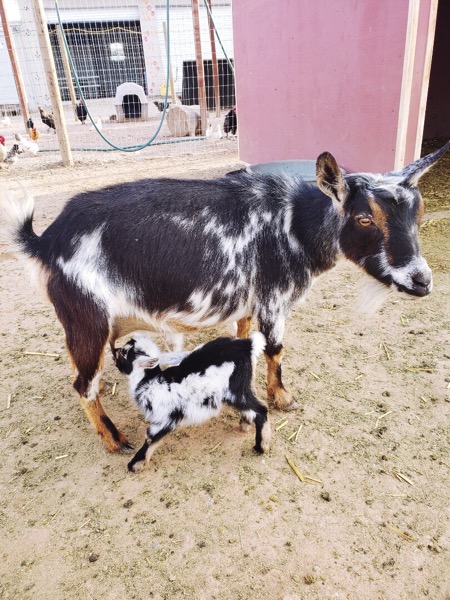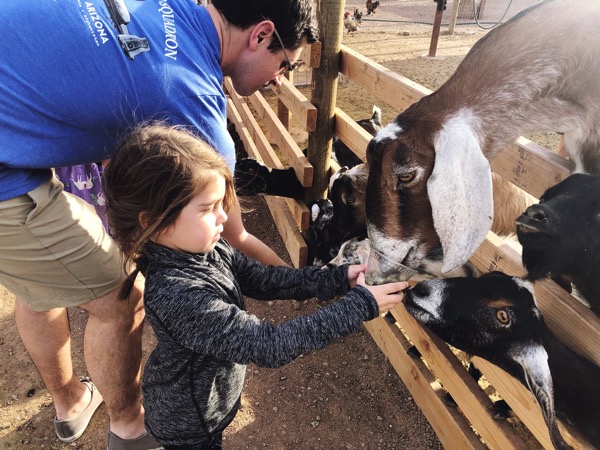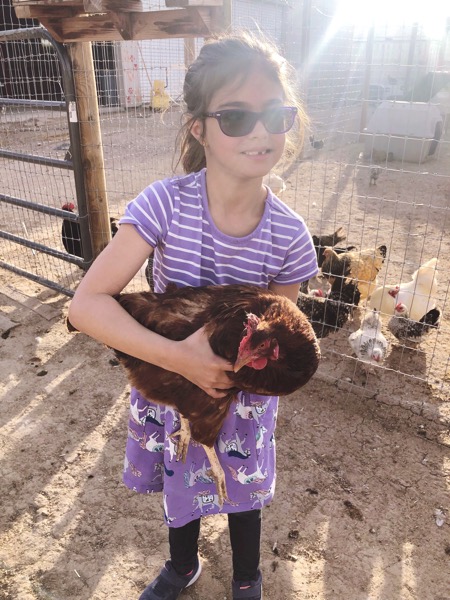 We saw all of the animals and walked to the car, laughing and recapping the adventures, and I felt so happy in that moment to have the family together again. It still doesn't feel real that the Pilot is home and actually lives here now. When he leaves for work in the morning, I still have to convince P that he'll be home in the afternoon. She still asks how many days until he'll be home.
Dinner was courtesy of the Whole Foods hot bar. It's one of our favorite casual dinner spots because they have something for everyone. 🙂
Saturday morning, the Pilot had to work, and the girls and I took off for ballet and a trip to Coscto. My nana met us there to watch the girls while I had an eye doctor appointment, and then we walked around and picked up some essentials. (+ we snacked on copious samples.) When we got home, the girls played outside most of the afternoon, during quiet time I caught a Peloton ride, and the Pilot and I had a date night.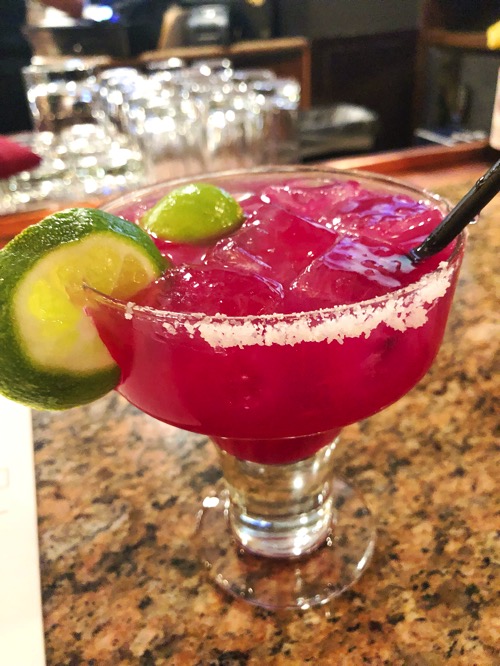 We went to Flying V, which was one of our favorite spots when Kyle used to work there. Unfortunately, the food has gone wayyyy downhill. My salmon had some bizarre flavorless almost-raw beets and fennel on the side, the chips were stale, and my jalapeño prickly pear margarita looked gorgeous but tasted off. Even though the food was kind of disappointing, it didn't really matter. We got to spend some time catching up and enjoying time with each other, and our babysitter put the kids to bed. That alone is a huge win. 
Sunday morning, I took an early Orangetheory class, and then we went to the heritage conference to check out all of the old war planes.
Our first trip to the Heritage Conference: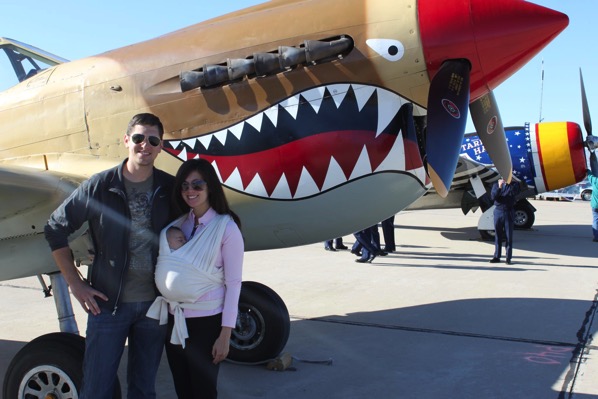 And now: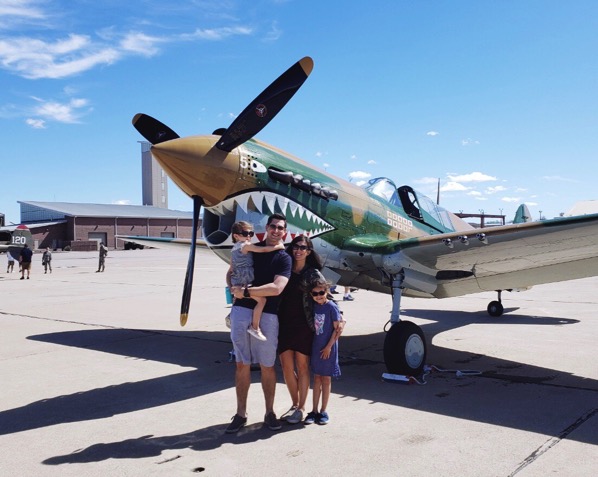 (Wearing the infamous Leith dress) 
We grabbed lunch at Zinburger, the Pilot took the girls to the park while I caught up on some work, and we had sushi roll bowls here at home.
Today, I have a pretty intense to-do list to crank through and I'm taking the day off from the gym.
This is random, but a friend mentioned going to a float tank here in Tucson and I'm totally intrigued. Has anyone tried it? Did you feel claustrophobic? Did you worry about drowning? I think it sounds SO peaceful, but am kind of nervous about trying it. (Apparently the salt content in the water makes you float, and it's a dark room or little pod type thing, so you're totally removed from sensory input. You're supposed to feel like you're floating through outer space and it can help with anxiety, depression, or pain. It sounds amazing and terrifying at the same time.) 
I hope you have a happy Monday and I'll see ya in the morning with a new workout!
xo
Gina
PS. Need a laugh? Just watch this. I was cracking up the entire time.