Hi friends! Hope you're enjoying the day! I'm going to be sharing the full detox plan (what we ate and did) later this week, but in the meantime, I asked the Pilot if he'd mind chiming in with his thoughts. He kindly wrote a blog post for me, which is below. Hope you enjoy! xoxo
Hey, I hope you had a good weekend. Ours was pretty nice. I took Liv to her Saturday morning ballet class (where Gina caught up with us after teaching Zumba). We had a nice lunch together, then Gina and I cleaned up while Liv napped. After she woke up, it was time to divide and conquer again. Gina went to PB to knock out some Winter Shape-up pics, so I took the kiddo to a friend's retirement party on Coronado. My buddy did it right with live music, catered Mexican, and a bounce house for the kids. There was even a rainbow which later turned into a double-rainbow (what does it mean??).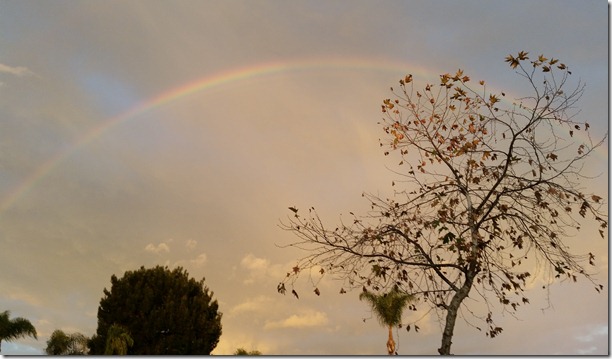 It was a great start to the weekend, but Saturday also marked the end of our 3-week detox. Gina asked if I wouldn't mind writing a post about it, so here it is (NOTE: if a change in diet makes you uncomfortable in any way, then you might want to skip this one).
So, this all started when I driving to work one morning, and some dude being interviewed on the morning talk show I was listening to described a detox he does, and the positive effects he felt. Now my curiosity is piqued. Could a change in what I eat honestly change how I feel that much?? At the time, I always felt sluggish after lunch, drained by the time I got home, and not exactly bursting with energy, in general. Plus, caffeine usually leaves me feeling a little jittery. So, why the heck not?
I talked it over with the wife (who was happy that I'd be eating a little healthier), and we came up with a game plan. I eliminated caffeine, alcohol, dairy (except butter in the pan while cooking eggs), wheat, processed food, and refined sugar. Typically, I partake in moderation, but cutting them completely was something new. Planning and prepping everything to make it through the work day was the most intimidating aspect .
The first few days were a kick in the pants. I had headaches; my stomach felt weird. On top of that, I always felt slightly hungry (despite eating constantly). Fortunately, those feelings quickly faded, but they were replaced by the frustration of trying to add variety to eating plans. Talking to Gina and doing some of my own research solved that problem.
All of a sudden, food had flavor again. I was never too far from spicy hummus and those little bell pepper things. Our fridge was full of fruit, veggies, almonds, smoothie ingredients, chicken, moderate amounts of red meat, etc. We stayed on top of the weekly meal planning (which was key), and quickly found ourselves on cruise control.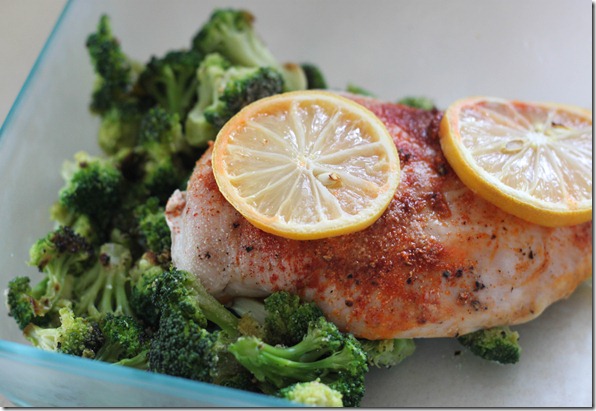 I admit, I was initially skeptical of this whole thing. I went into it with an open mind, but I didn't expect anything dramatic. However, after about a week and a half, that's exactly what happened. The post-lunch, sluggish feeling was gone; actually, the sluggish feeling was just gone in general. It wasn't like I just had some coffee, it was like I just had 10 hours of sleep. Don't get me wrong, I still got tired from time-to-time, but not the "somebody just put 100 lbs. of chains on me" kind of tired. Also, my complexion improved, and some areas of my skin that were tinted in spots due to sweat and constant contact with my uniform completely cleared up. For the record, I was impressed with the results.
That brings us to Sunday. I decided to eat what I would normally eat before the detox. It…it was awesome.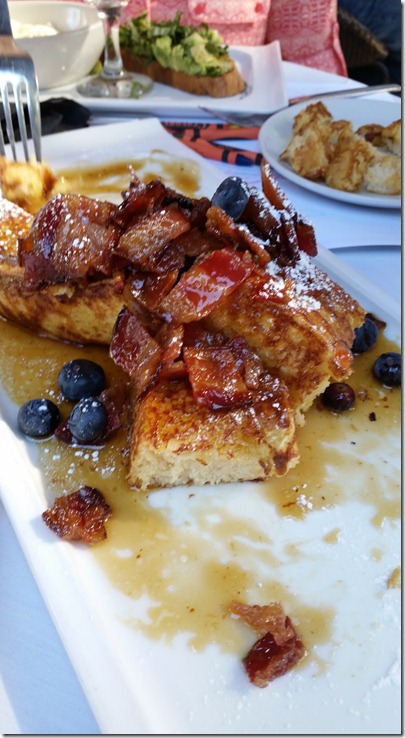 Chorizo and cheese egg scramble, snacking on Liv's French toast (they didn't have kids' sizes and she was jonesin' for some), and mimosas from Great Maple. For lunch, we had random things from the farmer's market and a green smoothie (yeah, I know, but it was actually pretty good). Dinner was pizza from Pizza Nova. Oh, and a beer or two followed by some wine in the evening watching the rest of the Super Bowl. Overall, it was some great food from some great places.
As far as the detox goes, I'm glad I did it. I'm going to incorporate a lot of the foods I ate during the past 3 weeks into my regular diet because I really appreciate the way I felt. If this is something you're curious about, I recommend giving it a try (run it by your doc and all that). I think you'll be pleasantly surprised like I was.
So, that's it. Detox in a nutshell. Hope you guys have a great week, and thanks for letting me share my experiences with you. Cheers!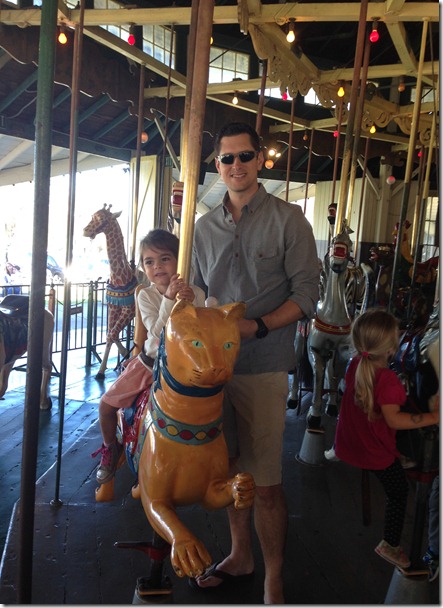 (carousel ride after seeing the Fancy Nancy play)