my thoughts on the Apple Watch vs. the Fitbit Alta
Hey hey! How are you? Hope you're enjoying the morning. No Sugar January is off to a strong start! I probably should have specified that it didn't mean zero sugar at all (wine is technically a sugar, fruit is a sugar. This can get a little extreme) but no sweets or added sugar. For example, I'm having protein powder and MCT oil in my oatmeal instead of a giant drizzle of maple syrup.
Workout-wise, I got in a killer legs and HIIT workout Monday, and a nice aerial yoga class yesterday. (I'll share the details in a Focus On post soon!) This morning, I'm teaching barre, and getting in my personal workout during naptime. I don't really love working out during naptime since it's my chance to blitz on work, but I've found that if I don't work out during P's nap, it gets harder and harder to squeeze it in as the day goes on. Before I know it, I'm cleaning up from dinner, giving the girls baths, and ready to crawl onto the couch for the night.
Something that has helped a lot with my motivation to get moving and stay active throughout the day has been my Apple Watch. I'm a huge fan of fitness trackers – I've used multiple Fitbit models, the Tom-Tom Spark 3, Garmins, Polars, I'm kind of a nerd about fitness trackers – and the latest fave is the Apple Watch. It's sporty but cute enough to wear every day, and the stats and interface are amazing.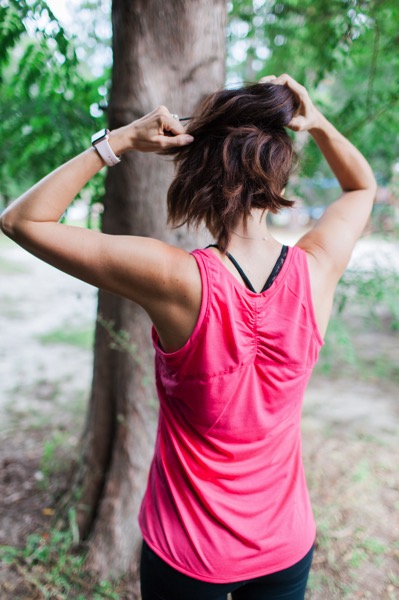 When I switched over to the Apple Watch, I'd been wearing a Fitbit for the most part, and most recently the FitBit Alta. I like that the Alta is much smaller than other fitness trackers and it gave me similar stats (plus the heart rate model tracks your heart rate). I've been a Fitbit fan for years and have consistently used the Fitbit as an effective way to track my steps and workout stats. I'd been eyeing the Apple Watch for about a year, but wasn't sure if the cost would be worth switching over.
When we first moved to Valdosta, we attended an auction for Liv's new school, and on one of the tables was an Apple Watch. I decided to put it into destiny's hands. A couple of mint juleps later, and lurking around the auction table, I was the proud new owner of an Apple Watch 2 (and a pair of Prada sunglasses. Yolo. <— do people still stay that? hah)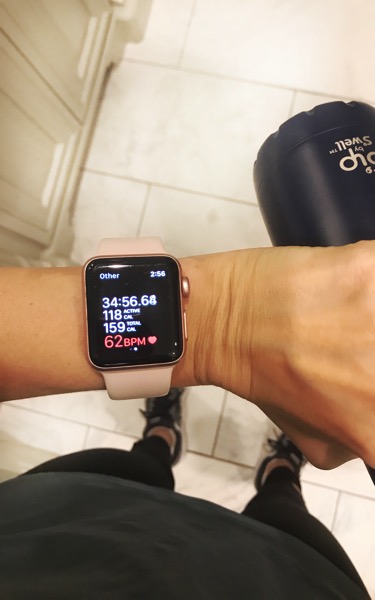 Here's my review of the Apple Watch vs. Fitbit Alta:
Interface:
The Fitbit interface is simple. It tells you everything you need to know (steps, distance, calories burned) without any extra bells and whistles. If you log into the app, you can also track data on sleep, which can be extremely insightful.
The Apple Watch takes things to the next level. Your goals for the day are split into little circles: move goals (calories burned), standing (I think it's move for 5 minutes of every hour), and workout (30 minutes of activity per day). It's SO satisfying to see the circles build throughout the day, and an easy way to glance and check how you're doing.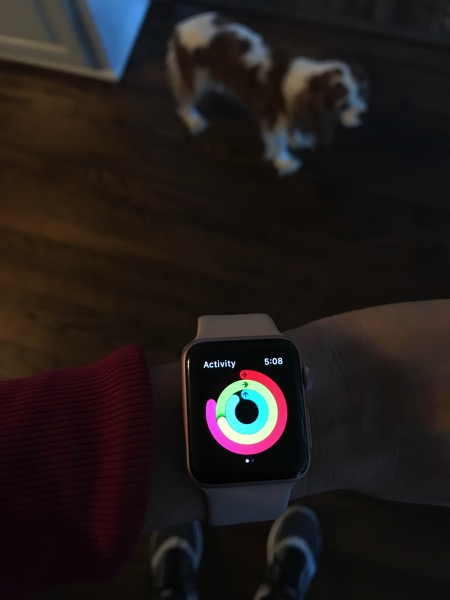 Since the Apple Watch is obviously…a watch…you can also change the face to a picture on your camera, or any from their gallery (some of them move, like the jellyfish and butterflies). It's kind of fun to change the face to Minnie Mouse when we're at Disney World. 😉
Sleep tracking:
To be totally honest, I haven't used this feature on the Apple watch. I find that as a mom, sleep tracking is one of the most depressing things ever. Ignorance is bliss.
I did use this while I was wearing the Alta, and it was helpful to see how much deep sleep I was getting vs. light/interrupted sleep.
Battery life:
This is where Fitbit wins. My Alta would easily last a few days, and my Apple Watch lasts about a day and a half. This means I either have to charge it overnight or take a midday charge break, which is kind of annoying.
Workout mode:
This is next-level stuff, and one of the reasons I LOVE the Apple Watch. You can select swim, indoor walk, outdoor walk, cycle, spin indoors, or quick start, and it will target your stats based on your activity. It also tracks heart rate, which I find to be pretty accurate. Sometimes when I get super sweaty it slides around my wrist and doesn't read it quite as well. I like being able to tell it what I'm doing so it can provides more relevant info. For example, if I'm outside, it includes distance and pace on my stats.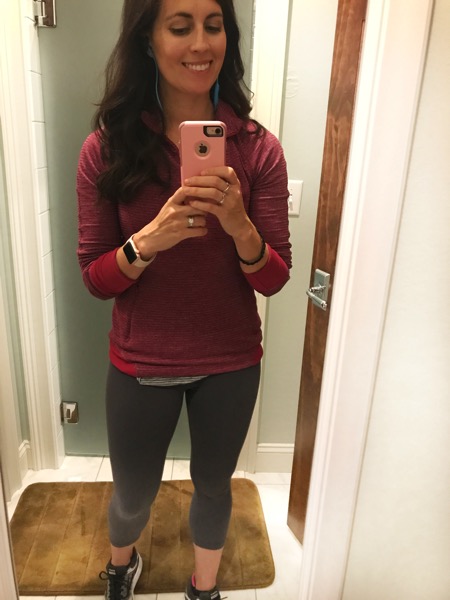 Music:
The Fitbit doesn't have this, and it's one of the huge perks of the Apple Watch. It displays the music I'm currently playing from my phone, and I can adjust the volume. This is SO AWESOME while I'm teaching a class because I can turn the music down for more thorough coaching and increase the volume for an intense part of the workout.
The Apple Watch also syncs my text messages and I can answer the phone from it (and speak into the watch). I find that with these features, I'm not on my phone nearly as much. I'm not constantly checking to see if I have any missed texts or calls.
Design:
They both have their advantages. The Alta seems more indestructible and is still small and chic. You can swap out the wristbands and make it as fancy as you like.
The Apple Watch looks a little more tech-y, but in the end, it just looks like a pretty watch. I like that you can swap out the wristbands and change the watch face.
Conclusion:
I feel like with anything else, you have to find out what works for you and what you prefer. When I wear a fitness tracker, I feel more motivated to get in small bits of movement throughout the day and really aim to hit those 10k steps. The Alta is a great tracker (and is less expensive than the Apple Watch), and the Apple Watch provides a little more insight, settings, and options. They're both awesome in their own way, but for now, I'm using and loving the Apple Watch.
Do you use a fitness tracker? What's your very favorite? What movement goals do you set for yourself each day?
I aim to hit 10k steps – some days it's super easy and others it's challenging – and get in my 30 minutes of movement.
xoxo
Gina